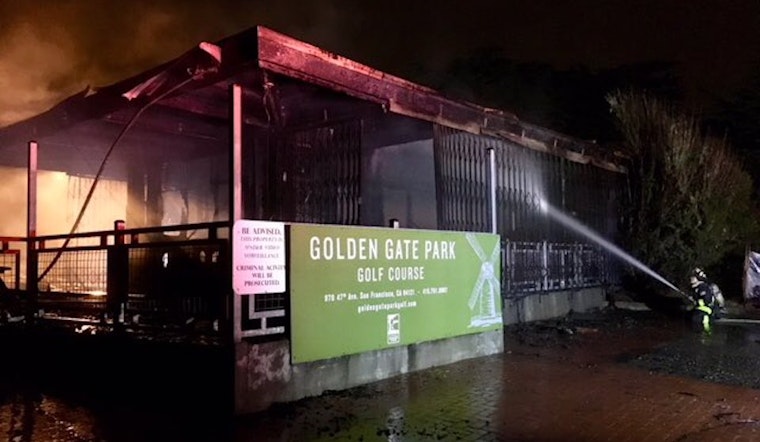 Published on July 02, 2018
A two-alarm fire of unknown origin at the Golden Gate Park Golf Course (970 47th Ave.) early this morning extensively damaged the park's clubhouse.
According to a statement posted by San Francisco Recreation and Park on the course's website, the entire facility is closed until further notice. 
The blaze started at approximately 3:13 a.m., according to San Francisco Fire Department, and was contained by 4:23 a.m. No one was injured while fighting the blaze at the building, which was built in 1951.
Sad news: the iconic Golden Gate Park golf course clubhouse, built in 1951, was the victim of fire this morning. @sffdpio is investigating. The Golf course will be closed until further notice. pic.twitter.com/xP3Ije23bT

— SF Rec and Park (@RecParkSF) July 2, 2018
"It's unclear when it will reopen," SFFD Lieutenant Jonathan Baxter told ABC7. "They have lots of locals, lots of regulars, lots of tourists who just come here to enjoy the wonderful scenery, and the actual golf course that's there, and the building itself."
Clubhouse at Golden Gate Park Golf Course in San Francisco destroyed in early morning fire. Golf course will be closed for at least a couple days. "The First Tee" operates out of clubhouse. No word on impact on youth programs. pic.twitter.com/t9edCUTJCi

— Matt Keller (@MattKellerABC7) July 2, 2018
SF Recreation and Parks will work with city agencies to assess the damage and begin recovery efforts.
"Unfortunately, there's extensive damage to this building. It's going to be some time before that's actually brought back up," said Baxter.