In a city where fewer than one in ten cast ballots for Donald Trump, a balloon of the president as a chicken dressed in a prison uniform is definitely going to draw attention.
Over the weekend, a 33-foot inflatable chicken caricaturing the president set sail for Alcatraz Island aboard a boat with a banner that read, "Release your tax returns, the republic demands it."
The stunt was aimed at protesting the Trump administration's policies and previously took to the bay last February, but the prison uniform is a new addition. 
According to the group's website, trumpchicken.org, it took three boats, nine crew members, one theatrical costume designer, a plethora of scenic canvas yards and grommets, a huge warehouse, and "a sense of humor and hours of everyone's time" to create the jailbird. 
"It's the Cock of The Rock," organizer Danelle Morton told The Daily Beast in February.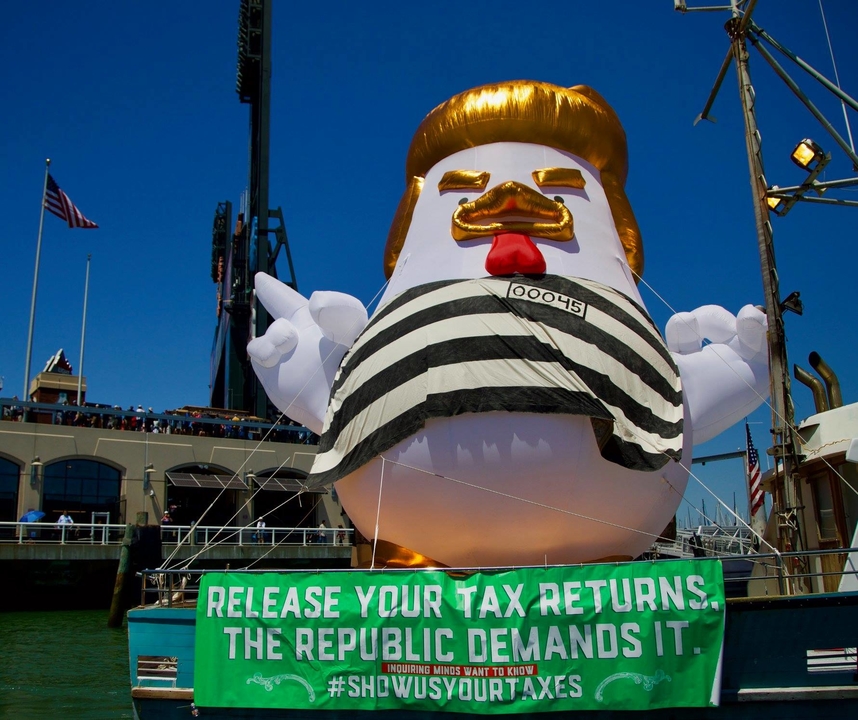 The plan to create the president's likeness in chicken form was conceived last August when a right-wing group called Patriot Prayer planned to hold a rally at Crissy Field.
In response, the effigy's creators launched a GoFundMe page that helped raise more than $10,000 in less than three days to bring the balloon to San Francisco. "People were clearly digging the fact that we were going to troll the Nazis with the chicken," Morton said. 
The right-wing group later cancelled, citing safety concerns.
Instead of returning the money, organizers said the funds would be saved "for the next time the chicken is needed."