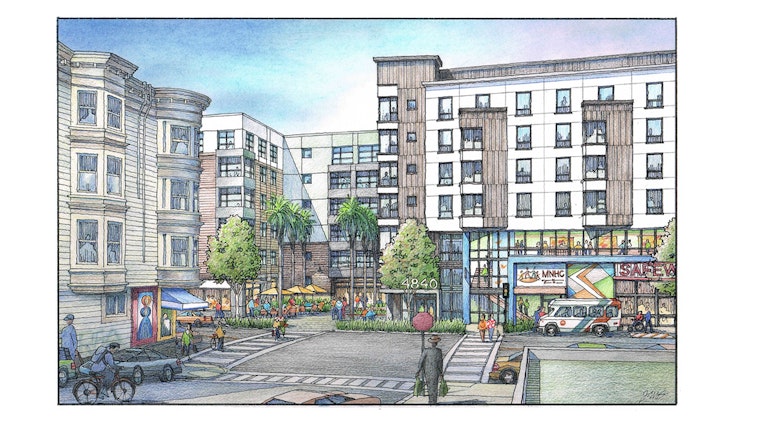 Published on August 22, 2018
Neighborhood opposition to a planned Excelsior housing development at 4840-4850 Mission St. continues to flourish. 
Earlier this month, youth from San Francisco's District 11 — which includes Cayuga Terrace, Crocker Amazon, and the Outer Mission — gathered on the site of the proposed mixed-use housing development, arguing that the project would exacerbate displacement and further contribute to gentrification. 
According to a report in the Examiner, youth protestors and their supporters joined neighborhood nonprofit Poder in front of the former Valente Marini Perata & Co. Funeral Home, where for more than four years, plans for a new housing development spearheaded by nonprofit Bridge Housing Corporation have been in the works. 
At a community meeting this past March, community organizers from Poder called the project "out of touch" and said that "there has been a lack of transparency" surrounding the project, according to SF Weekly. 
"We want to bring awareness of the corporate greed of the developers who, with their new market-rate housing, will bring about the displacement of our people," said Poder's Inkza Angeles at the August 11 protest.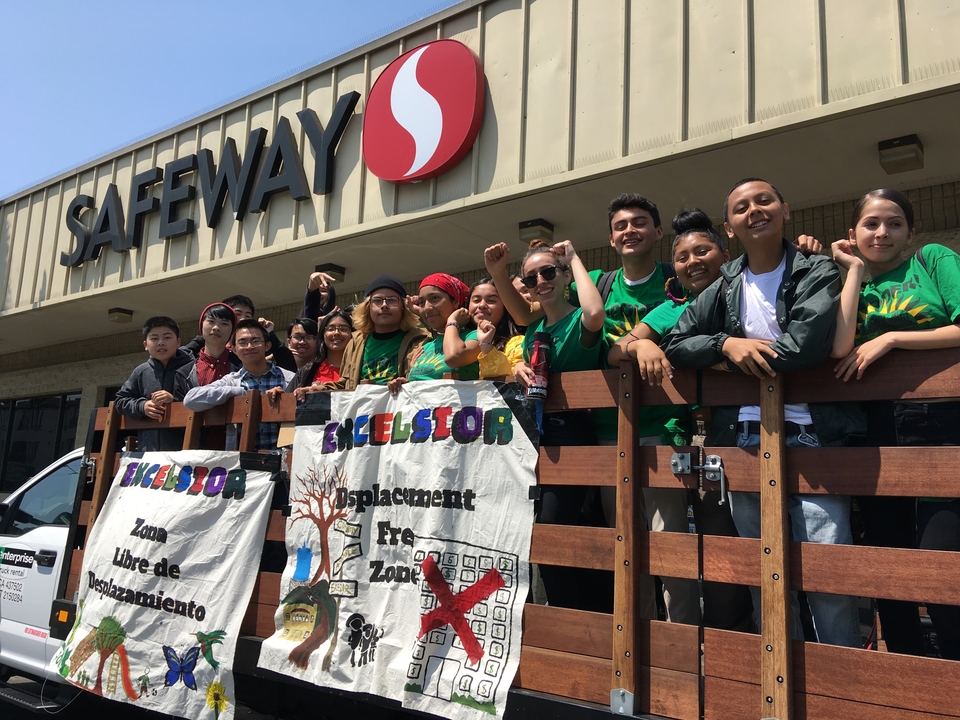 As currently proposed, the development from Bridge and market-rate housing partner Emerald Fund would feature 428 new homes, of which 41 percent will be affordable. 
Plans currently call for the construction of 175 units of affordable housing at 4840 Mission St., where the funeral home currently sits. The proposal also calls for razing the Safeway at 4850 Mission St., where market-rate housing would be built in a second phase. 
Additionally, the project would include a new full-service grocery store to replace Safeway and a 10,000-square-foot space for the Mission Neighborhood Health Center at 4840 Mission St.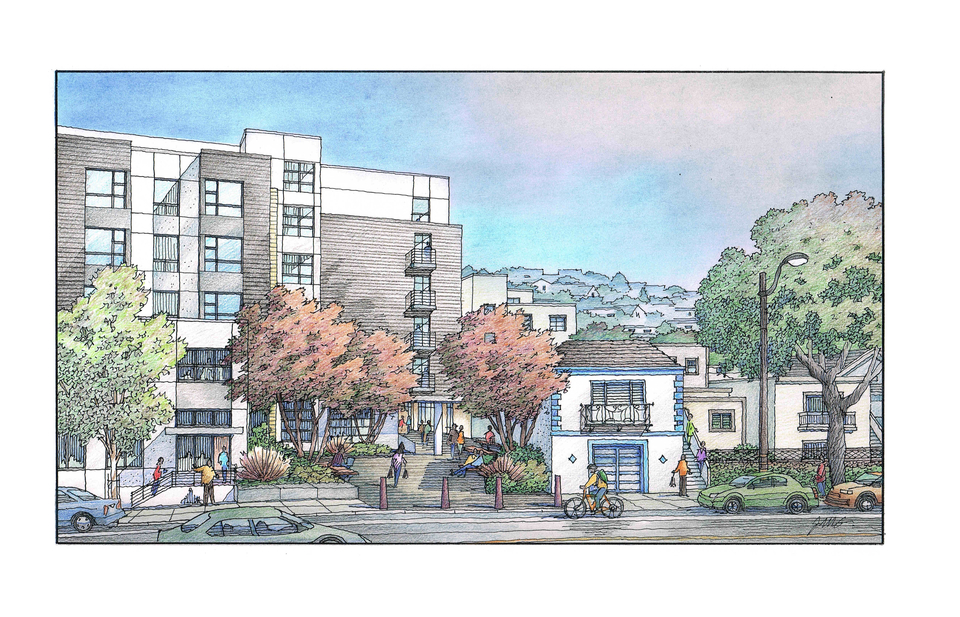 Bridge's policy manager and policy planner Kearstin Dischinger told Hoodline that many in the neighborhood were attracted to an earlier iteration of the project, one that included only 110-112 units of affordable housing, compared to the current 175.
"This project, like all development projects, has some degree of public engagement, and we've gotten considerable feedback along the way," she said. "[Originally], we were going to sell about 20 market-rate townhomes on our own parcel. So, when the public saw that, they saw it as 80 percent affordable." 
Dischinger said that Bridge identified an opportunity to collaborate on the neighborhood site with a market-rate developer "to offset the cost, because a really viable solution to go up to 175 affordable units would need to be a mixed-income project across two sites."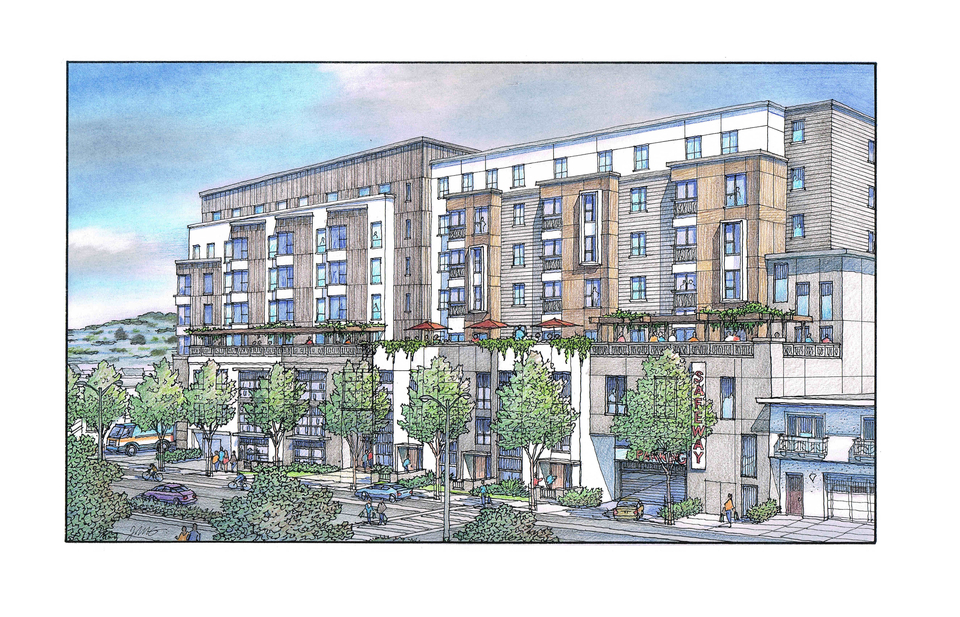 Protesters, however, have called for 100 percent affordable housing on both parcels, and have criticized the developer's plans to have affordable and market-rate housing on separate sites. They believe that the deal has been negotiated without community input, and that the project doesn't go far enough in terms of the number of affordable units. 
Poder's Carlo Sciammas believes that "it is dishonest for Bridge and the Emerald Fund to claim that they are creating 175 affordable units as an offset for their market-rate development," he told Hoodline via email. 
"Behind closed doors, Bridge and the Emerald Fund transformed this development from a majority-affordable project to a majority-market rate project," said Sciammas.
"The fact that they are putting affordable housing units somewhere off-site does not change the fact that they are drastically transforming this neighborhood," Trevor Martin, treasurer of the San Francisco Berniecrats, told the Examiner. "It is not going to change the fact that there will be massive displacement and massive gentrification in this neighborhood."
Dischinger, however, said that the model of providing two different sites, one for affordable housing and the other for market-rate, "has been the preference of the city; they will be adjacent, but share the same amenities." 
"The project is still evolving, and we are very open to continuing to push the boundaries," she said.
The proposed development is expected to go before the Planning Commission in 2019.
We reached out to District 11 Supervisor Ahsha Safaí, who represents the neighborhood, for comment. Our message was returned, stating that he is currently on break.