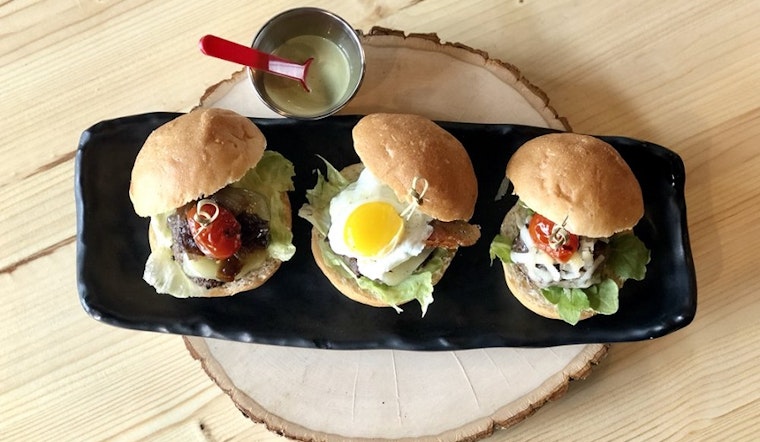 Published on August 21, 2018
Itching to explore the newest businesses to open in Miami? From a cafe and boutique to a burger joint, read on for a list of the newest spots to debut around town.
Mrs. Mandolin
4218 NE Second Ave., Buena Vista
Mrs. Mandolin is a boutique that offers home decor, accessories, jewelry, clothing and various knick-knacks. It's a spin-off venture from Mandolin Aegean Bistro, which is down the street.
Besides being a store, it also offers a cafe with a full coffee menu and in-house baked goods.
It has just one review so far on Yelp, putting it at four stars.
Lauren G., who reviewed the shop on Aug. 2, wrote, "Cute little concept down the street from Mandolin, the Greek restaurant. I was asked a couple of times if I needed help, which was nice. You'll find home goods and decor, jewelry, accessories, clothes and little gifts. Prices are very high. There's a small little cafe/bakery when you walk in offering espresso, coffee, and tea."
Interested? Mrs. Mandolin is open from noon–8 p.m. Tuesday-Saturday and from noon–6 p.m. on Sunday. (It's closed Monday.)
Pepiteria 13
50 NE 29th St., Wynwood
Pepiteria 13 is a food truck that primarily serves pepito sandwiches, a street food that's common in Venezuela, Mexico and several other Latin American countries.
As far as pepitos go, you'll find the Pepito Mixto (tenderloin and chicken, plus bacon, Pecorino cheese and your choice of sauce) and the Pepito Mar y Tierra (prawns and tenderloin with garlic, plus your choice of sauce). Also on the menu are hot dogs, hamburgers, salads and more.
With a five-star rating out of seven reviews on Yelp thus far, customers have been leaving rave reviews.
Yelper Kenny D. said, "Great spot for late-night snacking after hitting the clubs and bars. Open late and has just the right foods to make you happy! Hot dogs, burgers and specialty flatbreads with a Colombian/Spanish twist. The food truck is parked in the area of CrossFit Wynwood, so it's easy to pull over to grab food to-go or to sit and eat."
Brad C. added, "This place has amazing food! Great service too! Reasonable pricing and it's cooked to order, which is also awesome!"
Pepiteria 13 has yet to post its hours online.
Dom Black
315 NW 25th St., Wynwood
Dom Black is a new spot to score burgers, sandwiches and hot dogs. Burgers are handmade daily with a mixture of Angus, ribeye, beef chuck and smoked bacon. Options include the Dom Black (with cheese, caramelized onion, lettuce, tomato and signature sauce) and the Dom Black Smash (two pressed patties on brioche with cheese, sliced pickles and chef's sauce).
Other options include a chicken sandwich, a steak sandwich and a hot dog. You can also get sides like onions rings and sweet potato fries. Round out any meal with a shake or cookies.
With 15 reviews, it has four stars on Yelp so far, indicating positive attention.
Gonzalo R., who was among the first to review the new burger place on July 25, wrote, "What was missing in the heart of Wynwood: a good quality, juicy burger! The meat is perfect — so good, in fact, that I had two! The fries are crunchy and the bread is fresh and tasty."
Megan G. noted, "Delicious burger joint! Burger was great and sweet potato fries were just as delicious. Service was very welcoming, polite, suggested good choices and was quick with everything."
Hungry? Dom Black is open from 11:30 a.m.–10 p.m. Monday–Thursday and Sunday, and from 11:30 a.m.–midnight on Friday and Saturday.