Chef Michael Mina is expanding his downtown footprint with a new concept called Trailblazer Tavern, which is slated for the recently constructed Salesforce East building (350 Mission St.) this fall.
Mina has teamed up with James Beard Award-nominated chefs Michelle Karr-Ueoka and Wade Ueoka, of Honolulu's MW Restaurant, for the Hawaiian-inspired restaurant. It will feature an array of Hawaiian comfort food elevated with Mina's ubiquitous upscale twist. 
On the menu, expect to see pupus (snacks), dim sum, sashimi and crudos. The menu will also feature salads and sandwiches, noodle and rice dishes, seafood and large plates intended for sharing. 
"It is with great excitement and honor that we bring our passion for Hawaiian cuisine to the community in our very own backyard," said Mina in a statement. "San Francisco is gaining two supreme talents in Michelle and Wade — we are very fortunate to have them spearheading the culinary vision for this unique and special restaurant."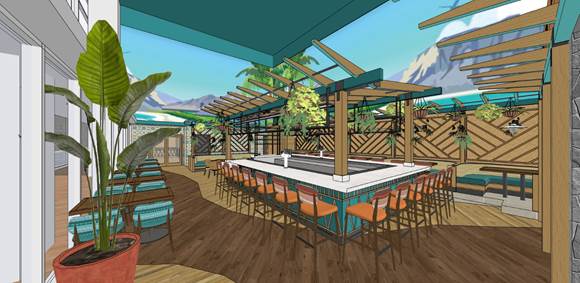 As for libations, a Hawaiian-inspired bar will be anchored in the center of the main dining room, offering an assortment of tropical cocktails, local and Hawaiian brews, an extensive wine list and a selection of bourbon and Japanese whisky. 
The space will boast more than 7,000 square feet, including a mezzanine level with seating for up to 72 guests. There are an additional 24 seats at the center bar, 47 seats in the main dining room and a private dining room with space for 18. Outdoor patio seating will accommodate 54 more guests, with heat lamps for chilly nights. 
"Wade and I feel blessed to be able to partner with Chef Mina and the MINA Group Ohana to introduce Trailblazer Tavern to the beautiful, diverse, and food-loving community in San Francisco," said Chef Karr-Ueoka. "We are excited to share our love for Hawaii with everyone here."