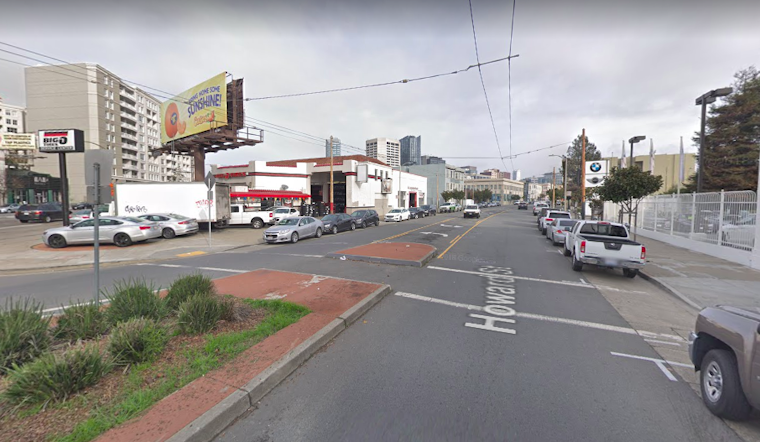 Published on September 14, 2018
A cyclist was admitted to the hospital in life-threatening condition after being struck by a vehicle on the 1600 block of Howard Street (between South Van Ness and 12th Street). 
According to SFPD, the incident occurred around noon yesterday afternoon. The victim, a 24-year-old man, was riding his bicycle when he was struck by the driver, a 65-year-old man. (The original ages provided by SFPD were inaccurate; see more details below.) The driver was not arrested.
The victim was transported to the hospital with life-threatening injuries. 
Though nearly all of the nearby streets are considered high-injury corridors under the city's Vision Zero plan to eliminate traffic fatalities by 2024, neither 12th Street nor the 1400 through 1600 blocks of Howard Street are currently on the list. 
We'll have more updates on the case as they become available. 
Update, 2:41 p.m.: The cyclist has died of his injuries. According to the San Francisco Bicycle Coalition, his name is Russell Franklin, and he was 56 years old (not 24, as previously reported by SFPD).
"This is the fourth known fatal crash involving a person biking in San Francisco this year, already twice as many as all of last year," the organization noted in a statement. 
Our deepest sympathies to the family & friends of Russell Franklin, who was hit while biking yesterday and later died. We will ensure the City takes swift action to address safety concerns at this intersection and across the city. pic.twitter.com/zPPdS6dsvV

— SF Bicycle Coalition (@sfbike) September 14, 2018
Neighborhood resident Taylor Ahlgren, 36, told Hoodline that he was walking nearby when he witnessed the collision. He said that Franklin was riding northbound on Howard when he made a left turn into the crosswalk between the BMW dealership and Big O Tires, possibly in an attempt to access the northbound lane of South Van Ness. 
Ahlgren said he heard a "screech and a loud bang," and saw the cyclist fly eight feet into the air. 
"The windshield of the car was completely crushed," he said. "It probably made a very hard impact."
Ahlgren rushed to attend to Franklin as the distraught driver, whom he describes as a man in his 20s, called 911. The pair subsequently flagged a sheriff's deputy who happened to be walking nearby, and who offered assistance. An ambulance arrived approximately seven minutes later, and paramedics transported Franklin to the hospital. 
Ahlgren said that Franklin was not wearing a helmet at the time of the crash, and suffered from severe bleeding from his skull and his right ear. He said that he and the driver attended to Franklin with instructions from a 911 operator until paramedics arrived.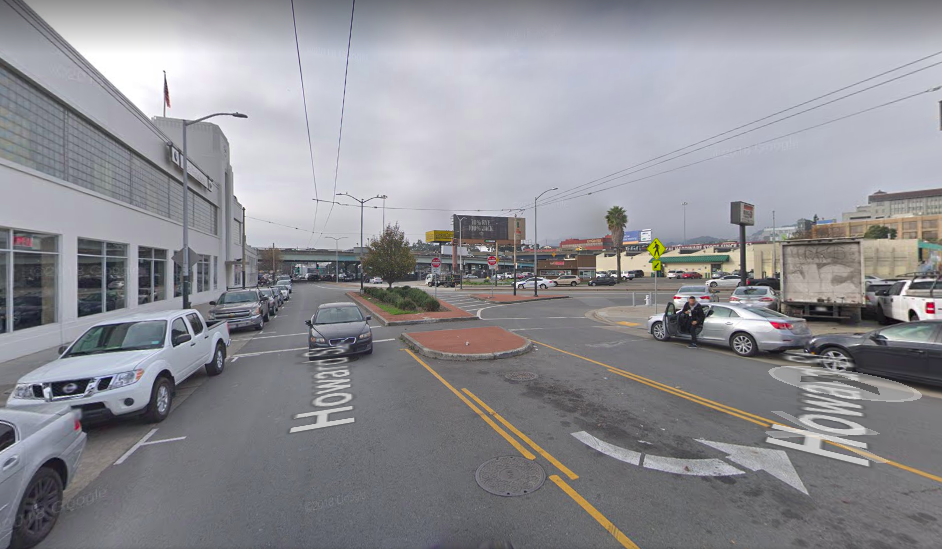 A member of the SF Bicycle Coalition, Ahlgren had actually been on his way to a bicycle safety rally at the time of the incident. 
"As a cyclist and pedestrian myself, every time I cross this crosswalk, I'm in fear," he said of the intersection. "Cars aren't encouraged to slow down or stop, even if there's a pedestrian there. There's a moderate amount of signage and a clear crosswalk, but I think they create an unrealistic sense of safety for cyclists and pedestrians." 
On returning to the intersection today, Ahlgren spoke with a longtime employee of the adjacent BMW dealership, who said he had witnessed several close calls between vehicles and cyclists or pedestrians there over the years. 
"In just 10 minutes, I've seen three bikes come down the sidewalk here," Ahlgren said. "It's obviously not legal to bike like that, but there's no place in this area to bike safely, so people come up on the sidewalk. And there's a car parked right up against the sidewalk, in a legal parking spot, blocking the view of the pedestrians and the cars. Neither can see the other coming."
While Ahlgren said he appreciates the city's sweeping Vision Zero plans to make over several blocks of a street at a time, he said more could be done to address smaller issues more rapidly. 
"How many other places in the city like this are there? Can we eliminate that parking spot or make that $1,000 change to save a life?" he asked. "It's great to have these big systematic plans, but there are smaller things we can do right now to save lives."
"If that parking spot had just been a daylight space, we probably would have a living human being cycling around the city today, and an honest young gentleman who was just going to hang out with a friend wouldn't have experienced this terrible trauma as a driver."