By
Hoodline
- Published on September 11, 2018.
Looking for the hottest new breakfast and brunch eateries in San Francisco? These three newcomers will satisfy all your cravings, from cheesy breakfast sandwiches to pastries. Here are the newest places to check out the next time you're in the mood for a morning meal.
Theorita
834 Divisadero St., Divisadero
Theorita is an upscale diner on Divisadero, located beneath its sister restaurant Che Fico. Named for pastry chef Angela Pinkerton's grandmother, it offers pastries and pies in addition to high-end takes on classic diner fare.
The breakfast menu includes burritos with Chino Valley eggs, breakfast potatoes, Llano Seco pinto beans, pico de gallo and tomatillo salsa, or housemade banana granola served with Swanton Berry Farm strawberries, Kashiwase Farms plums, spearmint, Straus yogurt and avocado blossom honey.
Top it all off with an order of crispy hash browns, or order up a handmade sticky bun or a slice of apple pie. Ritual coffee and espresso drinks are also available.
Theorita currently holds 4.5 stars out of 19 reviews on Yelp, indicating good reviews.
Yelper Angie R., who reviewed Theorita on September 4, wrote, "Amazing! Love the modern diner vibe. We loved the fried chicken sandwich, apple pie and hash browns."
Carol Y. noted, "Love the open kitchen style. There are booth and table seating. The Asian chicken salad was very tasty. The pecan sticky bun is to die for! So tasty! Huge too. Gooey goodness."
Theorita is open from 7 a.m.–11 p.m. from Wednesday-Sunday. (It's closed on Monday and Tuesday.)
Cafe Josephine
199 Museum Way, Corona Heights
Cafe Josephine is a new cafe at the Randall Museum named for its founder, Josephine Randall. Located in the far east corner of the museum, it offers Andytown coffee and espresso drinks, teas, housemade lemonade and more, along with ready-made and made-to-order breakfast and lunch dishes like yogurt parfaits and seasonal toasts, soups, salads and sandwiches.
Yelp users are excited about Cafe Josephine, which currently holds five stars out of six reviews on the site.
Yelper Anna C., who reviewed Cafe Josephine on July 23, wrote, "Cafe Josephine just upped the Randall Museum's game. It offers up fresh, locally sourced and organic produce and food made to order. There are fresh baked cookies, homemade and healthy 'lunchables' that kids love, made-to-order grilled cheese options and creative toasts, organic hot soups and sandwiches too."
El B. noted, "The food is really good and the views are still fantastic! The kids all seemed to like their grilled cheese ... and so did I. I also had an arugula salad with almonds, prosciutto, mint, shaved fennel, burrata and lemon dressing. I was just as good as it sounds."
Cafe Josephine is open from 9 a.m.–4 p.m. from Tuesday-Saturday. (It's closed on Monday and Sunday.)
La Fromagerie Cheese Shop
100 First St., SoMa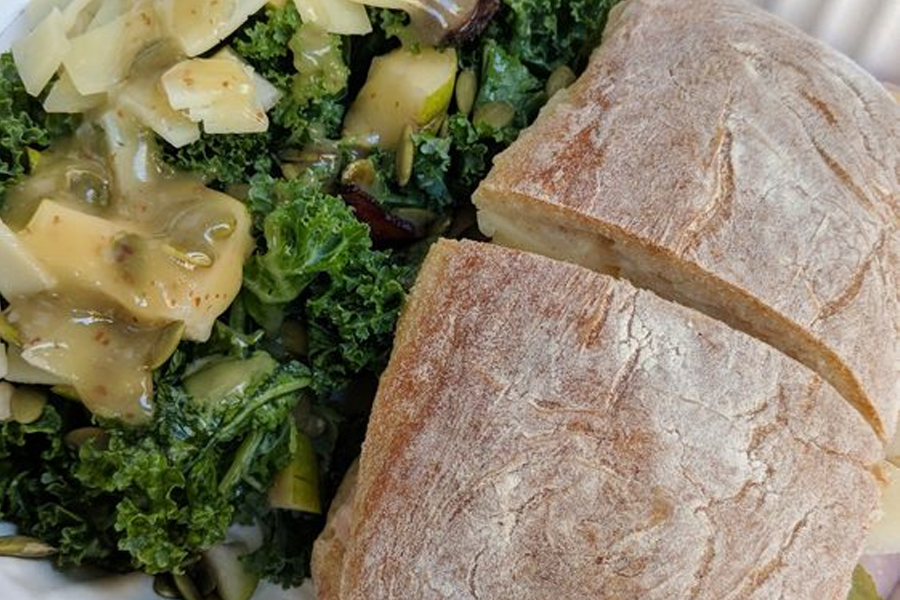 SoMa's new La Fromagerie Cheese Shop sells cheese, but it also offers cafe fare for breakfast and lunch. According to its website, the spot sources unique cheeses from Europe and the U.S., and a variety of European traditional cured meats such as smoked duck breast, Serrano ham, chorizo and many more. Locally handmade wood-fired bread is also available.
The in-store breakfast menu includes chocolate croissants, organic granola topped with strawberries and bananas, oatmeal and more. Breakfast sandwich options include the Le Poitou, topped with French goat cheese and fig jam; the Le Lyonnais, with double-cream French brie cheese and onion jam; and the Le Savoyard, with raclette (semi-soft French cheese) and French pickles.
Yelp users are excited about La Fromagerie Cheese Shop, which currently holds five stars out of 31 reviews on the site.
Yelper Bridgett C., who was one of the first users to visit La Fromagerie Cheese Shop on August 7, wrote, " Wow, this place is amazing! The people who work here are so nice and helpful. My friend and I could not decide, and the guy behind the counter made a little sample for us and it instantly sold us! We ended up getting the La Mancha salad, and it was delicious."
Yelper Kyle S. wrote, "Had an incredibly light and fresh salad with duck breast, kale, manchego, pears and fig for $12. The entire shop is quaint and has fresh cheeses for you to purchase and taste when visiting."
La Fromagerie Cheese Shop is open from 7 a.m.–4 p.m. on weekdays. (It's closed on weekends.)