Here's the latest on San Francisco's restaurant scene. In this edition, an Oakland soul food staple is moving forward with an SF outpost, a new poke spot is reportedly coming to the Lower Haight, and an Afro-Caribbean joint is heading to the Fillmore. 
Embarcadero
Brown Sugar Kitchen Counter (One Ferry Building)
Veteran Hoodline tipster Al M. reports from the Embarcadero that the forthcoming San Francisco location of Oakland soul-food staple Brown Sugar Kitchen is starting to make headway.
Owner Tanya Holland has been working to bring the restaurant across the bay since 2016, when she acquired the lease for the former Il Cane Rosso space at the Ferry Building. She was delayed for nearly a year as she sought funding.
"I beat out seven other chefs, so I'm pretty proud of all of this," Holland told the Chronicle last year. "It took me a while to access capital for it and while we're not completely funded, we have enough to sign the lease."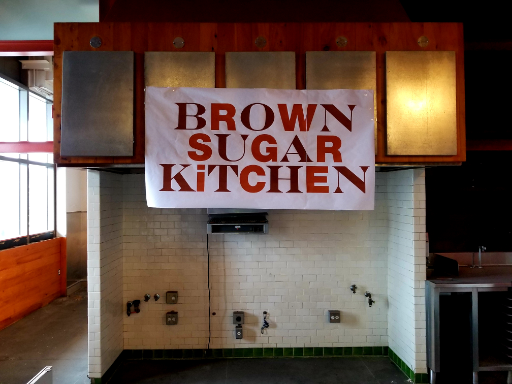 Though it got its start in West Oakland, Brown Sugar Kitchen's flagship location is now located at 2295 Broadway (at 23rd St.), in the former home of Pican. The new SF outpost will be a counter-service version called BSKC, for Brown Sugar Kitchen Counter. 
As we've reported earlier this year, Holland has hinted at possible new locations at two local airports, as well as sports stadiums.
"My goal has been the same," she said. "I want to be the Shake Shack of soul food."
According to the restaurant's website, the Ferry Building outpost should be open later this fall. 
Lower Haight
Poke (254 Fillmore St.)
In the Lower Haight, our informant Al M. reports that a new poke spot, simply called Poke, appears to be coming to the former Three Twins Ice Cream space at Haight and Fillmore. 
Poke's flagship location in the Marina (3251 Pierce St.) opened for business last month, according to Al. Similar to other poke eateries, the menu features a selection of signature poke bowls as well as a build-your-own-bowl concept.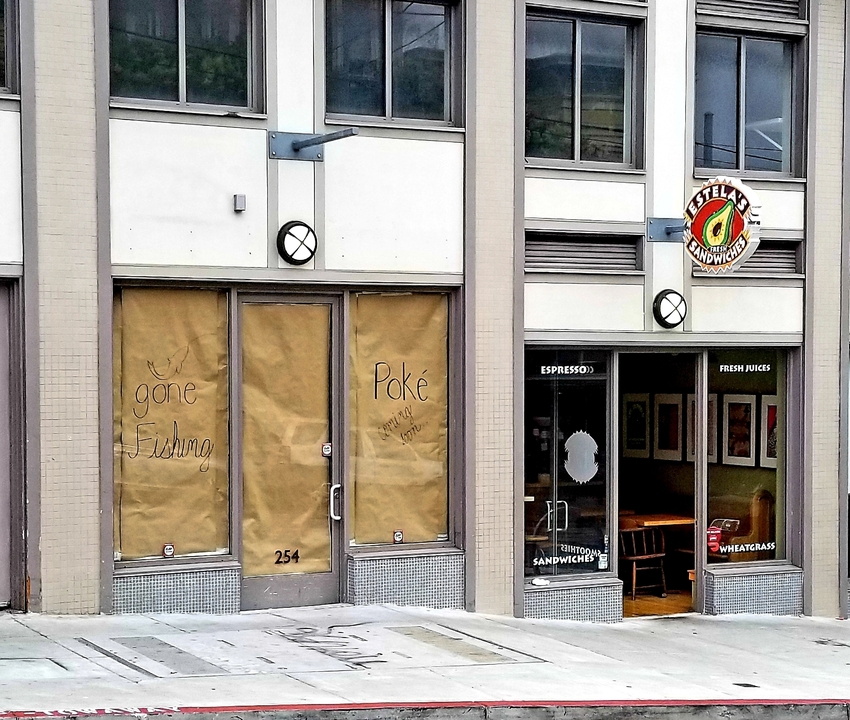 So far, the new spot is still in its early stages and "the windows are covered with paper with the words 'gone fishing' on it," said Al. 
There's no word when the new Hawaiian-inspired eatery will debut. As always, Al promises to keep an eye on the space and report back. 
Fillmore
Isla Vida (1325 Fillmore St.)
A new Afro-Caribbean eatery called Isla Vida is working to open in the Fillmore's Black Bark BBQ space, which closed its doors early this year. 
The restaurant, which shares some ownership with Tenderloin soul-food spot Farmerbrown, is currently raising funds via a crowdfunding campaign.
Isla Vida's menu is "inspired by the islands, people, and lifestyle of the African diaspora," according to its Indiegogo page. "It's a warm, vibrant place where flavors are rooted in the culture and prepared with love and craft."
Expect to see wood-fired meats, tostones, Cubano sandwiches and more. 
Co-owners Jay Foster, Matthew Washington and Erin Traylor also want to highlight their status as a black-owned Fillmore business, noting that while the Fillmore is a historically black neighborhood and cultural hub, "over the years, the neighborhood has slowly lost its heritage."
"The opportunity to open a business in the Fillmore and help bring it back to what it once was is a rare opportunity that we couldn't pass up." 
---
Two thumbs up to Al M. for the tips! If you've seen something new in the neighborhood, text your tips and photos to (415) 200-3233, or email [email protected] If we use your info in a story, we'll give you credit.