While San Francisco is chock full of prime real estate for sanctioned public advertisements, some local businesses, museums and even international pop stars have — albeit illegally — taken their messages to the streets. 
Despite efforts by the city to stave off unsanctioned advertisements painted on public sidewalks, it appears that some companies haven't gotten the message. 
Last week, Hoodline reader Peter D. spotted at least six spray-painted adverts for the Wall Street Journal adorning sidewalks in the Financial District. 
"I saw it ... on my walk to work, it's all over the FiDi," he told us. Two were spotted at Battery and Pine streets, two at Sansome and Clay streets and "a couple all the way up on Columbus Avenue, too." 
The somewhat subtle graffiti appears to be semi-permanent advertising for the newspaper's Instagram page. "They did not look loose or smudged like chalk, even after lots of people [have been] walking on them," Peter D. added. 
SF Department of Public Works (DPW) spokesperson Rachel Gordon told Hoodline that they are aware of the reported advertisements and "will remove them if we come across them and attempt to recover costs" to clean them up. 
"Our public sidewalks are not to be used as commercial billboards," she said. 
Incidentally (or ironically?), the Wall Street Journal published a story in 2010 about the San Francisco City Attorney's office settling for $45,000 with Davis Even Advertising of Los Angeles for adhering fake cash to city streets to promote Zynga Game Network Inc.'s social game Mafia Wars.
We've made several attempts to get a statement from the Wall Street Journal, but our requests have not been returned.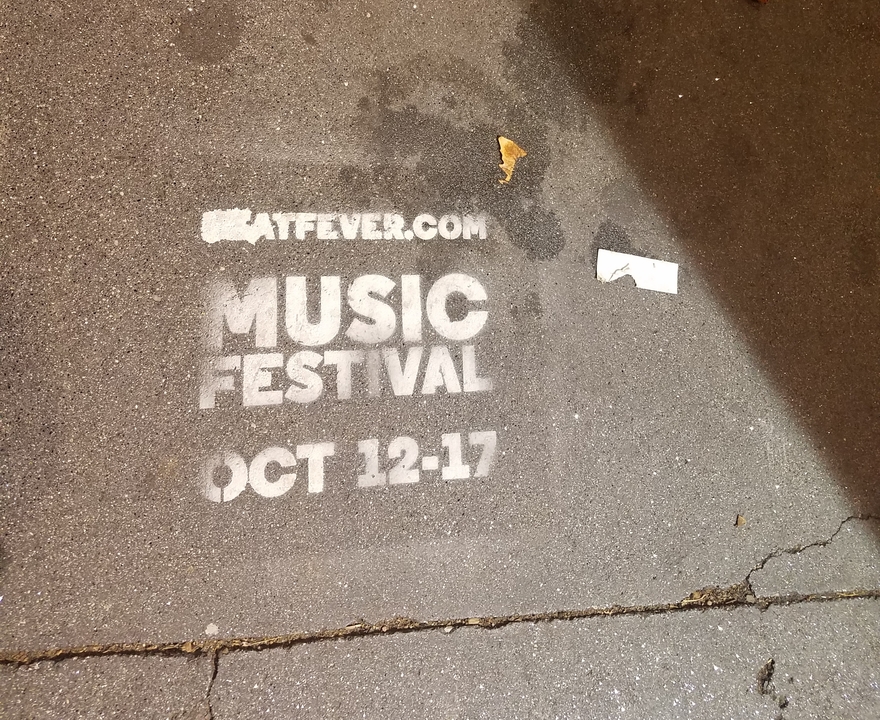 As DPW tackles the WSJ hashtags in the city's northeastern quarter, Supervisor Aaron Peskin's office noticed additional illegal sidewalk graffiti this week in the Mission.
The adverts highlighting a music festival appeared outside of 663 Valencia St. below the Hotel Tropica, one of Peskin's legislative aides told us. 
The San Francisco City Attorney's Office told Hoodline that the first step is for DPW to cite, abate and then attempt to charge the offending companies for the advertisements before it gets involved. 
"We need to send a message to people that we will pursue this, and that this is not OK," Gordon previously told Hoodline. 
---
Thanks to Peter D. for the tip! Have you seen something interesting in your neighborhood? Text your tips and photos to (415) 200-3233, or email [email protected] If we use your info in a story, we'll give you credit.