By
Hoodline
- Published on October 09, 2018.
Craving breakfast and brunch food?
Hoodline crunched the numbers to find the top breakfast and brunch spots around Baltimore, using both Yelp data and our own secret sauce to produce a ranked list of where to venture when you wake up with an appetite. 
1. Water for Chocolate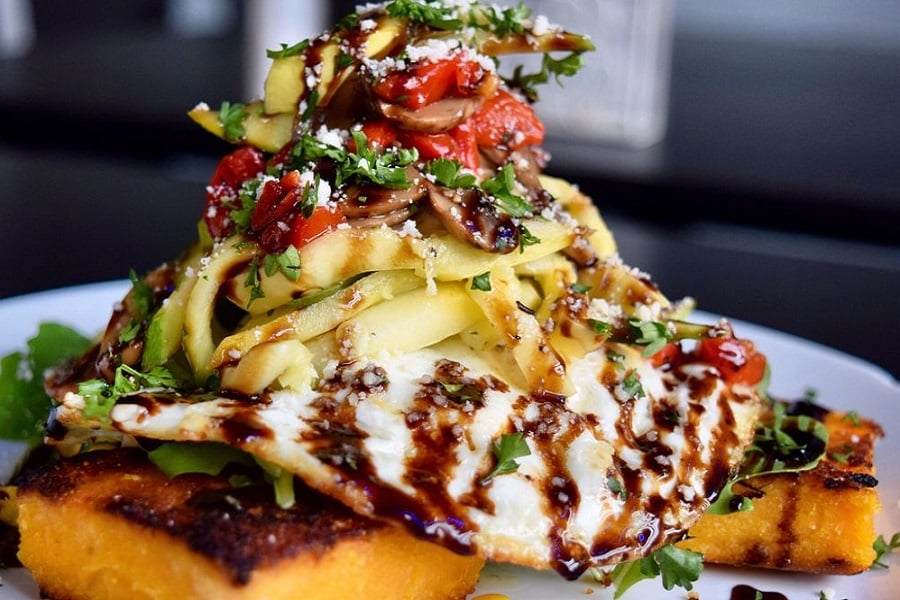 Topping the list is Water for Chocolate. Located at 1841 E. Lombard St. in Upper Fells Point, it's the highest-rated breakfast and brunch restaurant in Baltimore, boasting 4.5 stars out of 691 reviews on Yelp.
Brunch options include the barbecue shrimp and Parmesan grits served with jalapeño cornbread; the sweet potato polenta with eggs, grilled vegetables and goat cheese; and the charred octopus with grits, poached eggs and black butta gremolata.
Yelper Nicole P., who reviewed the restaurant on Sept. 16, wrote, "Came in for a midday Sunday brunch for two and had a great dining experience! The restaurant is small and intimate with limited seating, yet, with the big windows, still bright and airy. The food was outstanding; every flavor was purposeful and delicious."
2. Miss Shirley's Cafe
Next up is the Inner Harbor's Miss Shirley's Cafe, situated at 750 E. Pratt St. With four stars out of 2,079 reviews on Yelp, the traditional American cafe has proven to be a local favorite. It features Southern-influenced fare made with locally sourced Chesapeake Bay ingredients.
On the menu, expect to see options like the Southern Slammer Sandwich (fried green tomatoes, applewood-smoked bacon, avocado mash, cheddar and fried egg on pumpernickel), Shirley's Affair with Oscar (black Angus filet topped with asparagus, jumbo lump crab meat and hollandaise on fried green tomatoes and stone-ground grits with diced bacon and a dusting of Old Bay) and the Creole Mac & Cheese Skillet (blackened shrimp, ham, diced tomatoes, green onion and cavatappi pasta in a five cheese blend, dusted with Cajun spices). (See the full menu here.)
Debra O., who visited on Aug. 1, said, "Excellent breakfast choice. The menu is interesting and extensive. My husband enjoyed the coconut-stuffed French toast and I had the quinoa bowl. The food is excellent with amazing flavor. Great experience!"
3. Woodberry Kitchen
Woodberry Kitchen, located at 2010 Clipper Park Road, Suite 126, is another top choice, with Yelpers giving the traditional American spot four stars out of 2,049 reviews.
For brunch, the menu has dishes like the Chicken Chilaquiles (with scrambled eggs, fried tortilla, sour cream and cilantro), the Carolina Gold Rice Bibimbap (fried short rib, gochujang, marinated daikon, kimchi, egg and cilantro) and Beau's Breakfast (scrambled eggs, maple sausage, rabbit sausage, skillet potatoes and buttermilk biscuit). 
Yelper Leigh K. said, "We were seated 15 minutes before our reservation time, which was surprising. Our waitress was friendly and informative. We sampled a few different menu items and everything was fresh and delicious. Loved the decor and ambiance and appreciated how they listed all local sources for the food."
4. Cava Mezze
Cava Mezze, a Mediterranean and New American spot in the Inner Harbor, is another much-loved go-to, with 4.5 stars out of 547 Yelp reviews. Head over to 1302 Fleet St. to see for yourself.
It has an all-you-can-eat brunch option, which the whole table must order. It gives you access to the full menu, serving up small plates that you can mix, match and share. Dishes may also be ordered a la carte. Some options include the spicy lamb Benedict; the gyro hash brown with feta cheese, yogurt, tomatoes and onions; and the Cava home fries with tomato, onion and honey harissa ketchup. (See the menu here.)
Anna L., who reviewed it on Sept. 29, said, "Bottomless brunch is the bomb! Also, the small plates are perfect to try a little bit of everything. Such a fun place for large groups and for celebrating something!"
5. Blue Moon Cafe
Over in Fells Point, check out Blue Moon Cafe, which has earned four stars out of 1,750 reviews on Yelp. Open since 1996, you can find the traditional American spot at 1621 Aliceanna St.
On the menu, offerings include the Universal Omelette (diced ham, sausage, bacon, broccoli, mushrooms, onions, peppers, tomatoes, mozzarella and cheddar), the Maryland Crab Benedict on a toasted English muffin and the Cap'n Crunch French Toast with fresh berries and whipped cream. (You can check out the menu here.)
Beth P., who reviewed the eatery on Sept. 23, wrote, "The food was incredible and made to order. The atmosphere is homey and intimate. You get to know the people around you. The staff was friendly and we could see the kitchen staff from our seats at the bar; they were happy in their work, which is always wonderful to see."