The Women's Building at 3543 18th St. (between Guerrero and Valencia) is making a final push this weekend to score enough votes to win a $150,000 grant it hopes to use to replace its 108-year-old windows.
In cooperation with a Mission-based clubhouse for women, The Assembly, the organization is hosting a free, registration required, yoga class and guided tour of the building to encourage more people to vote for the Women's Building in the contest, hosted by the National Trust for Historic Preservation and American Express.
The contest, which launched last month, features 20 historic sites around the country competing for more than $1.5 million in preservation funding. The contenders include churches, businesses, museums, community centers and other historic sites, and 10 will receive funds.
Final votes will be accepted through October 26. 
"We have a great opportunity to get funding to retrofit our windows and preserve their look in order to respect and acknowledge the style and history of this landmark building," Noemi Zulberti, Women's Building facilities director, told Hoodline via email.
Elaborating on the need, the organization's executive director told Mission Local last month that the building's existing 108-year-old single-pane windows do not open or close properly and pose a safety threat in an emergency. A full retrofit of all 54 windows is expected to have a price tag of $200,000, and the Women's Building will finance the remaining $50,000 itself.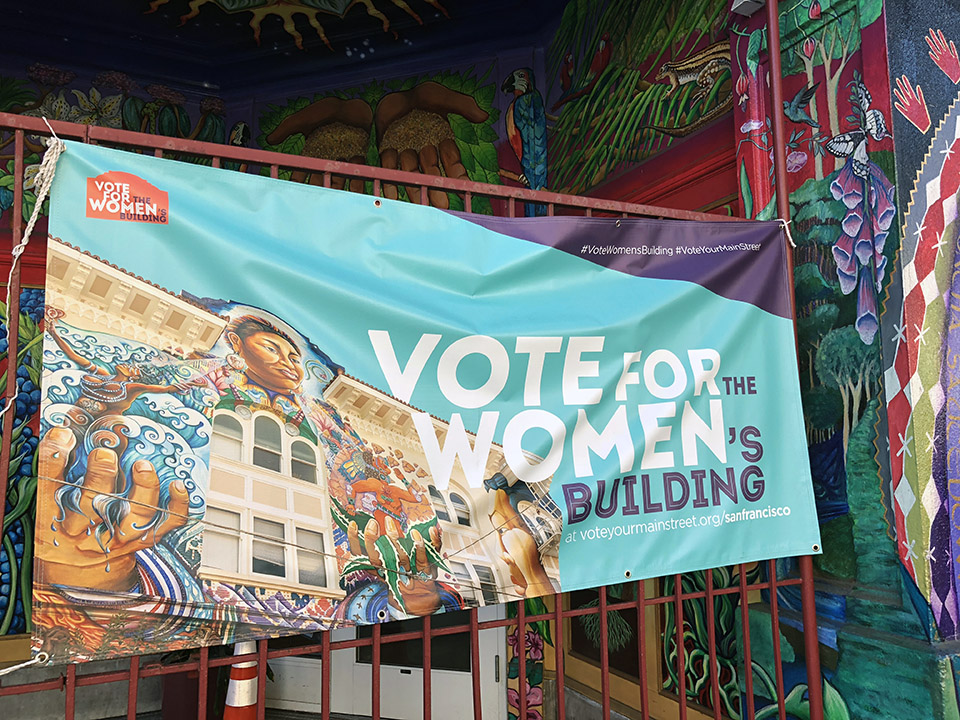 The Women's Building, "a safe and welcoming place that facilitates the wellbeing of women, girls and families", has been serving the community since 1971. After outgrowing its initial office, the organization purchased 3543 18th St., formerly a Sons of Norway meeting hall and neighborhood bar called Dovre Hall.
The organization shares the premises, a San Francisco historic landmark, with nine other nonprofits, including Dolores Street Community Services and Immigration Center for Women and Children.
Recently, the building was also recommended for the National Register of Historic Places. Mentioned in the recommendation is the 1994 mural that envelops the building's main facades, MaestraPeace. It illustrates the contributions of women across time and around the globe.
The building itself was erected in 1910 of unreinforced masonry. Alterations to the interior in the 1930s and 1980s to 1990s served to reinforce it for its continued use as a social hall.
"Their building is an inspiration and we are passionate about the preservation of their space," Anabel Lippincott Paksoy of The Assembly told us via email.
Tomorrow's yoga practice will conclude with refreshments and a behind-the-scenes tour of the building.