By
Hoodline
- Published on November 08, 2018.
Overall crime in Chicago is on the decline for the second month in a row, according to data on reported incidents released by the Chicago Police Department. Total incidents fell from 22,363 in September to 21,963 in October, representing a modest decline of about 2 percent.
This month's decrease in crime incidents puts the monthly total at almost 4 percent below the same month a year ago. The longer-term trend has been generally downward, with seasonal ups and downs, making a year-over-year comparison most relevant.
Total crimes per day (rolling seven-day average), past 90 days, compared to previous year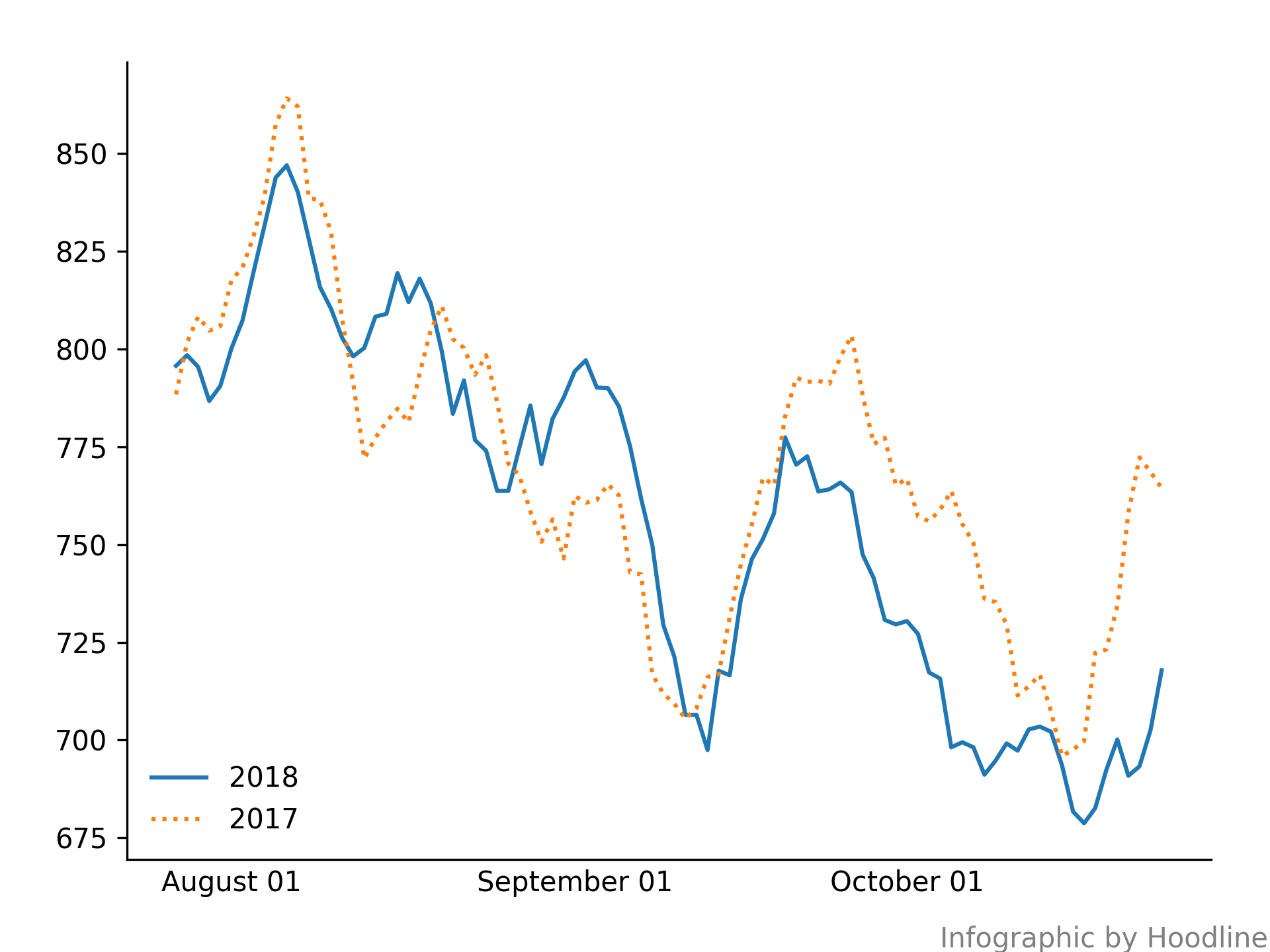 Most types of crimes decreased this month, led by theft, assault, and fraud. General theft remains the most common offense, but fell by almost 200 reported incidents per month, from 5,642 in September to 5,465 in October. Assaults fell from 1,797 to 1,700 incidents, a more than 5 percent drop from the previous month. However, assaults have risen over the past year from 1,627 last October, so there is still some ground to recover.
While somewhat smaller categories, motor vehicle theft, fraud, and burglary all declined by more than 6 percent from the previous month, and are down by close to 20 percent each from last year. Battery remains the second most common offense type and—like assault—has increased since last year, but incidents fell slightly from 4,337 to 4,274 in this latest month's data.
Monthly crime incidents vs. one year ago, most common offense types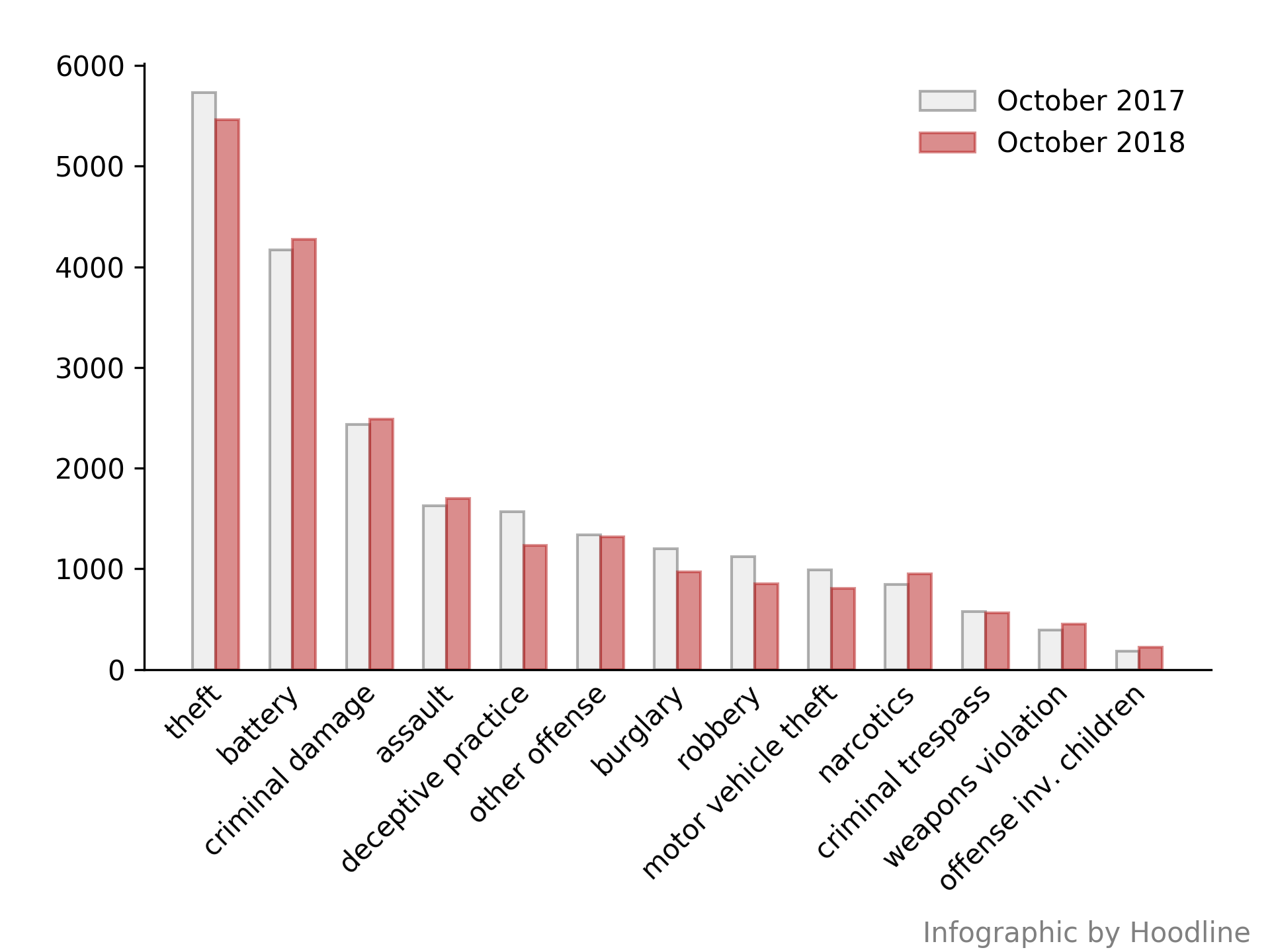 Among the few categories of crimes that saw an uptick this month, reports of criminal damage increased from 2,272 to 2,486, and robbery increased from 768 incidents to 851, although robberies are down from last year. There was also a notable increase in offenses involving children, from 194 to 217, the third straight month of increases in that category. Homicides also rose from 48 incidents in September to 53 in October.
As far as where crime is concentrated in the city, the Loop continues to have the highest density of reported incidents, at almost 150 per square kilometer for the month of October.  The Loop saw a slight uptick in incidents this past month, but crime in that area has dropped by almost 8 percent from October of last year.
Nearby neighborhoods of Streeterville and the Near North Side also have relatively concentrated crime levels. Streeterville's pattern closely followed the Loop's, while crime in the Near North Side saw a sharp decline of about 17 percent from September to October, and is down almost 20 percent from the same time last year.
Heatmap of crime incidents in Chicago last month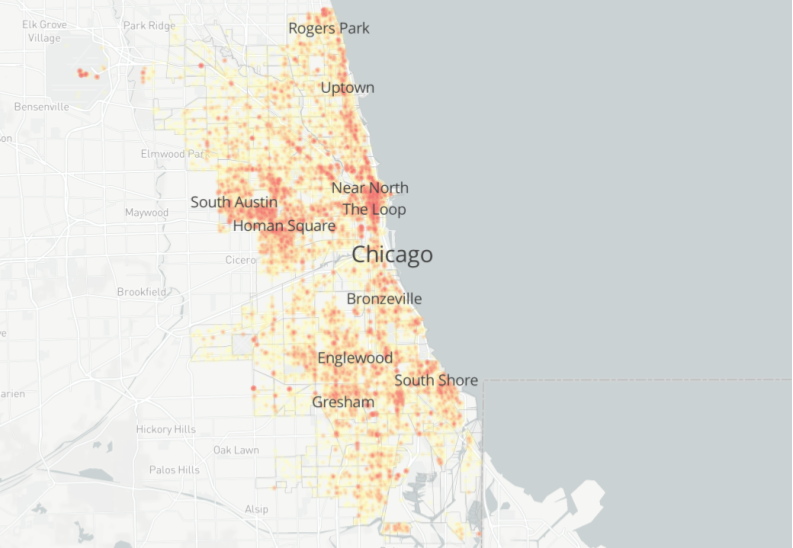 While somewhat more spread out, South Austin, Englewood, and South Shore also experience relatively high crime rates, but saw declines of more than 5 percent this past month, and are all below the levels seen a year ago. A comparable neighborhood on the south side of the city, Gresham saw a slight uptick in crime this past month, and has seen an increase of about 1.7 percent since October of last year.
The decrease in crime this month occurred mostly on Saturdays and Sundays, last month's peak days for crime reports. Incidents increased on Mondays, Tuesdays, and Wednesdays, though crime remains fairly evenly spread throughout the week. Evening hours and noon continue to see the most crime incidents, while mornings are the quietest. The largest increase in incidents this month occurred between 6 p.m. and 7 p.m., while the largest decrease in crime occurred just after midnight.
To report an emergency or crime in process, contact CPD at 911; for non-emergencies, call 311 within city limits (312-746-6000 outside of city limits).