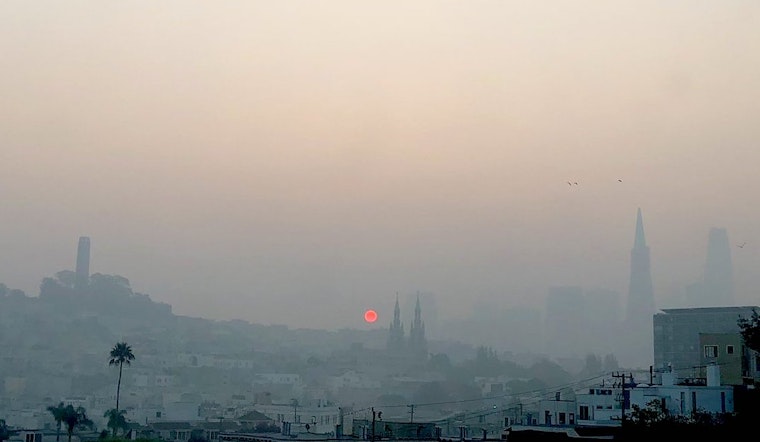 Published on November 16, 2018
The poor air quality in San Francisco, caused by smoke from Butte County's deadly and devastating Camp Fire, continued to deteriorate on Thursday and into Friday.
According to AirNow, the Air Quality Index (AQI) in the city currently stands at 225, putting it into the purple "very unhealthy" zone. Under this rating, sensitive groups like older adults, children and teenagers, and people with heart or lung disease are encouraged to avoid all physical activity outdoors, while everyone else is encouraged to avoid prolonged or heavy exertion. 
That rating currently gives Northern California the worst air quality in the world, according to the World Air Quality Index, outpacing notoriously smoggy cities like New Delhi, India and Dhaka, Bangladesh. 
The city has sprung into action to protect these vulnerable groups from exposure to the poor air. Most notably, the SF United School District cancelled all classes today, to help protect children and teachers.
Tourist destinations are also shutting down. According to ABC7, Alcatraz, the cable cars, and the Union Square ice rink are among the major attractions that have gone offline today for air-related reasons. 
Mayor London Breed has made Muni fares free across the city today, to help people in need of enclosed transportation get from place to place without concern about cost. Passengers are permitted to board without a transfer, and do not need to tag Clipper readers. 
For those in need of a respite with filtered air, the city has a map of safe spaces that people can head to in order to breathe more easily. They include most of the city's public libraries and recreation centers, as well as malls like the Westfield San Francisco Centre and the Japan Center. 
The air quality is even worse in Butte County, where at least 63 people have died and more than 600 are missing, in addition to thousands of homes destroyed. If you're interested in giving back to those affected, here's how you can help.