The Wild West days of electric scooters in San Francisco are long gone, with only two companies, Scoot and Skip, permitted by the SFMTA to operate within the city limits. But even as the city cracks down on unregulated scooter use, there remain some legal gray areas. 
One notable area of contention: whether it's safe for e-scooter users to ride when it's raining outside. Yesterday's wet weather revealed a divide between the companies, with Skip yanking all of its scooters from the streets as Scoot's drove on. 
The city doesn't have an official policy on whether the scooters are safe to ride in the rain, said SFMTA spokesperson Paul Rose.
"We require the companies to provide safe service," he said. "But it's at their discretion as to whether wet weather is unsafe."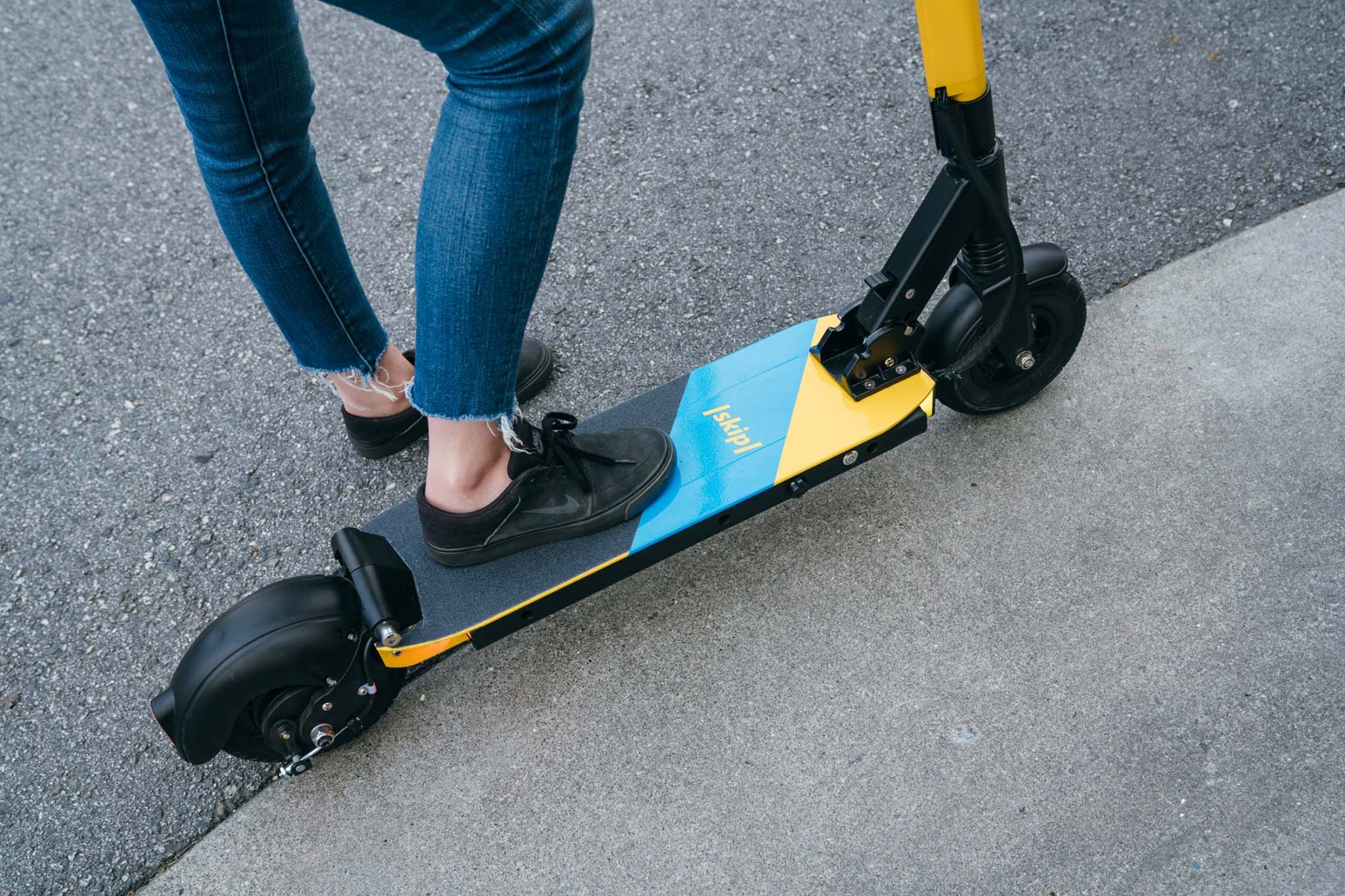 Scoot says it's not concerned about the conditions, and that its app offers special instructions to users on how to ride when it's wet. 
One day of rain in #SF and all #scooters washed away? #nosmoke yay, but #noscooters nay - weather vs multimodal dream? @SkipScooters pic.twitter.com/levs2epQVl

— Christian Umbach (@ChrisUmbach) November 22, 2018
"Our vehicles are waterproof, our full-time team of local mechanics take care of our vehicles in the field 24/7, and our app trains people, via video, how to take extra precaution on wet streets," said Scoot spokesperson Steve Rodriguez.
Skip felt differently about the soggy weather, pulling all of its scooters from city streets yesterday. Though conditions have been dry as of press time on Wednesday, Skip's scooters remain offline. 
"Scooters, like all modes of transit, require extra caution when roads are slick," Skip CMO Julie Supan said in a statement. "We make weather-related deployment decisions on a case by case basis, taking into account the forecast, conditions on the ground, and public familiarity with scooters." 
With more rain forecast for tonight and tomorrow morning, Skip's scooters likely won't return to the streets until Friday, Supan said. 
The inter-company debate about scooters and rain may not seem like a big deal—after all, if one company isn't in service, riders can always take the other. But the companies are each restricted to certain areas of the city.
For example, a Skip rider in the Upper Haight, Laurel Heights, or Divisadero/Alamo Square hoping to switch their commute to Scoot would be out of luck. The company doesn't allow its e-scooters north of Page Street, or west of roughly Scott Street. 
Similarly, Skip doesn't operate south of 21st Street in the Mission, while Scoot covers almost all of the neighborhood. 
There are also limits on the number of scooters each company can operate, set by the SFMTA at 625 per company (1,250 total). With Skip taking half of the available vehicles offline, riders may be competing for a limited quantity of rides. 
The rain delays have also revealed some operational flaws in each company's app. Skip's simply shows an empty map devoid of scooters, without any notification as to why they're offline. 
As for Scoot, the "How to ride in the rain" portion of its app's help section is blank.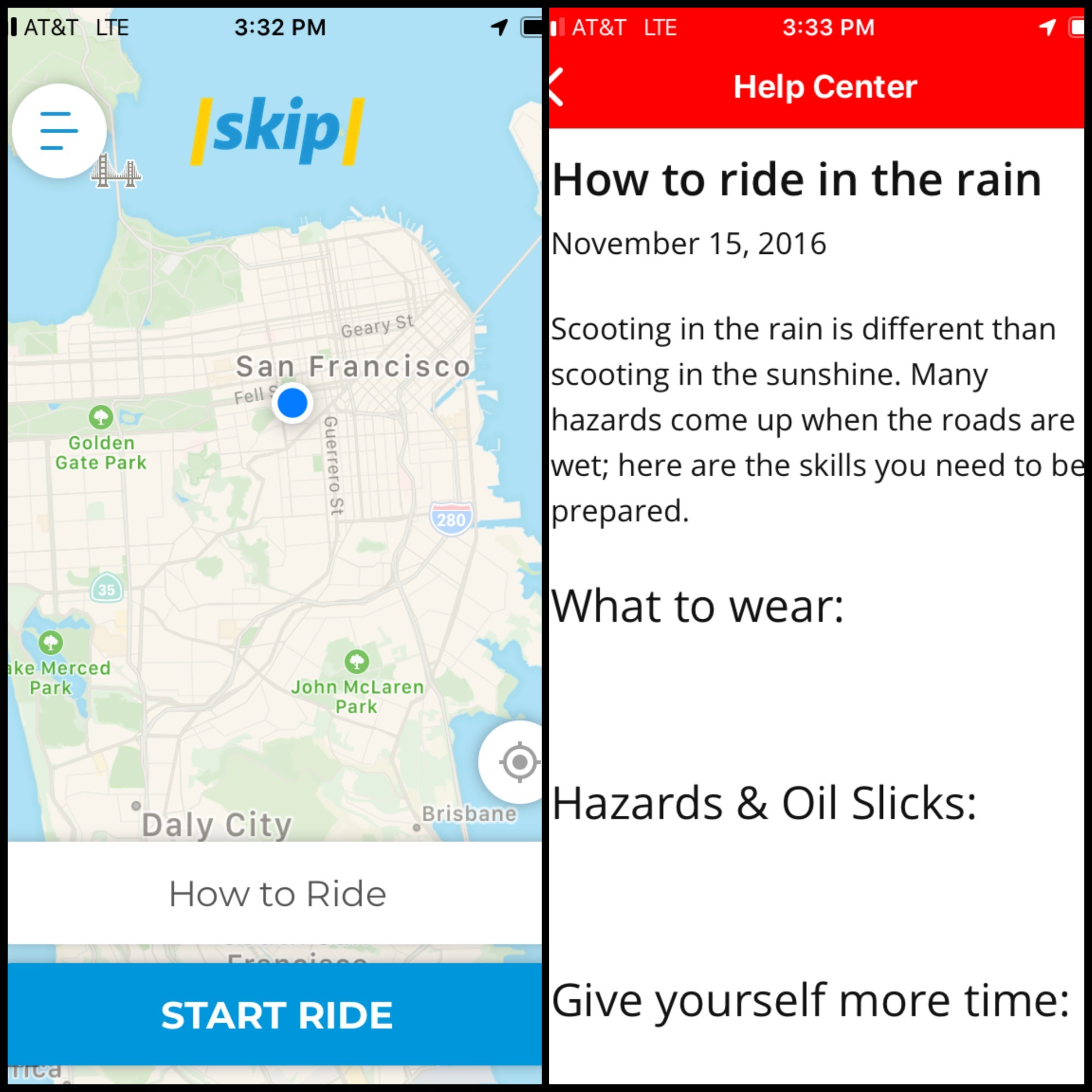 Given the challenges of deploying this still-evolving mode of transportation, it's not surprising that the companies that didn't make the cut for the city's program are arguing that they still deserve a shot. 
In a hearing on November 16, scooter company Spin (owned by Ford Motor Co.) alleged that the SFMTA's selection process was "biased." It cited the SFMTA's own internal emails to argue that the agency's board of directors wanted to punish Spin and competitors Bird and Lime for launching in San Francisco before regulations were created.
Another scooter hopeful, Uber-owned Jump, is set to have an appeal hearing of its own next Tuesday, December 4.