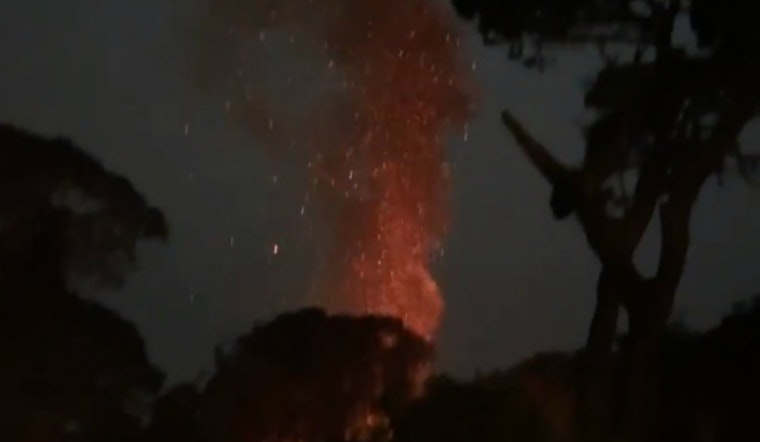 Published on November 10, 2018
The San Francisco Fire Department is asking the public to provide information about a rash of six suspicious fires set in the western end of Golden Gate Park over the last 24 hours.
Fire happening right now in Golden Gate Park or Richmond district. This was taken from 33rd Ave. near Lincoln looking toward the park. @sffdpio @SFPD pic.twitter.com/4y7XHj8gr4

— Moxxxie (@missmoxxxie) November 10, 2018
The fires, which took place in the area around the park's angling pond and polo field, began on Friday afternoon. Visible for miles, they damaged areas ranging from 200 square feet to an acre, according to the department. No people or structures were harmed.
"In the course of the investigation, it has been determined that these fires are suspicious in nature," the department said in a statement.
The fires offered a grim echo of the deadly blazes further north in Butte County, which are currently funneling smoke and ash into the skies over the Bay Area.
Fire in Golden Gate Park on west end of Polo Fields pic.twitter.com/JxeW6QpgnJ

— Mike Billings (@mbillings) November 10, 2018
Last night's fires aren't the first suspicious blazes in Golden Gate Park this year: the clubhouse for the park's golf course was incinerated in July, in an incident that officials said at the time was being investigated as arson. 
There were also two smaller fires in the park this fall: a small brush fire behind the John McLaren Memorial Rhododendron Dell, which occurred on October 24, and a September 19 fire on Chain of Lakes Drive. At the time of the October fire, an SFFD representative said that neither it nor the September blaze was being treated as suspicious. 
The fires are being investigated jointly by SFFD, SFPD, and Rec & Park. Police and park rangers will continue to have a "visible presence" in the area where the fires occurred, according to the fire department's statement.
Anyone who has information about the fires is asked to report it anonymously to the fire department by calling (415) 920-2933 or emailing firepio [at] sfgov [dot] org. To report a fire in progress, call 911.