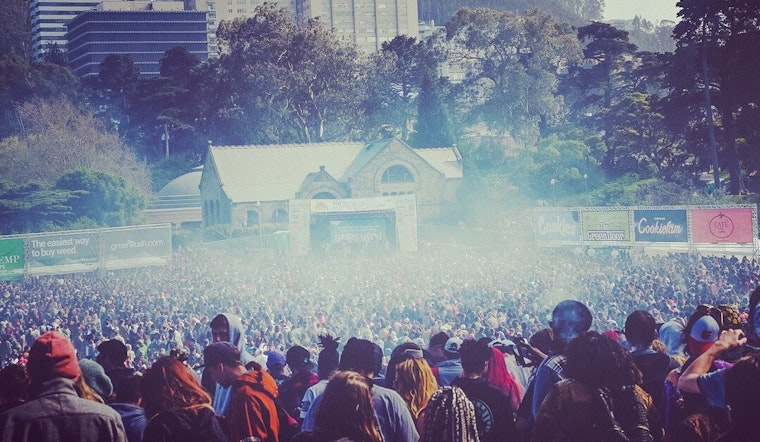 Published on April 08, 2019
Two years after the city of San Francisco brought on its first-ever private sponsor for 4/20 — long the Upper Haight's biggest unofficial holiday — the annual cannabis event is getting its fullest consideration yet, with beefed-up security, cleaning crews, and medics.
Named for a slang term for marijuana, 4/20 draws tens of thousands of people to the Upper Haight and Golden Gate Park's Hippie Hill to smoke, ingest, and otherwise celebrate cannabis.
Since April 20 falls on a Saturday this year, organizers are expecting higher turnout than for last year's event, which drew roughly 20,000 people.
Organizer Alex Aquino, owner of Haight Street apparel business Black Scale, says that preparations are being stepped up accordingly.  
"We're prepared for it to be a strong turnout," he said. "We're getting extra port-a-potties on the block, we've beefed up security, we've beefed up the fence line, we got more ambulances ... we're definitely ready."
As with previous years' 4/20 festivities, there will be an age-enforced perimeter around Hippie Hill. Because marijuana sales and alcohol are prohibited inside the perimeter, Aquino was able to bring down the age minimum this year to 18, instead of 21. His hope is that the change will reduce the number of visitors forced to spill into surrounding neighborhoods.
Unpermitted vending and large tents are still prohibited, Aquino said. There will be eight to 10 food trucks to help feed attendees, as well as four ambulances on site to respond to overenthusiastic participants.
Post-event meadow and street cleaning will be handled by Downtown Streets Team, the nonprofit for unhoused people that recently expanded its street-cleaning services to the Haight.
To foot the bill, Aquino has assembled a team of sponsors, largely composed of local cannabis businesses. Their ranks include dispensaries (Moe Greens, Barbary Coast, Green Door) cannabis companies (Falcon Brands, Sun+Earth Certified, High Hemp Wraps) and clothing purveyors (Cookies SF).
Together, these sponsors have put up nearly $250,000 in cash to ensure things go smoothly — a budget that doesn't include services donated by the city and nonprofits.
"No one gets paid except the production staff," Aquino said. "[The sponsors are] really doing it for the culture and for the park and for the city, and the patrons who want to enjoy Golden Gate Park."
We'll have more on the event, and potential disruptions to parking and public transit, as the big day nears.