A developer lucky enough to get a good deal on a major piece of property in the Tenderloin is passing it on through purposefully low rents, in the hopes of attracting creative new restaurants to the neighborhood.
Three new side-by-side restaurant spaces on the ground floor of 499 Ellis St. (at Leavenworth) are being offered for only $3.10 per square foot, said Santino DeRose, a broker for commercial real estate company Maven, which is leasing out the building. 
A fourth space, fronting Leavenworth Street, stretches the length of the property below-ground, and is being offered at $2.50-$3 per square foot.
Retail space in San Francisco typically goes for $55-$65/square foot on average, DeRose said. The low rents are possible because the building owner "got a good deal" on the property, and is looking to maximize the use of the space.
DeRose said he and his colleagues are "looking for interesting concepts" to fill the new restaurant spaces, echoing the success that Maven and real estate investment manager Veritas have had filling some similarly sized retail spaces just a few blocks north, at the corner of Geary and Leavenworth streets.
In recent years, that block has seen the addition of popular restaurants Elephant Sushi, Mensho Tokyo, and Barnzu, and Maven is currently looking for a new tenant to replace the recently shuttered Trocadero Club/Rx Bar.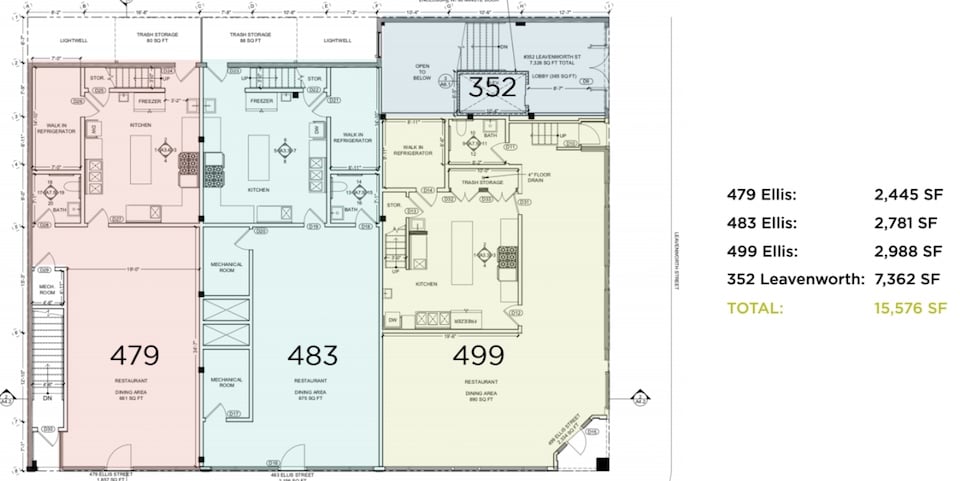 The 17,214 square-foot building at 499 Ellis was constructed in 1922, and SF Planning records show it was last purchased in 2015 for $2.5 million. But it's worth a lot more: its 5,401-square-foot lot has been assessed by the city at a value of $2.53 million, and that doesn't count the building itself. 
Each of the spaces being offered for rent is zoned for restaurant/bar use, according to SF Planning records. An entertainment permit for live music or performances would have to be acquired separately.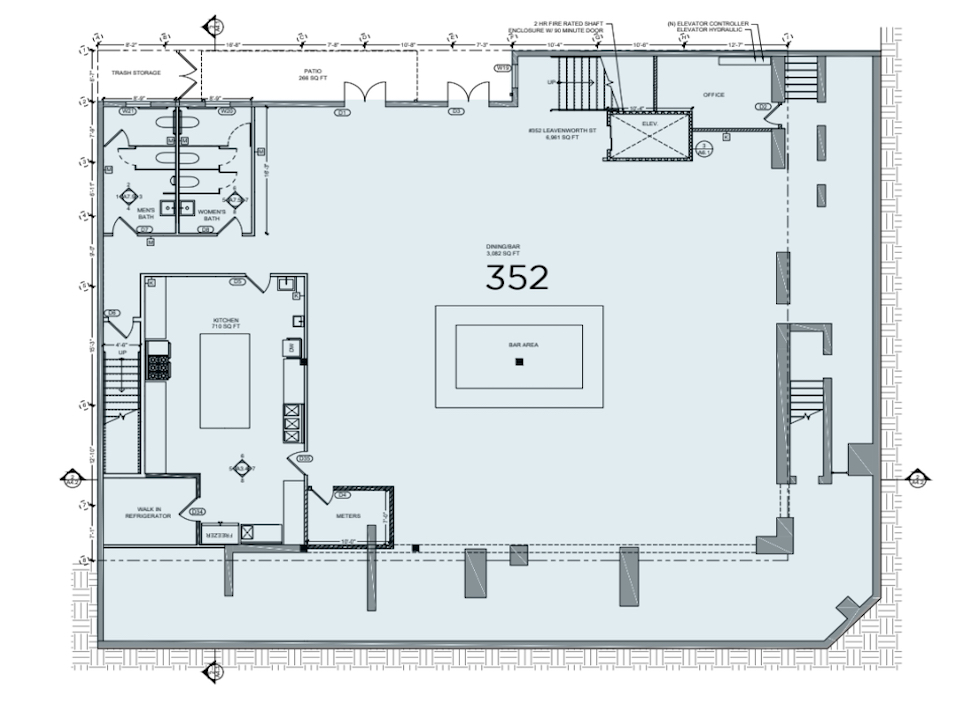 DeRose said the building's developer was attracted to its historic elements, and worked to preserve them during the renovation process. 
"The entire facade at 499 Ellis was considered historic," he said. Preserving it added "significant costs and delays," but the building owners were "fully on board with a first-class restoration."
One particularly expensive element involved restoring the upper windows of the storefronts, which have a mullion detail that was considered historic. The replacement windows couldn't be sourced from any local manufacturers, DeRose said, and had to be shipped from Wisconsin.
Once renovations are complete, muralist Max Ehrman, also known as EON75, has been tapped to decorate the building's facade. He's already livened up the corner with temporary work on the construction barriers surrounding the building. 
Dubbed "The Aviary," the building will be decorated with images of birds in flight and some feather details.
DeRose said the name came from the building's state when it was purchased in 2015. With lots of light and a large flock of San Francisco pigeons roosting inside, "it made a beautiful aviary… so the name stuck," he said. 
DeRose said that Maven sought out Ehrman for the project because his murals "bring some very cool colors to the neighborhood ... mak[ing] people more curious than advertising alone" could.
Ehrman said that completing his current mural on the construction barriers was "very challenging, in the sense that there is a lot of pain in that area," where people are dealing with mental and physical health problems and emotional issues.
"But I felt an overwhelming sense of gratitude for the mural [and] the healing power of color and art," Ehrman said. "Lots of residents wanted to give me a hug and stand in front of the wings."
There are already nearly 156,000 residents within one mile of the new location, according to Maven. More than 3,000 new residential units are under construction in the area, including Group I's 242-unit development at 950 Market St., and U.C. Hastings' plan to scale its existing 252-unit building at 100 McAllister St. into more than 590 student homes. 
The Aviary will be ready for businesses to move in by mid-to-late 2019, according to Maven. Anyone interested in opening a restaurant in the space can reach out to DeRose directly for more information.