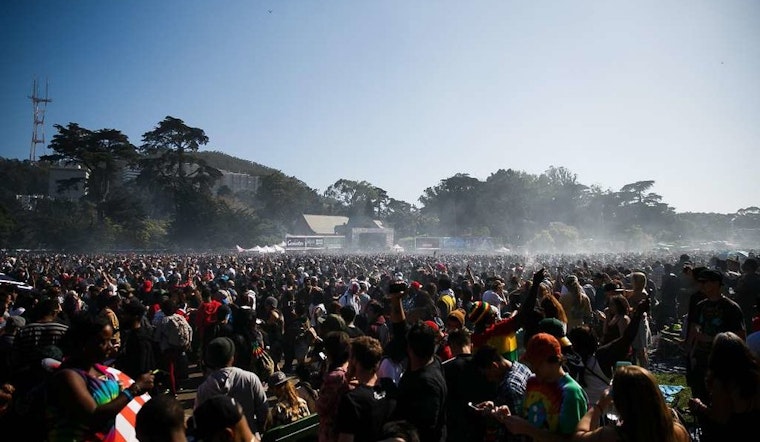 Published on April 18, 2019
4/20 is back again — and this time, it's on a weekend. This Saturday, April 2, tens of thousands of cannabis fans will throng the Upper Haight and the eastern end of Golden Gate Park to toke and celebrate on Hippie Hill.
Three years into the city's official recognition of the event, a substantial, organized private sponsorship effort has worked overtime to add the security, medical, and cleanup personnel needed keep things calm. But even with the added assistance, the day will still entail some commotion in the neighborhood. Here's what to expect.
Muni and traffic diversions
Any traffic diversions will be implemented at the discretion of SFPD's Park Station, which will have a supplemental police presence in place and will close streets and redirect traffic on an as-needed basis throughout the day. Muni re-routes will follow suit.
Based on previous years and what SFPD is forecasting, you should expect all streets bordered by Frederick, Stanyan, Oak, and Masonic to be closed to non-resident vehicle traffic from 3-6 p.m.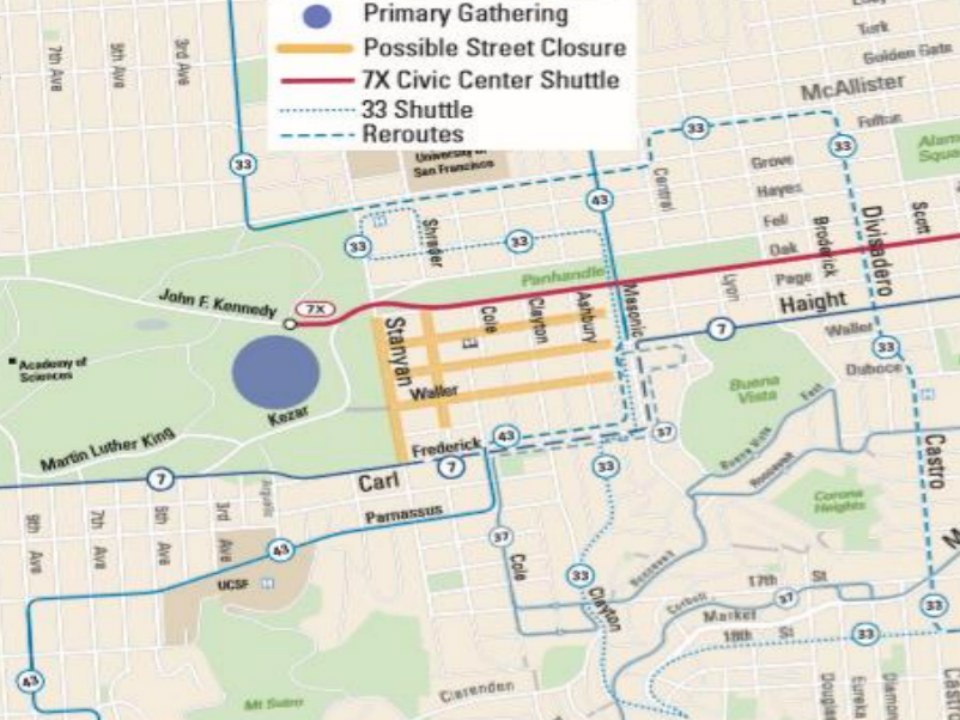 Traffic towards and through Golden Gate Park will be curtailed on Kezar and JFK drives; if you're driving, avoid them. The nearest main, open north/south corridors will be 19th Avenue, Masonic Avenue, and Divisadero. The nearest main east/west corridors open will be Frederick and Oak. 
Muni pickups for the 7-Haight and 43-Masonic buses will reroute south of Haight Street, and stops for the 33-Ashbury/18th will reroute north (pictured above).
Shuttles
To discourage driving and supplement regular Muni service, a limited 33-Ashbury/18th bus shuttle will be added for the day, with service to the Mission and its various BART connections.
Another shuttle, the 7X-Civic Center, will be available near Kezar Drive and Stanyan Street to ferry people back and forth to Civic Center and its BART station.
Festival regulations and restrictions
Far from the free-for-all of years past, 4/20 now boasts a number of house rules instituted by the city and the event sponsors. The area around Robin Williams Meadow and Hippie Hill will be cordoned off with hurricane fencing, and the perimeter will be monitored.
Entry to the area is restricted to people aged 18+. Alcohol and marijuana sales are prohibited inside, so pack accordingly. Other prohibited items include glass, tents and tables, coolers larger than 9x12", barbecues and grills, amplifiers, drones, generators, and weapons.
Food trucks and vendors
Officially permitted vendors will be on-site, offering food, nonalcoholic drinks, and various cannabis-related gear (but not the genuine article). Selling items inside the perimeter is prohibited without a permit. 
Port-a-potties will be installed both inside and outside the secure perimeter, with more at Alvord Lake. Temporary cell signal boosters have already been installed in the area.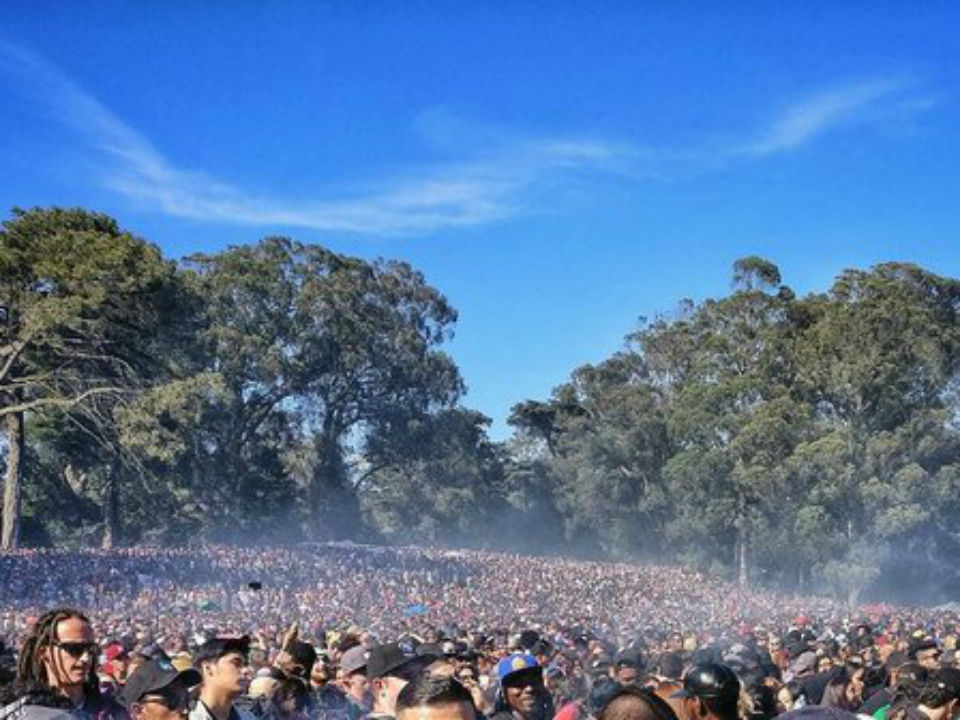 Safety and security
For non-emergency complaints, issues, and problems, the city is offering a 4/20 non-emergency phone hotline. Concerned parties can call either 415-242-3060 or 415-242-3061 between the hours of 11 a.m. and 6 p.m. on the big day.
For all emergencies, call 911. Private EMT personnel will be be on-site to handle medical issues.
The SFPD is cautioning that last year's event included some instances of people unwittingly ingesting fentanyl from cannabis goods they bought from unlicensed vendors. Be sure to buy your marijuana from official, licensed vendors, so you know what you're getting.