Two decades after it disappeared from the market, the Pabst Brewing Company is relaunching San Francisco beer brand Lucky Lager. The brand, which was first brewed in Bayview in the 1930s, has been off the market in the U.S. since the 1990s. 
Lucky Lager has been slowly rolling out in bars and stores across the Bay Area and Sacramento over the last month. A full list of retailers is expected to be released on the beer's official website later this week.
Lucky Lager is the latest in Pabst's efforts to revive mothballed regional beer brands. The company, headquartered in Los Angeles, has brought back historic labels around the country, ranging from Rainier (Seattle) to Old Style (La Crosse, Wis.) to Stroh's (Detroit).
Pabst associate brand manager Michelle Barley said that she believes many Bay Area locals still remember Lucky Lager from more than two decades ago. For those who don't, she said, the relaunch provides an opportunity to learn about its history.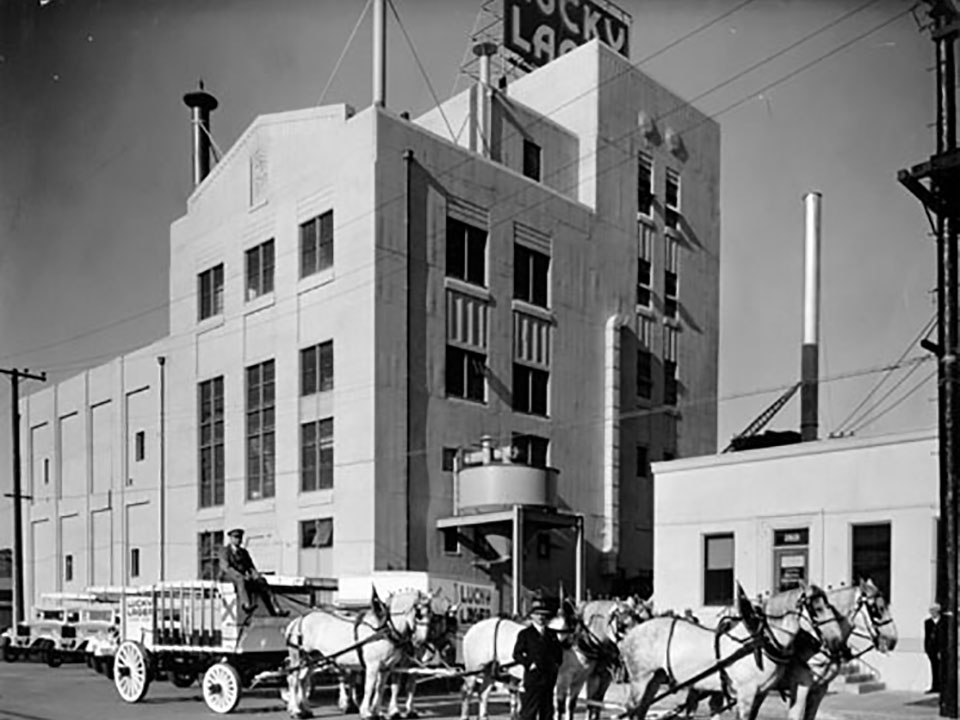 Lucky Lager was originally brewed by the General Brewing Corporation, which opened in 1933 at 2601 Newhall St. in the Bayview. The Lucky label was first launched in 1934, and continued to be produced in Bayview until the brewery shuttered in 1978.
Over the next few years, Lucky Lager was manufactured in Vancouver, Wash. and Cranston, R.I., until the brand was sold to the Washington-based Olympia Brewing Company in 1985.
Pabst says that Lucky Lager was still distributed in the Bay Area until the late 1990s; it's unclear exactly when it was taken off shelves. It never left stores in Canada, where it was produced and sold under different ownership. 
At 4.2% alcohol by volume, the revived U.S. version of the brand will now be brewed at 21st Amendment's San Leandro brewery, and sold in cans with a fresh take on Lucky's famed "X" logo, created by SoMa-based design agency Hatch.
"''X' marks the spot for determination, imagination and desire that make the Bay Area so alluring," said Nicole Flores, creative director at Hatch, in a statement. The cans also display the word "Lucky" in different languages, including English, Chinese, Spanish, Korean and Vietnamese.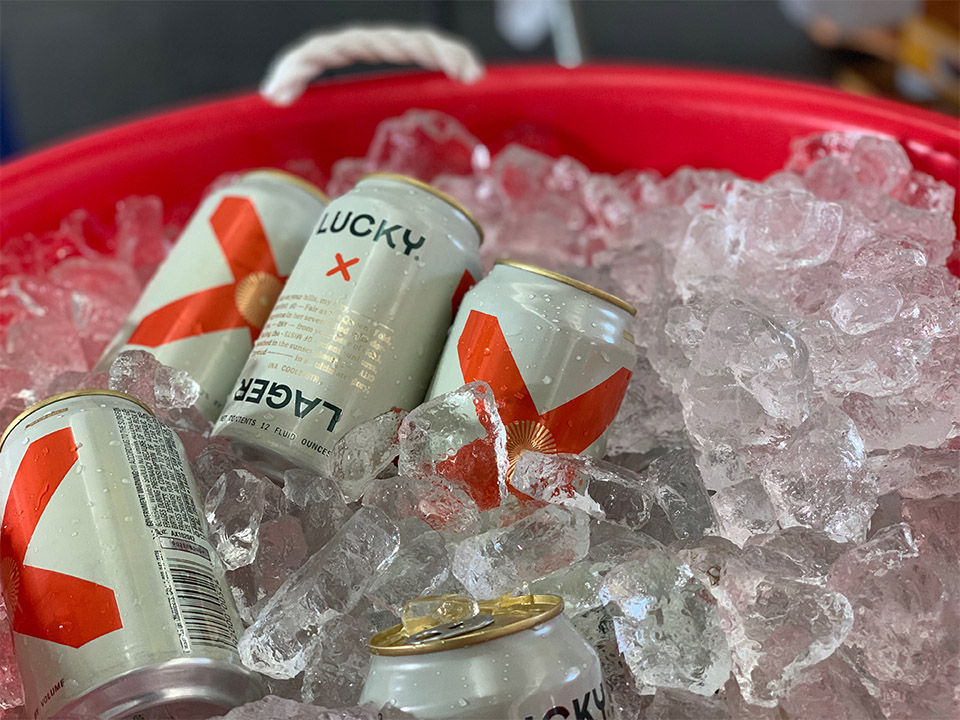 To help launch the beer, Pabst is partnering with Lower Haight-based apparel company Upper Playground, which just celebrated its 20th anniversary this past weekend.
Upper Playground is releasing a Lucky Lager-themed apparel collection with a variety of T-shirts and four hats for women and men, which will officially launch this Saturday at its store at 220 Fillmore St. (at Haight). New items will be added to the collection until the end of the year. 
The partnership has been in the works since last December, said Upper Playground manager Matt Schow. Brian Flynn and Dora Drimalas of Mission-based agency Hybrid Design contributed to the apparel designs as well.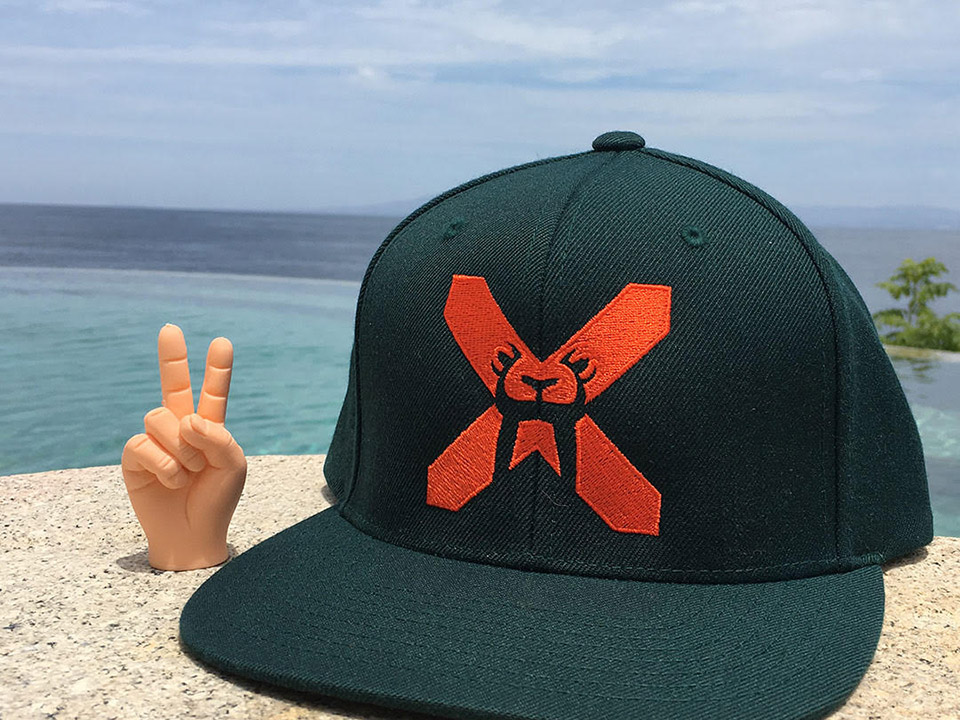 "Lucky Lager comes back [to the Bay Area] as an old friend that wants to move back home," said Upper Playground manager Matt Schow, noting that the beer brand's goal was to "celebrate localism."
To that end, Lucky Lager is doing a "neighborhood tour" in the lead-up to Saturday's official launch. Upper Playground will give away some of its Lucky-themed apparel at pop-up events in "iconic neighborhoods" of the city, including the Mission, Chinatown and North Beach. 
Two of the pop-ups will be held today and Thursday, from 5–6 p.m. Exact locations will be announced last-minute, via Lucky Lager's Instagram stories.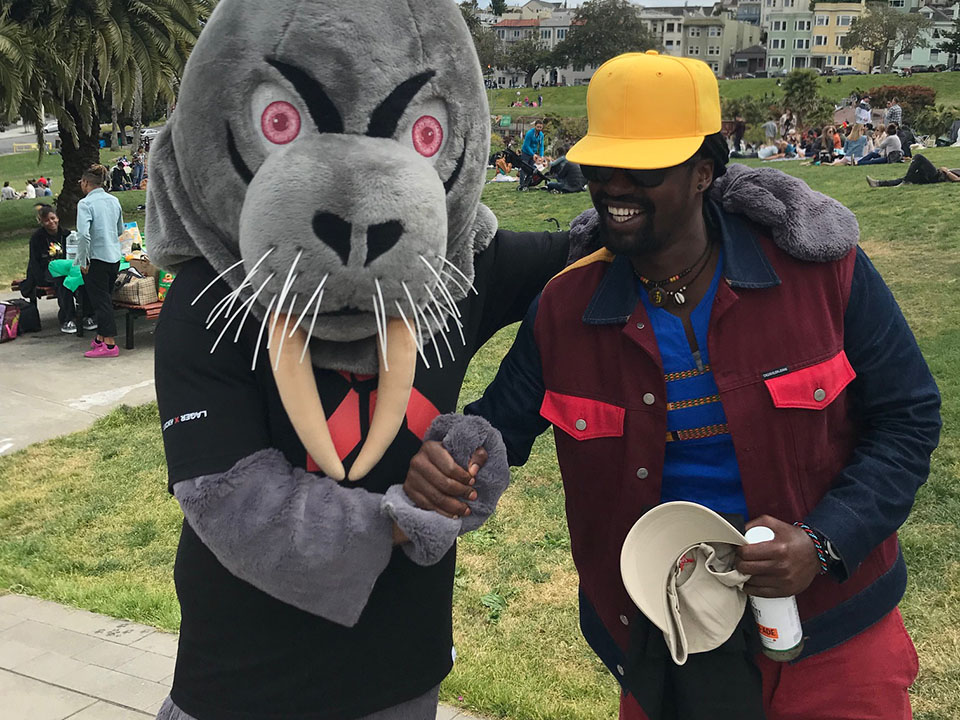 "We've been a champion of representing art in San Francisco" over the last 20 years, Schow said, adding that Upper Playground always stayed in the city and now Lucky Lager is also "coming back."
"Art and artists get squeezed out of San Francisco," Schow said. The collaboration is "all about celebrating heritage."