Last month, Tenderloin nonprofit GLIDE, which was originally founded in 1929, became one of the newest members of the city's Legacy Business Registry.
Nominated by District 6 Supervisor Matt Haney, who represents the Tenderloin, GLIDE has now officially joined the ranks of the "longstanding, community-serving businesses" that have established themselves in San Francisco neighborhoods for at least three decades. 
"We are very proud of our long history in San Francisco, a community we deeply love and are pledged to always serve and stand with," GLIDE president and CEO Karen Hanrahan said in a statement.
To see what's new with GLIDE, Hoodline dropped by the nonprofit's building at 330 Ellis St. (and Taylor) to learn about its latest programs.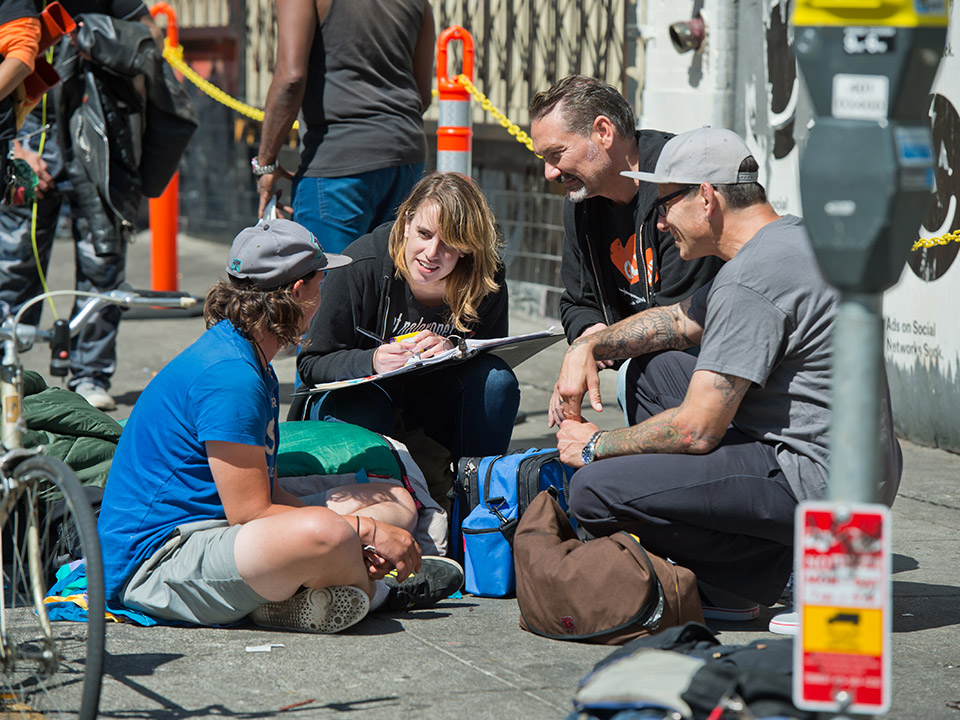 One of GLIDE's most notable current initiatives is HIV and Hepatitis C testing, which it combines with street outreach and needle access services.
Case manager Frank Castro's job is to make sure his clients, who are often unhoused or marginally housed, get tested, treated and educated about the two diseases. Testing positive for HIV or Hep C often comes with a stigma, he said, and clients can struggle with anxiety, PTSD, shame and guilt in the wake of a diagnosis.
That's why, in January, GLIDE purchased a van that allows Castro to go out into the community, instead of expecting clients to come to him. The van allows him to make regular visits to clients living in the Tenderloin, SoMa, the Upper Haight, the Fillmore, Hunters Point, Bayshore, the Embarcadero or the Castro, where he can discuss treatment options or educate people on vein health to prevent issues before they start. 
Ultimately, GLIDE is aiming to equip the van so that all testing can be performed inside, including blood draws and STD screenings. The van can also bring hygiene kits, wound care kits and meals to clients.
"Having the van allows us to test the people where they are at," program director Paul Harkin tells Hoodline.
The van will test thousands of individuals annually, Harkin said, and deliver treatment for the 50 or so each year who are ultimately diagnosed with Hepatitis C. In the future, Harkin hopes to have additional "medical folks," like a nurse-practitioner, do ride-alongs.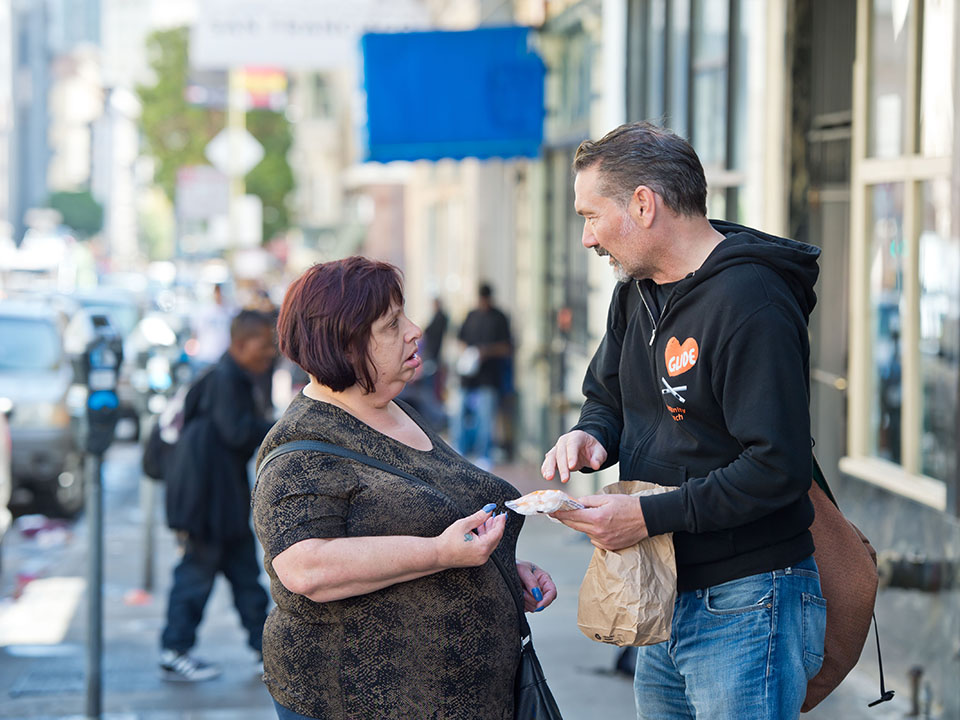 When he's not driving the van, Castro, a trained substance abuse counselor, sometimes accompanies clients to doctor's appointments. But he says he doesn't "want someone to become dependent" on his help.
"If you have a flat tire that you want to change, I will hold the flashlight for you, but you will do all the work," he explained. 
It's not the first time that a San Francisco-based nonprofit has offered services via van. Project Homeless Connect first launched its CareVan two years ago, while the San Francisco Community Clinic Consortium's Street Outreach Services travel the city in a medical van.
For patients who are able to visit GLIDE, Tenderloin Health Services also offers additional medical care on the nonprofit's premises, including primary care and behavioral health services.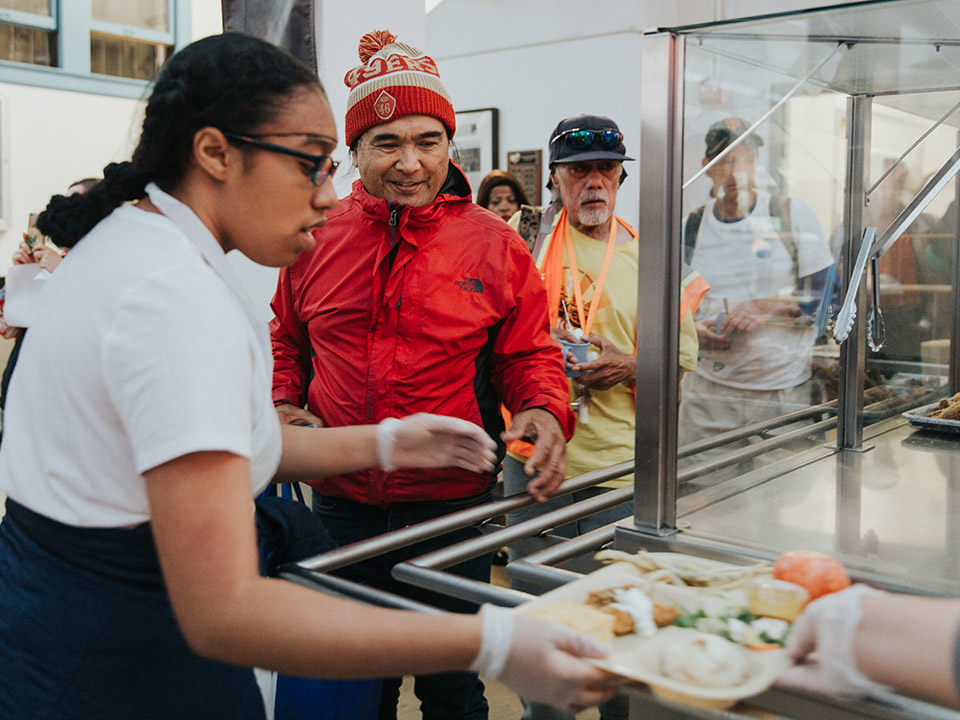 But that's not all GLIDE is doing.
364 days a year (the kitchen is closed on New Year's Day), the nonprofit gives out free meals to the community in the basement of its Tenderloin home. From Monday to Friday, people can be seen lining up on the sidewalk and down the stairs to the dining room, while on the weekend, breakfast and bagged lunches are offered as well. There are no requirements to dine there, and everyone is welcome. 
"Thursday lunch, with fried chicken that has been on the menu for 30 years, is very popular," culinary manager Joselyn Barrera tells us, adding that vegetarian, vegan or gluten-free meals are available by request.
Barrera, who is always looking for new volunteers, says that the kitchen needs 80 helpers a day. She also works with organizations like Copia and Food Runners to repurpose high-quality meals from restaurants, hospitals, corporate cafeterias or even hotels that would otherwise go to waste.
"We serve 2,000 [nutritious] meals a day," Barrera said.