The San Francisco Municipal Transportation Agency (SFMTA) will host an open house next Tuesday to discuss plans for permanently closing off a short segment of Octavia Boulevard (from Linden to Hayes streets) to northbound and southbound traffic.
As we previously reported, the agency has already conducted pilot closures of the half-block adjacent to Patricia's Green, both last year and two years ago. Based on the findings from that experiment, they're suggesting making the change a permanent one, calming traffic in the area and creating more public space around Patricia's Green.
During the test periods, the SFMTA worked with Google and Apple Maps to temporarily remove the half-block from driving routes, which diverted much of the area's vehicle traffic. 
"By turning Hayes and Octavia into a T intersection, we observed that congestion was greatly reduced, benefitting safety and traffic flow," SFMTA transportation planner Mark Dreger told Hoodline.
"We found the space to be naturally activated, tying together the popular Patricia's Green with Hayes Street and the PROXY space."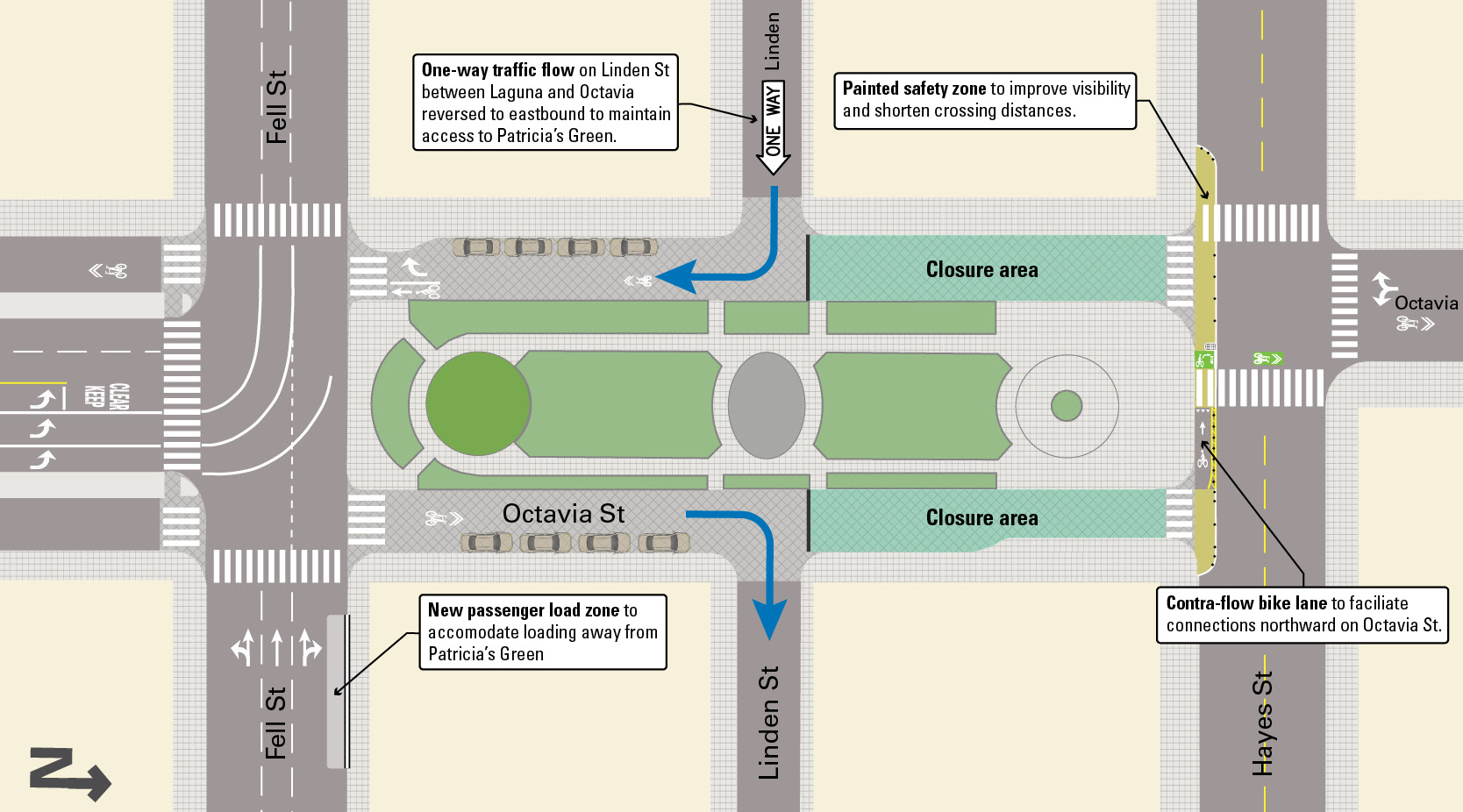 The agency is also proposing a simplification of the intersection of Hayes Street and Octavia Boulevard, with shorter crosswalks, a painted safety zone and a more defined bicycle crossing. Once the area is permanently blocked off for vehicles, the SFMTA plans to use the same mini street sweepers they currently utilize to clean bikeways.
More passenger loading space would be added to Fell Street, in order to accommodate the growing demand for ride-hailing pick-ups and drop-offs in Hayes Valley.
"We are confident that the modified traffic patterns will work," Dreger said.
Emergency vehicles will still be able to access the intersection, thanks to collapsible bollards. Over on Linden Street, traffic between Laguna Street and Octavia Boulevard will be reversed, to maintain access to Patricia's Green.
Next week's open house will give neighbors an opportunity to speak with city staff and provide comment on the project before it moves to the SFMTA Board of Directors. 
The open house will also feature a discussion about potential pilot changes on and near Page Street, to address safety and congestion challenges as part of the Page Street Neighborway project.
---
The open house will take place on Tuesday, June 4 from 7–8:30 p.m. at the Hayes Valley Playground.