Hoodline tipster Paul C. alerted us that Popeyes Louisiana Kitchen at 599 Divisadero St. (and Hayes) was shut down earlier today, after failing an inspection by the city's Department of Public Health.
A notice in the restaurant's window indicates that the closure is due to "major violations that constitute an immediate danger to public health or safety and/or operating without a valid health permit."
No further details were immediately available, and neither Popeyes' corporate office nor the Department of Public Health responded to requests for comment by press time. [Update, 7/31: The DPH has shared more information on the closure; see below.]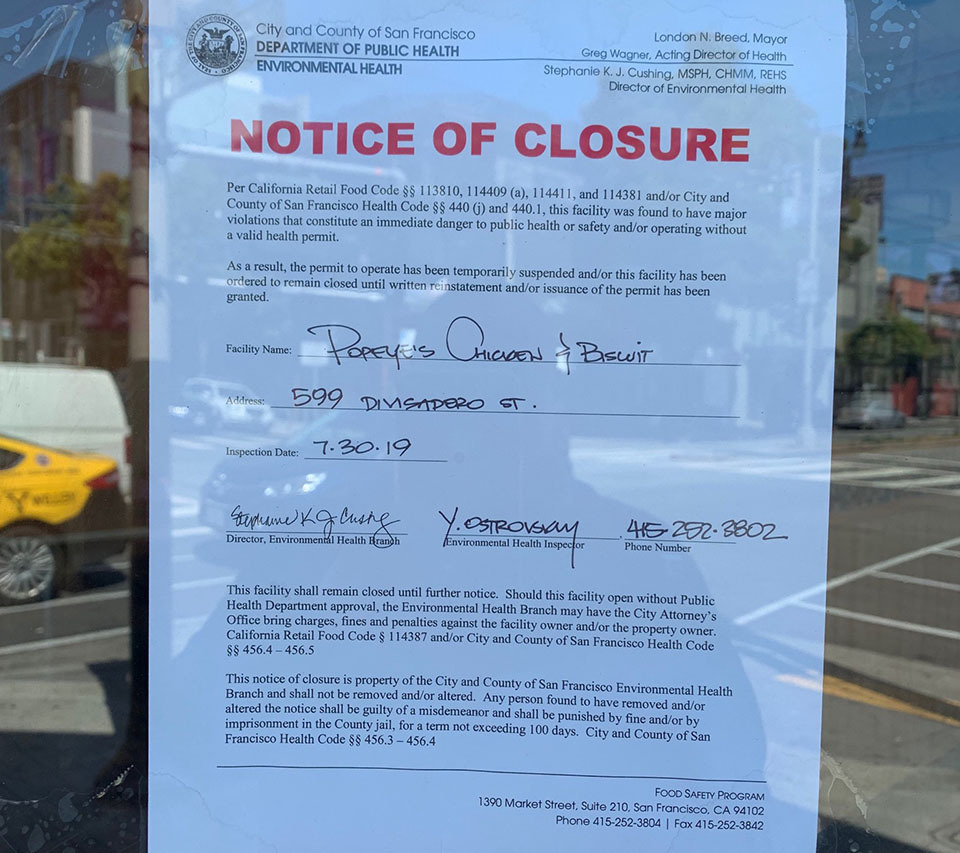 The fried chicken chain is a three-decade-plus fixture at Hayes and Divisadero, and underwent a renovation five years ago.
While details of the most recent inspection were not available online, Popeyes scored 90 out of a potential 100 points during a previous inspection, on April 16. 
The Department of Public Health categorizes scores between 86 and 90 as adequate, meaning several violations have been observed and the restaurant may have high-risk violations. But no high-risk violations were noted in inspection reports between 2017 and April 2019. 
The April 2019 inspection docked Popeyes points for one moderate-risk factor — insufficient hot or running water — and three low-risk factors: improper storage of equipment utensils or linens; unclean or degraded floors, walls or ceilings; and unapproved or unmaintained equipment or utensils. 
It remains unclear when Popeyes will reopen. We'll update this post as we learn more.
Update, 7/31 1 p.m.: Department of Public Health spokesperson Veronica Vien sent Hoodline the following statement:
"During the course of an inspection, it was determined that the food facility in question had a cockroach infestation. As such, the permit to operate has been temporarily suspended. The district inspector will return to the facility with the intention of lifting the suspension, as soon as the owners/operators notify the department that the necessary corrections have been completed."
Update, 7/31 6:30 p.m.: Hoodline tipster Tofu told us that Popeyes has reopened. A Hoodline reporter who visited the location this afternoon was able to confirm the news.
We also received the full inspection report (page one, page two).
---
Thanks to tipster Paul C. and Tofu. See something interesting while you're out and about? Text Hoodline and we'll try to find out what's going on: (415) 200-3233.