On Thursday, a pedestrian was killed in a hit-and-run collision in the Tenderloin. The adult man died after he was hit and dragged by the driver of a semi-tractor pulling a flatbed trailer at approximately 5:42 a.m., the San Francisco Police Department said.
Preliminary information suggests that the victim was crossing the street at Eddy and Mason streets. He was found at Market and Fifth streets.
LInk to more info on Terraba Trucking here: https://t.co/O7PTmfPiUs #abc7now pic.twitter.com/MpQhDhyD0O

— Wayne Freedman (@WayneFreedman) July 18, 2019
Both intersections have been identified as a high-injury corridor under the city's Vision Zero plan, which aims to eliminate traffic fatalities by 2024. According to Vision Zero data, 19 other people were killed on the streets of San Francisco this year. 11 of them were pedestrians.
Officer Robert Rueca tells Hoodline that officers located the pedestrian on Thursday morning with life-threatening traumatic injuries in the middle of the Market Street intersection. He was transported to San Francisco General Hospital, where he was pronounced dead.
"We are absolutely devastated to learn about this tragedy and our hearts go out to the victim's family and friends," Jodie Medeiros, executive director of Walk San Francisco, said in a statement. "The size of trucks, the fact that they can drag a victim, poor visibility, and that the higher front end makes crashes more severe… all of this is a deadly combination," she said.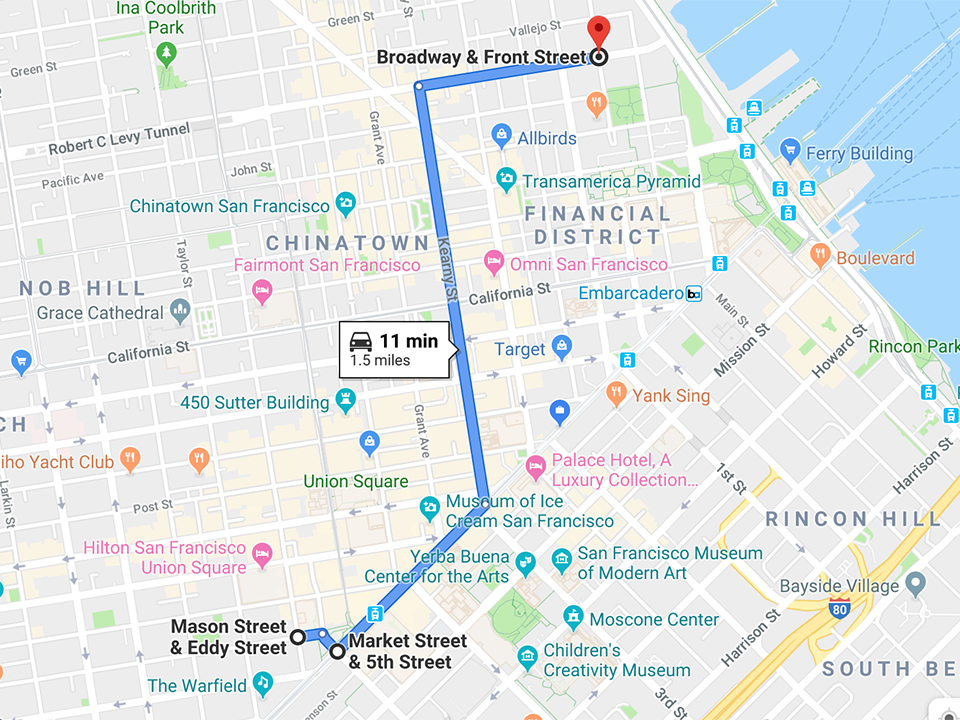 Officer Rueca said the driver, 65-year-old Lathrop, California resident Oscar Matus, left the area in the tractor-trailer. "A description of the vehicle was obtained by responding SFPD officers who broadcasted the information over police radio", he said.
Officers in the Central Police District located the big rig on Broadway Street (near Front Street) in North Beach about two hours after the crash, at 7:35 a.m.
Matus was arrested for vehicular manslaughter and failure to yield to a pedestrian.
Investigators from the SFPD Traffic Collision Investigation Unit also responded to the scene and met with the driver of the heavy-duty truck.
"Another devastating and horrific loss of life this morning in the Tenderloin," District 6 Supervisor Matt Haney wrote on Twitter. "We have some of the most dangerous streets and intersections in the city, and we need urgent changes," he wrote, adding that that area is very confusing and dangerous with lots of fast-moving traffic.
"We have a crisis on our streets with traffic safety, and the huge influx of not just cars, but also service and delivery trucks, put all of us as pedestrians at greater risk every day," Medeiros said.
Thursday's crash follows the death of 66-year-old Mark Swink, who was struck and killed by a Golden Gate Transit bus driver while in the crosswalk at the intersection of Hyde Street and Golden Gate Avenue in May. 58-year-old Janice Higashi was also killed in the Tenderloin this year when she was crossing the street at Leavenworth Street near Golden Gate Avenue at the beginning of March. 
The collisions led to the installation of pedestrian scrambles at both intersections, which hold all turns while pedestrians are crossing. Walk SF now asks the San Francisco Municipal Transportation Agency to quickly bring these short-term safety improvements "to every street in the Tenderloin within the year".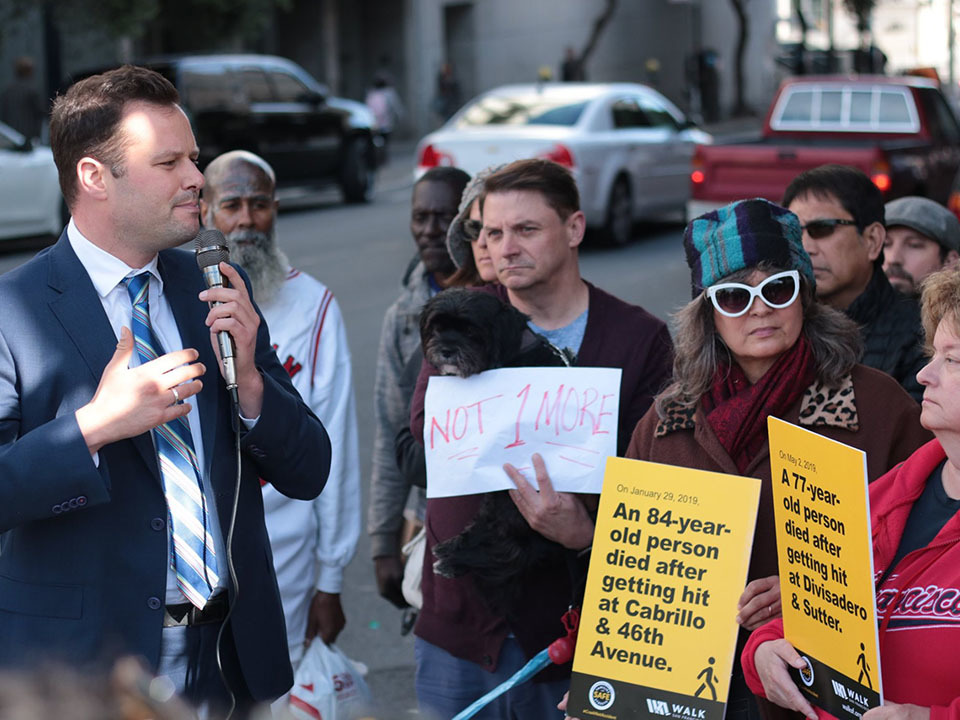 "In the unfortunate event of a fatality, Vision Zero SF conducts Rapid Response/Outreach," SFMTA spokesperson Erica Kato told Hoodline. SFMTA will be on-site within three days to conduct a street analysis of the crash site and determine if any street engineering is needed, she said.
"One death on our streets is one too many," Kato said.
---
Anyone with information about the hit-and-run is asked to call the SFPD 24-hour tip line at 1-415-575-4444 or Text a Tip to TIP411 and begin the text message with SFPD. You may remain anonymous.