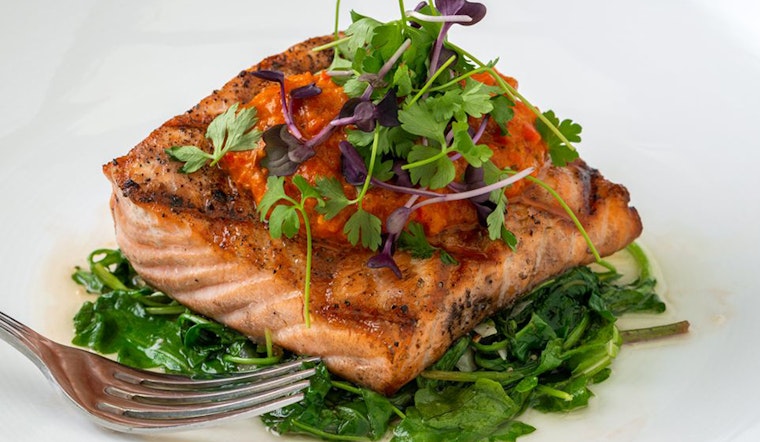 Published on July 24, 2019
As fans of cronuts and cake pops can attest, food trends come and go. So how can you tell which tastes are trending right this minute?
We took a data-driven look at the question, using Yelp to discover which local businesses have been most discussed this month.
To find out who made the list, we looked at Phoenix businesses on Yelp by category and counted how many reviews each received. Rather than compare them based on number of reviews alone, we calculated a percentage increase in reviews over the past month, and tracked businesses that consistently increased their volume of reviews to identify statistically significant outliers compared to past performance.
Read on to see which spots are extra cool this summer.
AZ Chimney Cakes
Open since March 2018, this spot to score chimney cakes, desserts, coffee and tea is trending compared to other businesses categorized as "Coffee & Tea" on Yelp.
Citywide, coffee and tea spots saw a median 2.4 percent increase in new reviews over the past month, but AZ Chimney Cakes saw a 57.9 percent increase, maintaining an impressive five-star rating throughout. Moreover, on a month-to-month basis, AZ Chimney Cakes's review count increased by more than 550 percent.
Located at 4568 E. Cactus Road, Suite 234 in Paradise Valley, Chimney Cakes offers a variety of cakes with different toppings, flavors and fillings like Nutella, peanut butter and Bavarian cream. Thirsty? Pick up a caffeinated beverage to pair with your treat.
Angry Crab Shack
Whether or not you've been hearing buzz about Deer Valley's Angry Crab Shack, the popular Cajun/Creole spot, which offers seafood and more, is a hot topic according to Yelp review data.
While businesses categorized as "Seafood" on Yelp saw a median 1.9 percent increase in new reviews over the past month, Angry Crab Shack bagged a 10 percent increase in new reviews within that timeframe, maintaining a mixed 3.5-star rating. It significantly outperformed the previous month by gaining 1.9 times more reviews than expected based on its past performance.
Open at 2501 W. Happy Valley Road, Suite 48 since January, Angry Crab Shack offers shrimp, crab, lobster and mussels by the pound, as well as a variety of seafood baskets served with Cajun fries and a choice of potato salad, coleslaw or beans.
Taphouse Kitchen
Paradise Valley's Taphouse Kitchen is also making waves. Open since October 2018 at 3131 E. Shea Blvd., the New American spot has seen a 9.2 percent bump in new reviews over the last month, compared to a median review increase of 1.6 percent for all businesses tagged "American (New)" on Yelp.
Taphouse Kitchen offers 40 beers on tap, alongside an array of gastropub fare. Appetizers include roasted hummus, lamb chops, shrimp mac and cheese and jalapeno pepper jack tater tots, while entrees include meatball pizza, chicken parmesan and pan-seared salmon. Check out the menu here. Over the past month, it's maintained a mixed 3.5-star rating among Yelpers.
---
This story was created automatically using local business data, then reviewed and augmented by an editor. Click here for more about what we're doing. Got thoughts? Go here to share your feedback.