On Tuesday, the San Francisco Municipal Transportation Agency (SFMTA) unanimously approved plans for permanently closing off a short segment of Octavia Boulevard to cars.
As early as this fall, the half-block of Octavia from Linden to Hayes streets, which adjoins Patricia's Green, will be closed for good to northbound and southbound traffic. 
The transit agency has already conducted pilot closures of the block, both last year and two years ago. Both were deemed a success, paving the way for the permanent closure. 
"If you backtrack 15 years ago, there was an elevated freeway that connected Franklin and Gough," SFMTA transportation planner Mark Dreger said at Tuesday's board of directors meeting. "We replaced that freeway with a boulevard, and created a nice public park here between Fell and Hayes streets, with one travel lane in each direction."
During the two test periods, the SFMTA worked with Google and Apple Maps to temporarily remove the block of Octavia from driving routes, which diverted much of the area's vehicle traffic.
"We saw that significantly improved traffic flow, and communicated to people that the street is closed and doesn't provide access," Dreger said.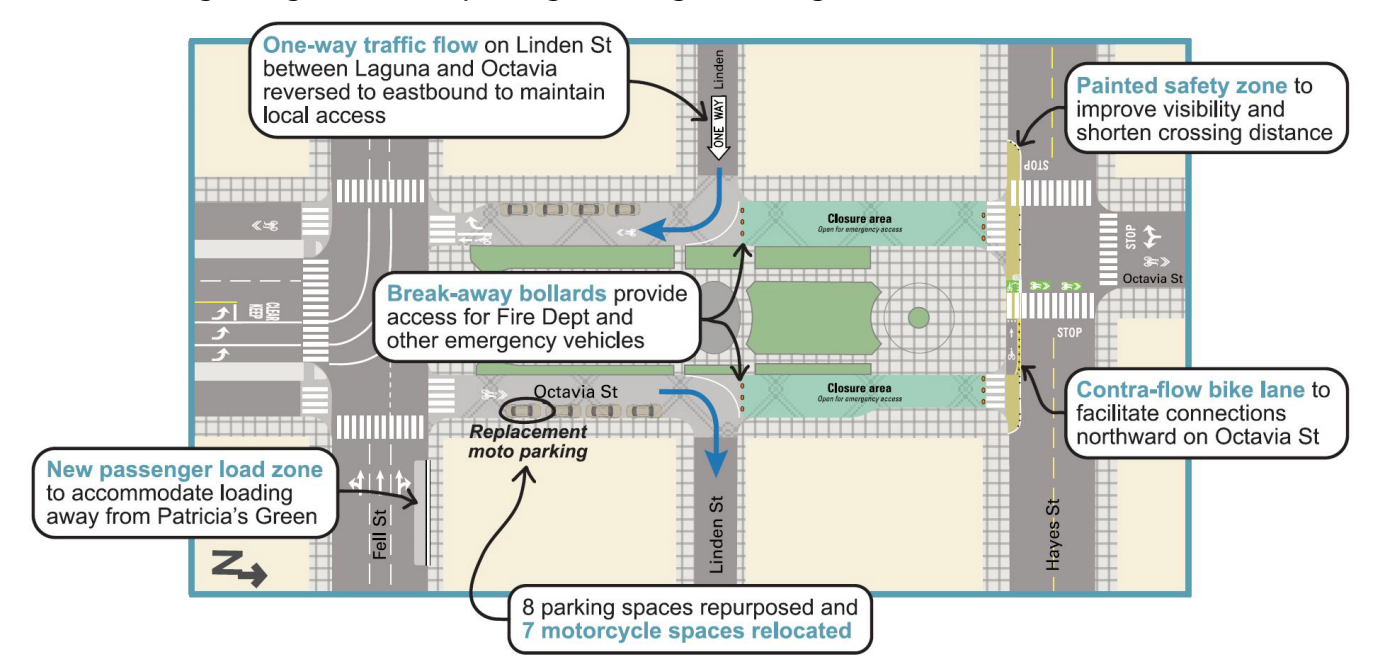 Emergency vehicles will still be able to access the otherwise blocked-off area, thanks to the installation of collapsible bollards. On Linden Street, traffic between Laguna Street and Octavia Boulevard will be reversed, to maintain access to Patricia's Green.
As part of the closure, 11 parking spaces on the block will also be removed, and crosswalks will be shortened at the Hayes and Octavia intersection.
More parking spaces on adjacent Fell Street will likely be turned into loading zones, to accommodate the neighborhood's high demand for ride-hailing services. Hayes Street will also get a "contra-flow" bike lane to facilitate northbound connections to Octavia.
Hayes Valley is represented by District 5 Supervisor Vallie Brown, and her legislative aide, Derek Remski, said she's supportive of the closure.
"[Patricia's Green] is where you walk your dog and play with your kids and hang out," he said.
Not every attendee at Tuesday's meeting echoed that sentiment. One Linden Street resident expressed concern about the loss of parking, while a person who works on the 300 block of Linden Street, asked for additional safety measures to be implemented on Linden Street to slow drivers down.
But many locals also spoke in favor of the project.
"On a daily basis, people coming up Octavia turn left on Hayes cause a major nightmare," one commenter said. "There's honking, screaming, fights, accidents; [the closure] is one of the best things you could do to our neighborhood to move forward."
"We believe [the city] needs to make crossings into all parks, schools, and senior centers," said another neighbor. "This is right in line with that."
Hayes Valley Neighborhood Association (HVNA) planning committee chair Jason Henderson said his organization has supported the closure since 2014, when Uber and Lyft vehicles began flooding into Hayes Valley. That "caused traffic to get bad," he said.
Walk San Francisco and the San Francisco Bicycle Coalition support the closure as well.
"This is the direction SF needs to go: many more permanent car-free, people-first spaces," Walk SF said in a tweet.