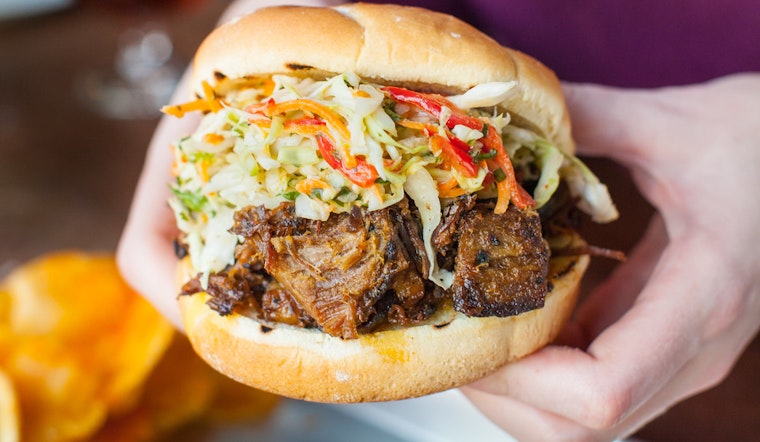 Published on August 08, 2019
Here's the latest in SF food news. In this edition, a popular bar closes in Russian Hill, Outside Lands brings the culinary heat to Golden Gate Park and a one-night Japanese pop-up will raise money for charity.
Closing
Russian Hill
Bullitt (2209 Polk St.)
Tipster Jonathon F. altered us to the closure of decade-old Polk Street bar Bullitt, with a sign in the window thanking customers for "10 years of awesome."
Co-owner Ben Bleiman told Hoodline that after a decade, the Bullitt concept had run its course. He and his partner, Duncan Ley, decided to sell the business to someone who could imbue the bar with some fresh energy. (He declined to share the name of the new owner, but said they will not use the Bullitt name.)
"Bullitt was a true unicorn," Bleiman said. "A bar with a raging atmosphere, rocking music and rowdy customers and a positive, super-active contributing member of the local community."
Bleiman and Ley's other San Francisco bars, Tonic (895 Post St.) Teeth (2323 Mission St.) and Soda Popinski's (1548 California St.). Tonic has survived some recent turmoil, moving to Post Street earlier this year after losing its former space to a seismic retrofit. 
Events
Golden Gate Park
Outside Lands (Golden Gate Park)
Outside Lands is returning to Golden Gate Park tomorrow, with local food, libations, and for the first time, on-site cannabis sales.
During the three days of festivities, 80 local restaurants will dish up more than 200 menu items, while 46 wineries, 31 breweries, and 6 cocktail bars will serve drinks.
The event will feature six distinct food and drink experiences: A Taste of the Bay Area, Wine Lands, Beer Lands, Cheese Lands, Outside Clams and Cocktail Magic. Visitors can also enjoy demos from chefs, comedians and musicians on the GastroMagic stage. 
The list of participating restaurants includes Pinoy Heritage, Rich Table, Southpaw BBQ, Woodhouse Fish Co., Chef Smelly's Creole and Soul Food of Oakland, Cannaisseur and more.
If you don't already have plans to attend, it's not too late to grab tickets for the event. And be sure to check out our Outside Lands survival guide for all the info on transit, what to bring and more. 
Chinatown
Fumi at Foundation Café (335 Kearny St.)
Tomorrow, August 9, culinary school graduate Eiko Hovasse is hosting a one-day pop-up, Fumi, at Foundation Café.
The event will feature a traditional, five-course Japanese pescatarian and vegetarian menu, with all profits going to DrawBridge, an organization that offers free art classes to children in homeless shelters, safe houses and other low-income housing facilities.
Hovasse says Fumi was inspired by the photography of her roommate, Dani Tuchman, whose work will be on display at the event. The pop-up is named for Hovasse's grandmother, and inspired by her mother, who studied cooking in France. 
The suggested donation for dinner is $50. For more information, visit Fumi's event page. 
---
If you've seen something new (or closing) in the neighborhood, text your tips and photos to (415) 200-3233, or email [email protected]. If we use your info in a story, we'll give you credit.