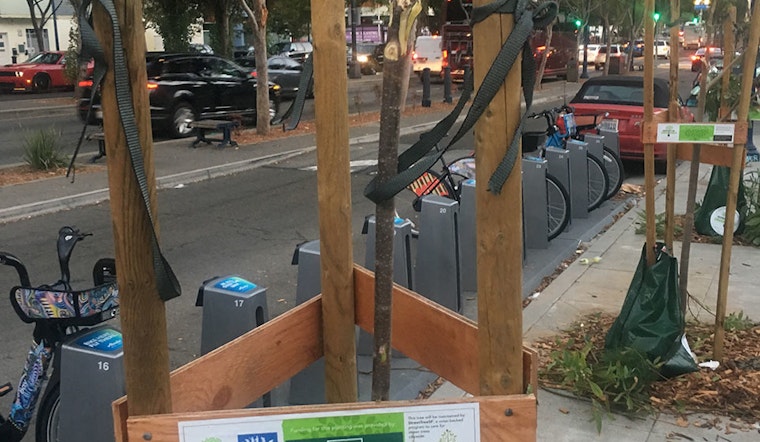 Published on September 27, 2019
Hoodline tipster Jeffrey alerted us that young trees on Octavia Boulevard (between Page and Oak) were vandalized very recently. "I'm sad to report that someone has decapitated the new street trees," he told us.
Friends of the Urban Forest (FUF) representative Ben Carlson confirms the unfortunate news. "I understand that six street trees (out of the seven we recently planted at that location) were stripped completely bare and 'topped'," he said.
He added that they will be replaced as soon as possible, with the addition of protective cages. "The seventh tree was mostly unscathed and will remain in place," Carlson noted.
According to FUF, street trees calm traffic, reduce stress, lead to fewer reported crimes, and also reduce air and water pollution. With FUF's "free trees for San Francisco" program, trees are planted with no cost for property owners. Community members can also help plant new trees. Upcoming community plantings in different neighborhoods all over the city can be viewed on FUF's website.
Hayes Valley Neighborhood Association board member Jennifer Laska tells us that the grouping of trees on Octavia Boulevard is cared for by a team of nearby neighbors. "An effort that is strengthening their relationship through collaboration," she said.
Laska notes that they have been working closely with the Bureau of Urban Forestry and FUF to expand the urban canopy in Hayes Valley. "Our goal is to make our sidewalks safer, cleaner, and foster a sense of community by filling every empty tree basin," she said.
As we previously reported, many Hayes Valley residents are advocating for street trees, and a plan to remove 29 ficus trees along Octavia Street caused an uproar in the neighborhood earlier this year.
Laska said that neighbors plan to continue to care for the replacement trees. "This act of vandalism is just a stupid waste of resources," she said.
Asked about tree vandalism, Carlson said "unfortunately it's not rare," but said the good news is he has not noticed an increase of such acts.
---
Thanks to tipster Jeffrey! See something interesting while you're out and about? Text Hoodline and we'll try to find out what's going on: (415) 200-3233.