Published on September 26, 2019
According to a notice sent to nearby residents last week, SF Public Works has hired Yerba Buena Engineering & Construction, Inc. to replace a retaining wall adjacent to Forest Hill's Hawk Hill Park.
Work on the Funston Avenue cul-de-sac adjacent to the park — which is not to be confused with Hawk Hill in the Marin Headlands — will start at the end of September. It's expected to last for four months, concluding in January 2020.
Hawk Hill is unique among San Francisco's parks, as it's a remnant sand dune that's highly prone to erosion. In the days before western San Francisco was settled, ocean winds deposited sand on Hawk Hill from dunes to the west of the park, supporting dune plants like the locally rare California croton and San Francisco wallflower, as well as insects like the brightly colored, nickel-sized green hairstreak butterfly.
But as development has spread in the area, Hawk Hill has lost its source of sand, leading to erosion. While it's not technically closed to the public, it has no designated trails, and public access has been discouraged to help protect the wildlife.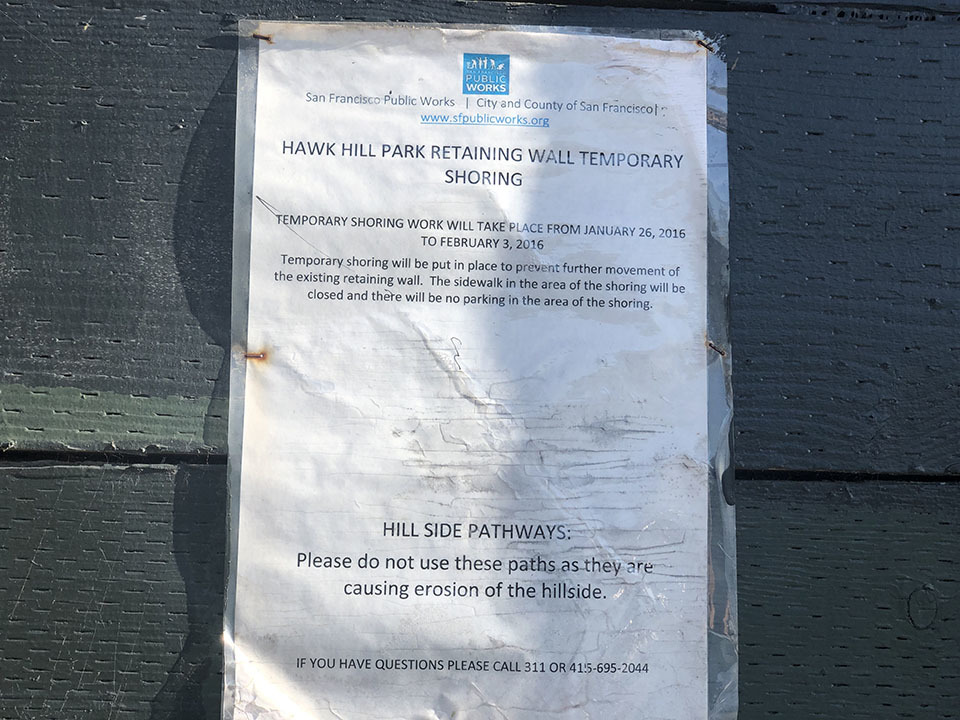 The new retaining wall will replace an existing wall that failed in the beginning of 2016, and has since been held up with temporary shoring to prevent further movement. It took a few years to get funding and a contractor in place for a full replacement, according to Public Works spokesperson Rachel Gordon.
Gordon tells us that the new wall will have a soldier beam with wood lagging, along with wattles to try to control the erosion, and a new chain link fence. 
Nonetheless, "the finished look will be similar," she said.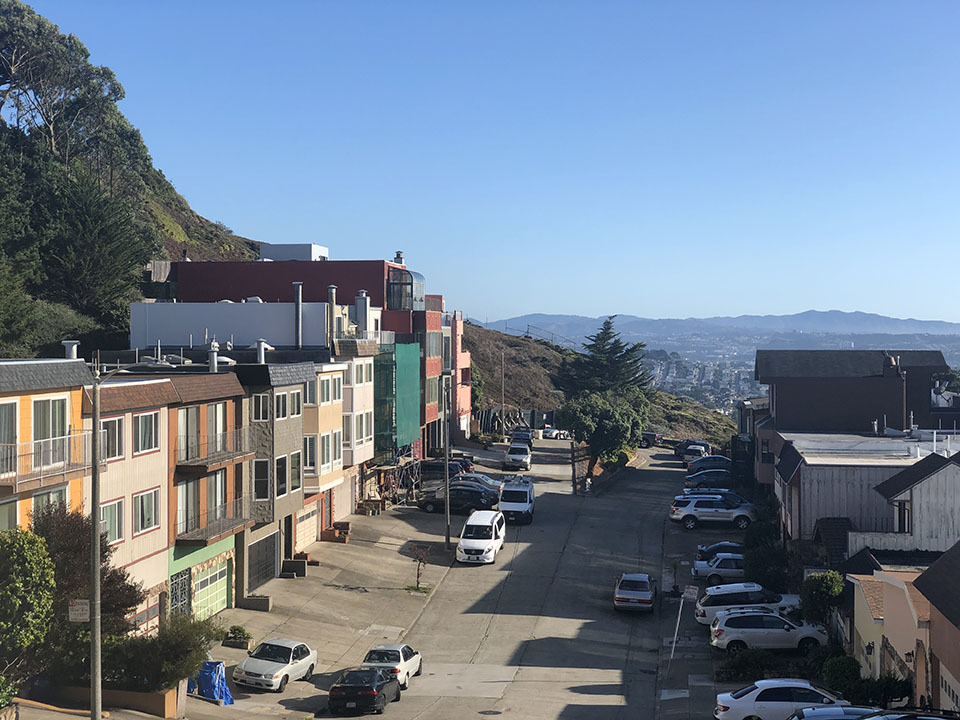 Currently, work hours are set to run Monday to Friday from 7 a.m. to 5 p.m. and 8 a.m. to 6 p.m. on weekends, though Public Works notes that no weekend work has been officially scheduled yet.
During the upcoming construction, street parking at the dead end of Funston Avenue's may be removed to stage equipment and materials. Additional street parking may also be removed to make room for a concrete truck that will need to access the retaining wall. Sidewalks will remain as accessible as possible, but some temporary reroutes are expected. 
As the calendar heads into fall, work may also be delayed by weather and other unforeseen field conditions, potentially extending the timeline further into 2020.