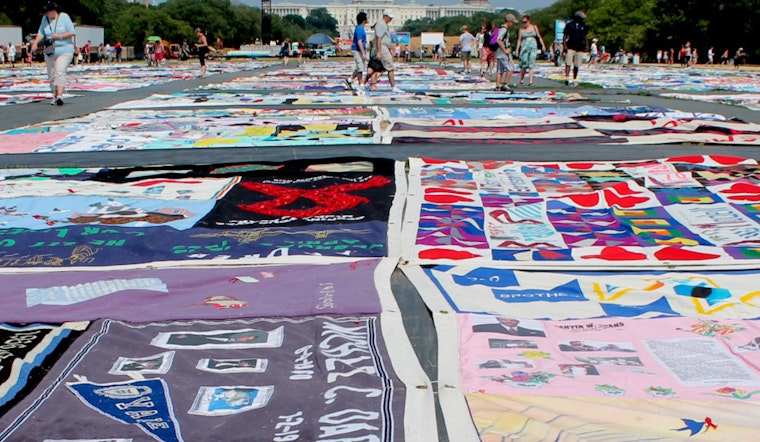 Published on November 21, 2019
The AIDS Memorial Quilt is returning to its original home in the Bay Area, where it will permanently reside, House Speaker Nancy Pelosi announced Wednesday.
In a gathering live-streamed from Washington D.C., Pelosi announced that the quilt's 50,000 panels, housed in Atlanta since 2001, will be relocated to the headquarters of the National AIDS Memorial Grove (NAMG) in Oakland, where it will be made available for display by various organizations. 
The quilt was conceived in 1985 by San Francisco activist Cleve Jones. Each panel represents a person lost to AIDS; many were hand-sewn by grieving family and friends.
Reached by phone today, Jones told Hoodline he "can't imagine a better scenario" for the quilt. 
"I have been worried for years about the future of the quilt, particularly the conservation of the fabric," Jones said. "I'm delighted … It's of course a perfect fit."
The Library of Congress' American Folklife Center has also signed on to curate the quilt's digital presence, archiving more than 200,000 letters, photos, diplomas, and other mementos that have been submitted with sections of the quilt, in order to make them accessible to the general public. 
"It means that scholars and researchers for generations to come will be able to look at that material and get a truly unique insight and how the HIV pandemic was experienced by individuals and families and communities," Jones said.
In her speech on Wednesday, Pelosi praised Jones for his stewardship of the quilt, recalling her initial skepticism for the project because "nobody sews."
"I said to Cleve, 'I just don't know about this project. Can't we do something else?' He said 'No, we're sticking with this,'" she said. "And of course, [now] look at it."
John Cunningham, executive director of NAMG, called the quilt's return to the Bay Area a "logical" transition, noting the undertaking was nine months in the making.
He said NAMG and the quilt "are like two siblings that were reared with similar values and priorities in the community, and went their own way to do their own work, and are now reunited to start the next chapter."
According to Jones and Cunningham, the NAMG's long-term goal is to open a "Center for Social Conscience" in Golden Gate Park, to house the quilt and serve as a central location for remembering those lost to the AIDS crisis and educating people about its history. 
"The intersection of so many social movements all came together in the AIDS crisis," Cunningham said. "As a result of that, we feel it positions the AIDS crisis to create a center to tell all those stories."
On December 1 at noon, Cunningham, Jones, and other AIDS-awareness activists will gather to speak about the quilt at the AIDS Memorial Grove in Golden Gate Park, located at Nancy Pelosi Drive and Bowling Green Drive. All are welcome to attend.