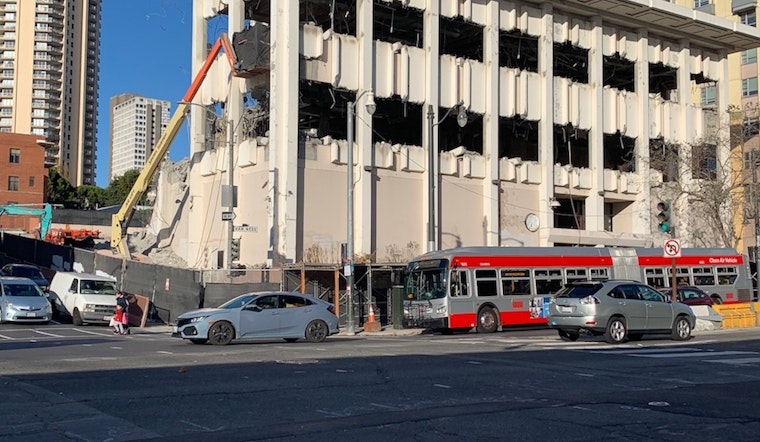 Published on November 21, 2019
Demolition of the former KRON 4 headquarters on Van Ness Avenue is underway to make way for a new 13-story assisted living facility.
The long-vacant building on the corner of Van Ness and O'Farrell Streets served a short stint as Hillary Clinton's 2016 San Francisco campaign headquarters. Otherwise, it has been empty since 2014, when KRON sold it to developers to make way for a new housing development.
The existing 113,404 square-foot, four-story building was constructed as the news organization's headquarters in 1967, according to documents filed with SF Planning.
Since selling the building, KRON has shared space with ABC-affiliate KGO in its headquarters in North Beach.
Initial plans to construct a 14-story apartment building on the 31,646- square-foot lot fell through, but SF Planning in April 2019 approved plans to develop a new assisted senior living facility on the site.
The new 267,000 square-foot building will offer 247 assisted living residences, common spaces and offices for supportive services, and 8,000 square feet of ground-floor retail space, according to developer Oryx Partners.  The facility, developed in conjunction with Atria Senior Living, will provide 47 vehicle parking spaces, down from 67 spaces in the former plan. The development will add 60 bike parking spaces and one new car sharing parking spot. 
According to the project developers, construction is expected to finish in 2021. Once it's up and running, Atria will operate the new senior living facility. The company manages 43 other similar communities in California.