San Franciscans went to the polls yesterday, and now, the results for 6 city ballot measures are in — or at least as close to "in" as they can be, with some ballots still being processed by the Department of Elections.
As of Wednesday morning, it appears that all the city's 2019 ballot measures, save for Prop. C, are set to pass. But it will be a very close call for Prop. D, which requires a two-thirds supermajority to pass and is currently clocking exactly 66.66% of the vote. Here's a full lineup of each ballot measure and how it performed. 
For current figures on yesterday's political races, including Mayor, District Attorney and District 5 Supervisor, check out our post on election results. 
Measures That Are Likely to Pass
Percentages indicate the percentage of voters voting yes.
Proposition A (69.46%) – A $600 million affordable housing bond to finance the construction, development, acquisition, and preservation of housing affordable to extremely-low, low and middle-income households through programs that prioritize vulnerable populations such as the city's working families, veterans, seniors or persons with disabilities.
"We are in a housing crisis that is pushing out our low- and middle-income residents and we desperately need more affordable housing," Mayor London Breed said in front of City Hall in July. "Our $600 million affordable housing bond is key to getting these projects funded and built."
Prop A. also requires a two-thirds supermajority to pass.
Proposition B (76.39%) – A measure to change the name of the city's Department of Aging and Adult Services to the Department of Disability and Aging Services.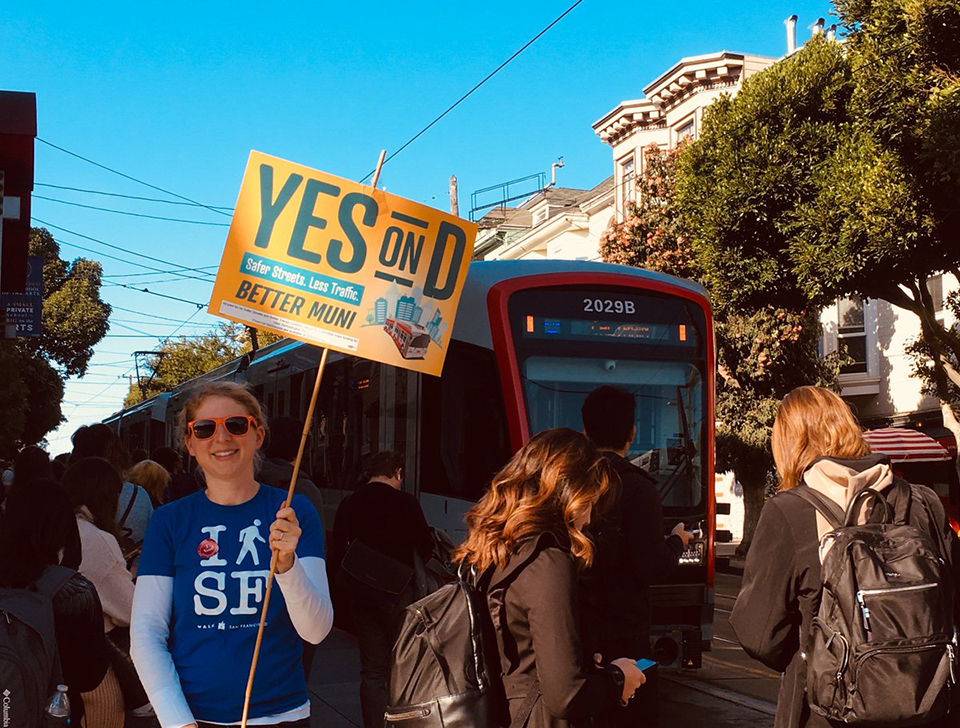 Proposition D (66.66%) –  Prop. D will establish new taxes on ride-hailing companies like Uber and Lyft, as well as driverless-vehicle companies, to fund Muni, pedestrian improvements and bicycle improvements, according to its supporter, Walk SF.
Shared rides will face a 1.5% tax, while private rides will incur a 3.25% business tax, until November 5, 2045. The tax could raise as much as $30-35 million to improve bike lanes, sidewalks and Muni. 
Proposition E (74.47%) – Prop E. will rezone lots across the city to allow for the development of affordable housing for teachers and families, according to the campaign. 
Thank you to all of our volunteers who came out to support #YesOnA and #YesOnE today! And for those who missed out on the fun, make sure to get in touch with us to volunteer in support of affordable housing before Election Day! pic.twitter.com/eHPoNZty6N

— SF Yes On A (@SFYesOnA) October 19, 2019
Proposition F (76.52%) – Prop. F aims to establish new restrictions on campaign contributions to local elected officials and candidates, as well as to apply new disclaimer requirements to campaign advertisements.
Measure That Failed
Percentages indicate the percentage of voters voting no.
Proposition C (80.45%) – Prop. C would have overturned a law passed by the Board of Supervisors earlier this year, which suspended the sale of electronic cigarettes until they receive FDA authorization. It would also have created new regulations on the sale, manufacture, distribution as well as advertising of electronic cigarettes in the city.
SF-based electronic cigarette maker Juul Labs, once a sponsor of the ballot measure, withdrew its initially strong support about a month ago.
"We must reset the vapor category by earning the trust of society and working cooperatively with regulators, policymakers, and stakeholders to combat underage use, while providing an alternative to adult smokers," Juul CEO K.C. Crosthwaite said in a statement.
---
All results are provisional and await final certification by the Department of Elections. We'll keep readers updated as more results roll in.