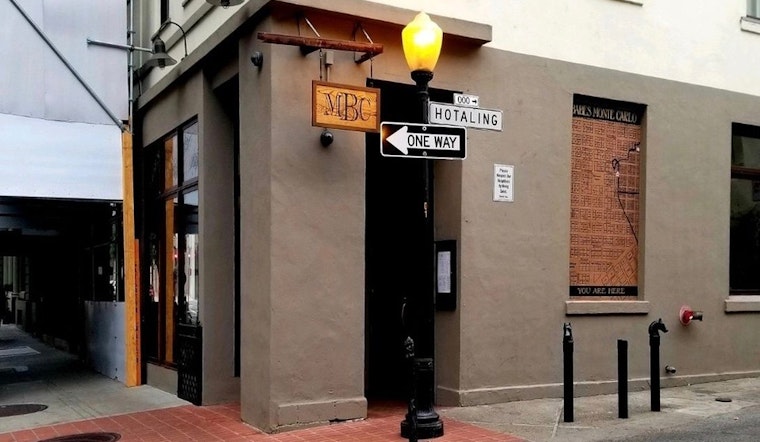 Published on November 22, 2019
Here's the latest in SF food news. In this edition, a chicken-and-rice eatery plots an expansion to Stonestown, a new bar opens in the FiDi and a Taiwanese restaurant closes.
Openings
Stonestown
Rooster & Rice (3251 20th Ave.)
Tipster Augusto M. alerted us that chicken-and-rice chain Rooster & Rice will open in the former Cocola space in the Stonestown Galleria mall.
As we reported in February, owners Bryan Lew and Tommy Charoen have been working on a deal for the space for close to a year, and now it's official. Lew says they plan to open in May 2020, if all goes well. The space is about 1,100 square feet and will have seating, in addition to takeout and delivery.
Founded in 2015, Rooster & Rice specializes in Thai-style khao mun gai: poached chicken served with rice, chicken broth and a gingery sauce. Its first location was in the Marina (at 2211 Filbert St.), and it's rapidly expanded to six more. New outposts will open at Geary and Stanyan streets and at San Jose's Westfield Valley Fair mall in the coming months. 
Born and raised in the Sunset, Lew said he used to go to Stonestown as a kid, so he's particularly excited about opening there. He noted that Stonestown is becoming more and more food-oriented, with buzzy eateries like pancake spot Gram, Marugame Udon and 85°C Bakery Cafe drawing big crowds and a new Whole Foods moving in.
FiDi
Babe's Monte Carlo (582 Washington St.)
Tipster Al M. alerted us that Babe's Monte Carlo has taken over the old Taverna Aventine space at 582 Washington St.
As Eater reported, it's a sister spot to the nearby Old Ship Saloon. The name honors a past incarnation of the historic Old Ship, which was known as the Cafe Monte Carlo in the 1920s, and its owner "Babe," who kept it in business during Prohibition.
Operated by Gary Danko alum Juan Carlos Tejeda, the bar features $12 cocktails such as The Hippodrome (vodka, lime, pineapple juice, cranberry juice and ginger) and Neptune's Palace (bourbon, green chartreuse, lemon, lavender and honey), as well as beer and wine. 
Diners can snack on bruschetta, flatbreads and a cheese platter, as well as a few salad and sandwich options.
Closing
Capputea (801 Kearny St.)
According to tipster Geri K., something's brewing at Taiwanese eatery and bubble tea spot Capputea (801 Kearny St.).
There's a sign on the door that says the space is temporarily closed for remodeling, but Yelpers claim it has closed for good. Public records show no change of hands at the space, so we've reached out to the owners to learn more. 
Formerly called Hamlin Tea House, Capputea debuted in February, serving Taiwanese food, hot pot items and bubble tea.
---
Thanks to tipsters Augusto M., Al M., and Geri K. If you've seen something new (or closing) in the neighborhood, text your tips and photos to (415) 200-3233, or email [email protected]. If we use your info in a story, we'll give you credit.