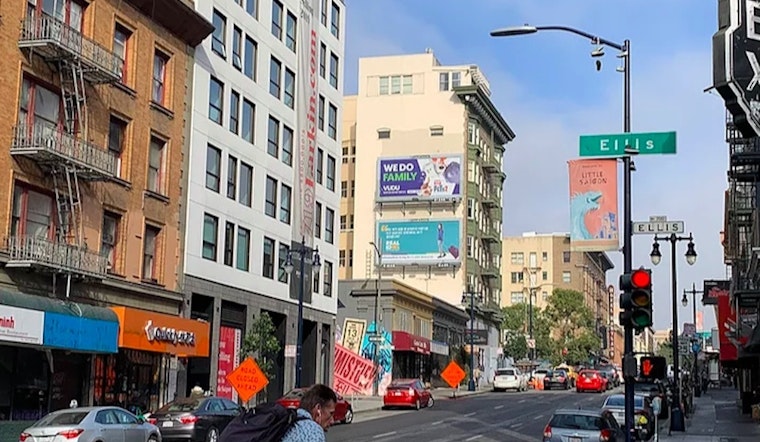 Published on November 13, 2019
Tenderloin business owners have launched their own merchants' association, in an effort to improve conditions around their storefronts for neighbors and customers.
Work to develop the Tenderloin Merchants and Property Owners Association (TMA) has been underway for nearly a year, according to its newly minted executive director, Rene Colorado, who heads the restaurant groups for two Thai eateries on Larkin: Lers Ros and Esan Classic.
The organization was initially intended to focus on community outreach efforts and other large public events, such as the annual Thai New Year celebration that launched earlier this year, Colorado said.
But a more important issue gained urgency in recent weeks, after Lers Ros and its Larkin Street neighbor, bakery-cafe Jane, were both shut down due to health violations.
According to Colorado, both businesses had "consistently great" health records prior to last month. The closures, he said, were clearly tied to the conditions of the alleyways near the two storefronts.
In an interview with Hoodline last month, Jane owner Amanda Michael echoed these concerns. Despite regular cleaning and extermination, she said, she's been unable to control the mice emanating from adjacent Cedar Alley, which is frequently populated by encampments.
"I knew my community efforts were not going far enough," Colorado said, "even with the full support of the business community and the Tenderloin Police Station Captain, Carl Fabri."
Colorado decided to formally organize the TMA as quickly as possible, and started pulling together a board of directors, comprised of business and property owners from McAllister to Sutter Street, between Van Ness and Taylor streets.
The new president of the TMA is Aref Elgaali, owner of Z Zoul Cafe (295 Eddy St.), San Francisco's only Sudanese restaurant. Abbie Chin of litigation firm Clarence Dyer & Cohen LLP and Sarah Silargorn, co-owner of Lers Ros, are secretary and treasurer, respectively.
Jane owner Michael is also on the board, as are Thao Pham (the owner of the building that houses Turtle Tower), Dr. Linda Yip of ConfiDental Smile, Backer Alkhyat of Rainbow Market & Deli and Mutajarin Niyamosot of Lapats Thai Restaurant. 
On Thursday, the board voted to officially name Colorado its executive director. He'll be responsible for formalizing the organization, and seeking out financing opportunities that keep membership costs accessible for neighborhood businesses, many of which are owned by immigrants and people of color. 
"Tenderloin businesses are dying out here," he said. "I'm not here to place any additional financial burden on them."
Colorado is already working with the Tenderloin Equitable Development Project to apply for city grants from the Mayor's Office of Economic and Workforce Development.
In the meantime, he said, Lers Ros owner Tom Silargorn, whose wife Sarah is on the board, has been picking up the tab. 
The TMA Board has already adopted bylaws, and is finalizing its member policy. Beyond the businesses already represented on the Board, there are at least 15 other local business owners that have verbally committed to join.
Colorado said that Vas Kiniris, the executive administrator of the San Francisco Council of District Merchants Association, has been providing guidance, as have Lower Polk Neighbors Association members Erica Waltemade and Adam Mayer.
Colorado said he has yet to have a meeting about the group with District 6 Supervisor Matt Haney, although Haney is a regular at Esan Classic.
"He's always been a big supporter of Larkin Street and the Tenderloin in general, long before he was elected," Colorado said, adding that Haney typically "comes in late to grab some good Thai food before he ends his long day," so "I try not talk to shop with him." He aims to meet with Haney by the end of the month.
Colorado believes the TMA's initial priority should be activating the Tenderloin's alleys, working through them alley-by-alley to address issues like encampments, open drug use, crime and uncleanliness.
Prior to the formation of the TMA, he'd already been working with the Tenderloin Community Benefit District (TLCBD) to clean up and activate Olive Alley, which is adjacent to both his restaurants.
Colorado said that each alley would be evaluated on a case-by-case basis. For example, Olive Alley doesn't usually draw large encampments, but does have extensive open drug use in an area that sees a high concentration of children walking to and from school each day.
"I myself went out there and asked if they could please not do drugs around so many children," he said. "People tend to forget the Tenderloin has the highest concentration of children living anywhere in San Francisco."
In Olive Alley, Colorado already works with the Turk Street methadone clinic and other neighborhood resources for the unhoused to coordinate help. The TLCBD provides regular clean-up services, including a weekly power-washing of the whole alley.
The response to an alley with a tent population would have to be coordinated differently, Colorado said, to ensure no one is displaced, and every person gets the help they need.
"If this sounds like an emergency response, it is," he explained. "This is an emergency right now, happening every day." 
The TMA's decision-making process for the next alley to tackle after Olive is still underway. In the meantime, the organization has already started planning for the second annual Thai New Year Festival, to be held next April.
More information about the TMA and its upcoming events can be found at tlmpa.org.