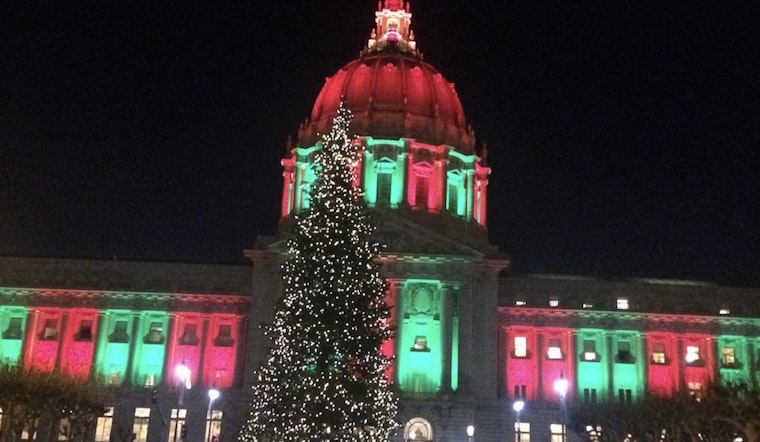 Published on December 12, 2019
Holiday cheer is sweeping through the Tenderloin over the next week, including a local makers' fair, a community tree lighting and a District 6-wide party hosted by Supervisor Matt Haney.
The celebration starts at Pentacle Coffee which is celebrating its second anniversary on Friday the 13th. The all-ages party starts when the coffee shop at the intersection of Jessie and 6th streets opens for normal business at 7 a.m. and continues into the evening, with a raffle to support neighborhood non-profit Hospitality House. 
Raffle prizes will come from other local businesses, including Thrasher Magazine and Unity Skatebording. There will also be tacos, local vendors, music and comedy.
Also on Friday, vintage wares depot Vacation will formally reopen in its new location just across the street from its home for the last 7 years, at Ellis and Larkin streets. Starting at 7 p.m., the free event will include music from The Peacers, an art exhibition by Matt Fishbeck, and a donation collection for blankets, socks, and other warm things for neighbors in need. 
On Saturday, Tenderloin-adjacent Tonic bar will host the first ever Makers' District Holiday Market from 5-9 p.m at the corner of Hyde and Post streets. This event, open to anyone age 21 and over, will feature offerings from local businesses including Tilted Brim, Billie Marie, the Family Room, The Loin, and more makers housed in the Tenderloin and Lower Nob Hill neighborhoods.
Lake Taylor, owner of Billie Marie, and Andy Alvarado, owner of The Family Room, told us they "hope to use this annual holiday event to bring together the neighborhood makers and residents in one place to share a drink, shop and celebrate the area's growing artisan community."
Vince Toscano, a bartender at nearby Rye, will provide an Angel's Envy whisky tasting through the evening, and Tonic will offer a special menu of whiskey-based cocktails to help loosen patrons' wallets.
Heading into next week, the second-annual Tenderloin community holiday tree lighting will occur on Tuesday, December 17, at Boeddeker Park on the corner of Eddy and Jones streets.
The park, which hosted the first community holiday tree last year, will help get neighbors in the holiday spirit with a family-friendly celebration starting at 4 p.m. that includes live music, as well as appearances by Supervisor Haney, Mayor London Breed, and Santa Claus. 
Similar to last year, the holiday tree is sponsored by the SF Recreation and Parks Department, the Tenderloin People's Congress, the Hospitality House, and other community members. 
After the tree is formally lit, Haney is hosting a District 6 Community Holiday Party at theater, restaurant, and bar PianoFight. Anyone in the community is welcome to join the party from 5-7 p.m.
Do you know of another holiday event planned in the neighborhood? Let us know in the comments.