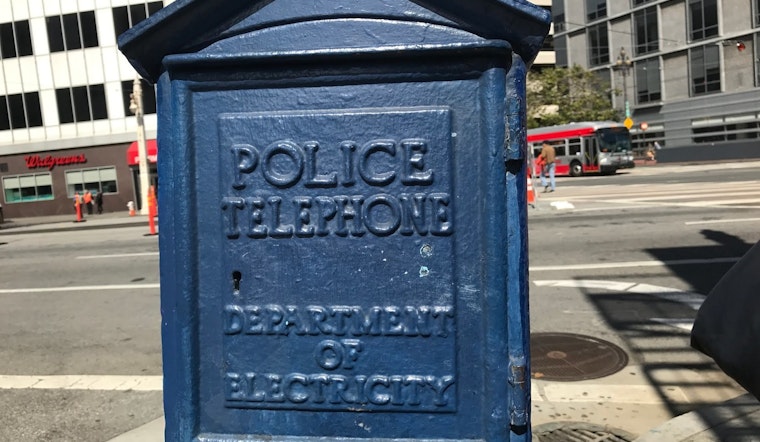 Published on December 30, 2019
Here's a selection of notable crime reports from Hayes Valley and the Western Addition since our last roundup in early December. All reports were provided by SFPD, unless otherwise noted.
Person sets vehicles on fire, damages building
On December 26, an unknown person set fire to cars on the 200 block of Ivy Street (between Franklin and Gough) a few minutes after 3 a.m. that spread to the exterior wall of a nearby apartment building. The San Francisco Fire Department responded and extinguished the fire. No arrest has been made.
Robbery victim gets tased, recovers backpack
A day earlier, on December 25 around 11:30 a.m., a man in his 20s broke into the car of a 40-year-old man and took his backpack at Hickory and Franklin streets. The victim chased the suspect, and the suspect then tased him. The suspect dropped the victim's backpack and fled on foot. The victim suffered non-life threatening injuries from the encounter. No arrest has been made.
Bottle of whiskey, other items, taken from business
On December 18 at 2:45 p.m., a 30-year-old man walked into a business on the 600 block of Octavia St. (between Grove and Fulton) with a knife, grabbed a jacket, an umbrella and a bottle of whiskey and fled. No arrest has been made.
Mail collection box lit on fire
On December 17, an unidentified suspect lit a USPS mail collection box on the 200 block of Fell Street (between Franklin and Gough) on fire. The San Francisco Fire Department arrived and put out the fire. Police said the mail inside the mailbox was destroyed in the blaze. No arrest has been made. The incident occurred at 8 p.m.
Phone, wallet robbery at gunpoint 
On December 13 at midnight, a man aged between 22 and 25 pointed a handgun at a 35-year-old man at McAllister and Buchanan streets before taking a phone and a wallet. No arrest has been made.
Teenagers injured in early morning shooting
A shooting took place at Grove and Octavia streets on December 7 at 2:20 a.m. Two men of unknown age shot at two 17-year-old boys who suffered non-life threatening injuries. They were transported to a hospital. Police said no arrest has been made.
Northern Station monthly community meeting
Residents interested in learning more about crime and safety in the area are invited to attend SFPD Northern Station's monthly community meeting, held at the station (1125 Fillmore St.) at 6 p.m. on the second Thursday of each month. The next meeting will take place next week, January 9.
---
Anyone with information about any of the incidents listed above is asked to call the SFPD tip line at (415) 575-4444 or Text-a-Tip to TIP411 and begin the text message with 'SFPD.' Tipsters can remain anonymous.
Did we miss anything? If you have any information on any crime or safety-related issues in the neighborhood, feel free to text Hoodline at (415) 200-3233.