This holiday season, there's no need to dine alone when friends and family aren't in town. Several organizations in the city offer an opportunity to come together with others, and there are plenty of chances to give something back to the community and volunteer.
Here is our list of free meals and volunteer opportunities for this week:
Christmas Eve & Christmas Day In-Home Visit
Little Brothers - Friends of the Elderly - San Francisco Bay Area is looking for people to visit some of their clients this holiday season. Since the holidays are a time of the year when elders report feeling most alone, oftentimes because they no longer have friends or family to spend it with, a visit will go a long way toward making an elder feel appreciated and special this holiday season.
Volunteers can sign up to deliver holiday cheer on one or both days: December 24 in the afternoon, and December 25 in the morning. More information about the in-home visits and gift wish lists from elders can be picked up today. Volunteer signup is online.
When: December 24, 1 – 4 p.m. and December 25 10:30 a.m. – 12:30 p.m.
Where: Across the city; pick up today at 909 Hyde St., Suite 628 (6th floor)
Free Christmas Dinner
First Unitarian Church of San Francisco will host a free, seated Christmas Dinner on Christmas Day. The menu includes ham, mashed potatoes, yams, vegetables, coffee or tea, punch, water, salad, bread and pie with whipped cream. There will also be live entertainment, and guests will also receive a free gift bag and clothes as they leave. Expect coffee and cookies in the outside line.
When: Wednesday, December 25, 1 – 4 p.m.
Where: First Unitarian Universalist Society of San Francisco, 1187 Franklin St.
Hanukkah Candle Lighting
The Jewish Community Center of San Francisco hosts a Hanukkah celebration each night this week, featuring the traditional lighting of the Hanukkiyah, stories and live music, and a different fried treat each day. Stop by for one evening or share the light with the JCCSF all week. Today, donuts will be served, tomorrow there will be edible dreidels, and latkes will be served on Wednesday.
JCCSF is also collecting new or gently used children's books for ages eight to 12 years to help build literacy for children in need.
When: Monday, December 23 – Friday, December 27, 4 p.m.: storytime and crafts; 4:30 p.m.: Hanukkiyah lighting, live music with Jonathan Bayer, and a different treat every day.
Where: Jewish Community Center of San Francisco, 3200 California St.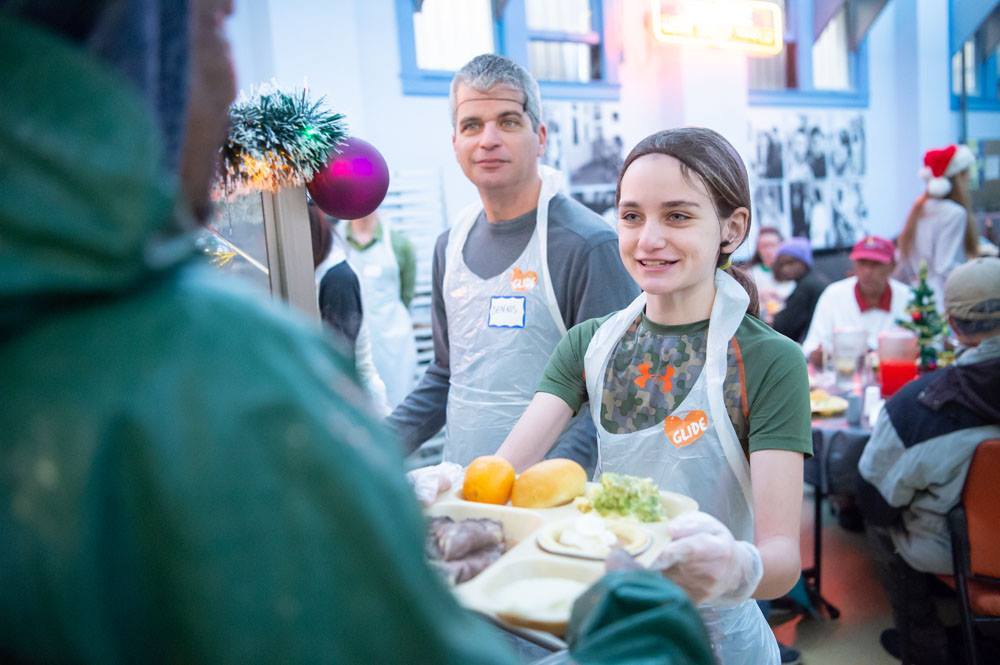 Christmas Eve Prime Rib Luncheon & Christmas Day Celebration and Meal
Over in the Tenderloin, Joe Betz and San Francisco's House of Prime Rib will sponsor this Christmas Eve tradition. Volunteers and GLIDE staff will join the Betz family in serving the GLIDE community about 3,700 pounds of prime rib and an array of delicious side dishes in GLIDE's Dining Room.
All volunteer slots are already filled, but the Tenderloin-based social service provider encourages everyone to consider signing up for a different day this December or next year, as GLIDE is open 364 days a year.
On Christmas Day there will also be a celebration and community holiday meal to warm the hearts of all involved. A free Christmas meal of ham, turkey and all the fixings will be served to all, while a Christmas Celebration takes place in the GLIDE Sanctuary.
When: Tuesday, December 24, 10:30 a.m. – 1 p.m. and Wednesday, December 25; 10 a.m. celebration; 11 a.m. – 1 p.m. meal
Where: GLIDE, 330 Ellis St.
Winter Festival 2019
Larkin Street Youth Services are also celebrating their annual Winter Festival with a light breakfast and a hot holiday lunch as well as games, activities and a music celebration for young people in their programs. They'll also have gifts for all young people who attend the event. Volunteers are welcome. Those interested in volunteering are encouraged to send an email to [email protected].
When: Wednesday, December 25, 9 a.m. – 2 p.m.
Where: Larkin Street Engagement and Community Center, 134 Golden Gate Ave.