Starting tomorrow, private cars and ride-hailing vehicles will no longer be allowed on the main stretch of Market Street — from 10th to Main Street eastbound, and Steuart Street to Van Ness Avenue westbound. 
The changes are intended to make the street faster and safer for pedestrians, cyclists and transit riders, though some cars — commercial vehicles, taxis, paratransit and emergency vehicles — will still be allowed to drive on Market.
Pedestrian and cyclist advocacy groups have cheered the decision, which was first announced last fall. 
"Market Street is one of the city's most dangerous streets for pedestrians," Walk SF executive director Jodie Medeiros tells Hoodline. "Removing private vehicles is a massive step toward a safer Market Street for the 500,000 people who walk on it every day."
According to the SFMTA, there were 123 collisions resulting in injuries on Market (between Octavia Blvd. and Steuart Street) in 2018 alone. Since 2014, the corridor has averaged more than 100 collisions with injuries per year, 75 percent of them involving people walking or biking.
The changes to Market will prioritize non-car modes of transit, which average 200 buses and 750 cyclists per hour at peak times. Each weekday, more than 75,000 transit riders travel aboveground on Market.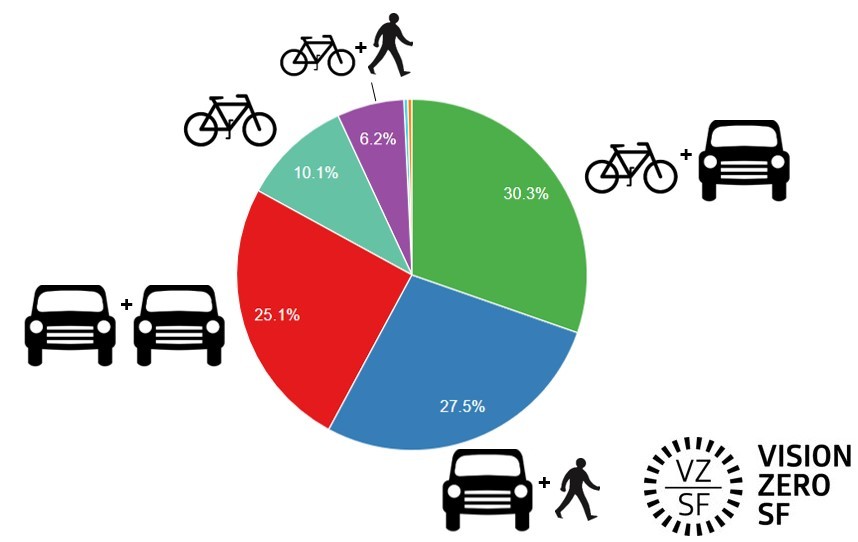 The changes to Market are a $3.5 million "quick build" by the SFMTA, with new additions like signage and red painted transit-only lanes. 
While no physical barriers will block off Market, SFMTA spokesperson Erica Kato says that both permanent and changeable signage will alert drivers of the restrictions. According to a blog post, most of the permanent signs are already up, though they'll remain covered until tomorrow.
However, the corridor won't be entirely free of cars, since they'll still need to cross Market while headed north-south. 
"Enforcement and traffic light timing will be key to keeping all the intersections clear for people to cross safely," Medeiros said. 
With commercial vehicles still allowed east-west on Market, peak-hour loading restrictions on delivery trucks will also be instituted, to ensure pedestrians and cyclists can navigate the corridor safely.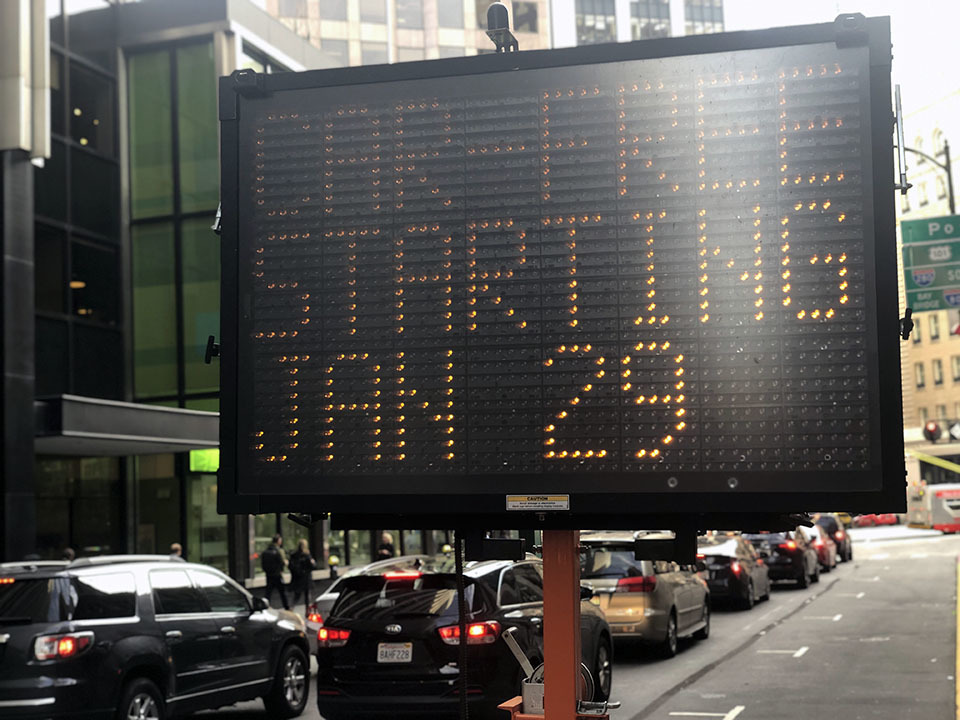 Many advocates are concerned about ride-hailing apps like Uber and Lyft, whose drivers often hail from outside San Francisco and might not be aware of the restrictions. But Uber and Lyft confirmed they're taking added precautions to keep drivers of Market.
"We've closed off Market Street in the Uber internal driver app," Uber spokesperson Nick Smith told Hoodline, adding that riders who try to request a trip starting or ending on Market will be automatically routed to destinations on a side street.
Lyft will also have in-app geofencing to direct riders and drivers away from Market, and will encourage riders to use its Bay Wheels bikeshare stations, which are located up and down the street, as an alternative.
As for enforcement, the SFMTA will have parking control officers on hand to educate drivers at key intersections. However, the department can only cite drivers for non-moving violations, so police will also have to be present.
SFPD spokesperson Ofc. Adam Lobsinger said that officers from the Traffic Company will be stationed on Market during the morning and evening commutes, starting tomorrow. Moving violations will come with a fine of $238, and a point on the driver's license. 
"We will contact drivers and issue advisements and/or citations as appropriate," he said. "We are not here to punish anyone. Individuals who are not informed or aware could be eligible for an advisement."

The changes are only the beginning for Market Street. In late 2020 or early 2021, the city will kick off its Better Market Street project, working a few blocks at a time to add a protected sidewalk-level bikeway, repair aging infrastructure and install new street furniture and public art along the corridor. The first stretch of Market to be redone will be between Fifth and Eighth streets. 
In the meantime, the SFMTA is working on a few other small improvements. In the coming months, crews will extend the existing red transit-only lane east from Third to Main Street, to keep out taxis and non-Muni buses. Later in the spring, the existing red lane on Market Street between Ninth and Third streets will also become a Muni-only lane.
Bicycle intersection improvements will added to Battery, Eighth, Page and Valencia streets, alongside new painted safety zones to improve pedestrian safety at eight intersections: Drumm, Main, Beale, First, Eighth, Ninth, Fell and Page streets.
"These are the necessary measures to shorten the crossing distance for pedestrians," Medeiros said, "plus narrowing the lane so vehicles drive more slowly, to boost safety."
---
To celebrate the changes, Walk SF will host a morning walk on Market Street this Thursday, January 30, at 8:15 a.m. Admission is $10 for non-members.