After 35 years in the Divisadero neighborhood, Gamescape recently became one of the newest members of the city's Legacy Business Registry.
Nominated by then-District 5 Supervisor Vallie Brown, the game store at 333 Divisadero St. has now officially joined the ranks of the "longstanding, community-serving businesses" that have established themselves in San Francisco for at least three decades.
"Gamescape's commitment to the art and culture of tabletop gaming, to the Western Addition community, and to District 5 ought to be commended," Brown wrote in her nomination letter. "Including them in the Legacy Business Registry is the perfect way to do so."
"It's a great honor and it means a lot to us," said Gamescape owner Tom Hamilton of the recognition.
He's also grateful for its financial benefits: a $500 annual grant per employee, and $4.50 per square foot in annual rent assistance from the city.
Tom's father, Robert J. Hamilton, explained that when he first opened Gamescape in September 1985, there was only a hotel on the block — no other stores. The space had previously been a garage for maintenance trucks. 
Robert, who is originally from New York, said that he fell in love with San Francisco, and decided to open his own shop because there was "no real game store in the city," only bookstores and hobby shops.
His first store, Gambit, ran for about 10 years, but closed due to partnership disagreements. So he decided to open Gamescape on his own, running it for 24 years until Tom took the reins in 2009.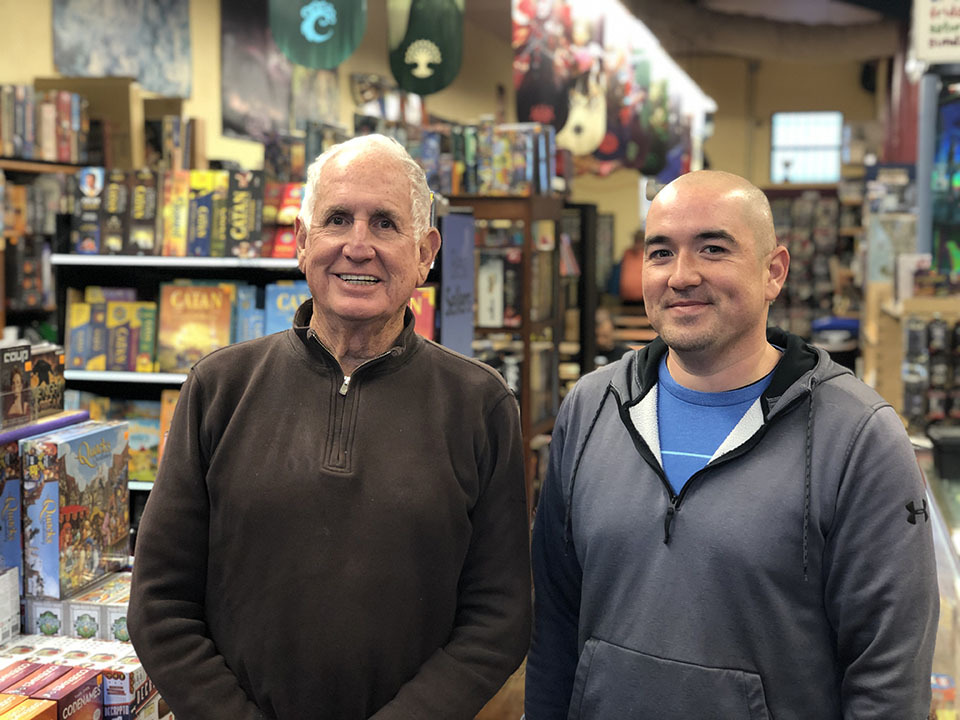 Today, Gamescape offers a broad selection of board games, party games, collectible and standalone card games and role-playing games.
It also sells jigsaw puzzles, miniature games and traditional games, such as chess or backgammon.
San Francisco's small retailers have been in crisis in recent years, because, as Tom notes, "the retail aspect of the business can always be in jeopardy because of online shops."
"Everything has to be done at a certain pace," he noted, adding that it's crucial to make people come into the store and shop. Events are another way to generate revenue for the store.
That's why Tom hopes to expand the shop's daily game nights this this year. Currently, all events are hosted at tables in the back of the store, but he's looking to expand to other, larger venues, and also bring in some new games.
"We want to enhance the event experience," he notes. Most events are free, but he does charge for tournaments and other special events, or to rent reserved tables to private groups.
There are some perks to the job, Tom said, including travel to gaming conventions and play-testing a lot of the games that ultimately end up on the shelves.
Robert adds that "almost every game genre is being played" at the store, and he believes that a "broad variety of players" feel welcome at Gamescape.
Tom said he hopes locals will patronize Gamescape and the other legacy businesses on the Divisadero corridor, a group that currently includes Comix Experience, Bi-Rite Market and Eddie's Cafe. He's also hopeful that the city's map of legacy businesses will become a resource for tourists. 
"Small businesses provide culture and identity," Tom said, adding that part of the neighborhood character gets lost if you let "large corporations take over."