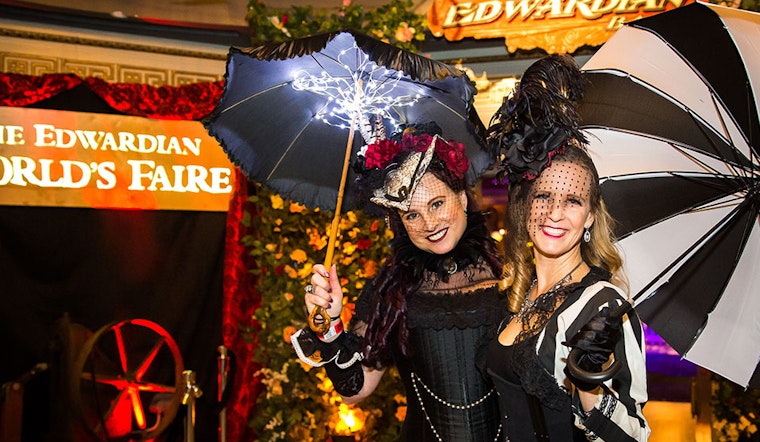 Published on January 23, 2020
Australia Day is this week, and SF is honoring our friends down under with several fundraisers benefiting wildfire victims. Also on tap: events celebrating the Lunar New Year, and the 20th edition of the much-loved Edwardian Ball.
Here's where to get out and about in the city this weekend.
Lunar New Year NightLife
This week, the Academy of Sciences' Thursday-night event is dedicated to Lunar New Year, with lion dance and zither performances and a chance to see and take selfies up-close with a lion dance costume. To start off the Year of the Rat right, attendees can enjoy a meet-and-greet with some domestic rats. Or learn about the significance of tea and Chinese tea ceremonies, while sipping on handcrafted loose-leaf blends.
When: Thursday, January 23, 6 p.m.
Where: California Academy of Sciences, 55 Music Concourse Dr
Price: $15.25
A Little Benefit
This Saturday, Australia-based brewery Little Creatures is hosting a "Little Benefit" for wildfire victims at its Mission Bay location. The brewpub will offer a special all-day menu, with 50% of food sales and 100% of beer sales donated to the Australian Red Cross. Tim Brewer & Benny will provide live music from 3-6 p.m.
When: Saturday, January 25, 11 a.m. – 11 p.m.
Where: Little Creatures, 1000A 3rd St.
Price: Free
The Edwardian Ball: 20th Anniversary
Now in its 20th year, the Edwardian Ball is a whimsical celebration of fine art, music, circus, theatre, fashion, literature, ballroom dancing, DJs, oddities, and the beloved tales of Edward Gorey.
The event kicks off with Friday night's Edwardian World's Faire, featuring a tribute to Gorey's world of "The Lost Lions," and a retrospective look at the past two decades of the Edwardian Ball. On Saturday, attendees will don their finest Edwardian duds for an evening of ballroom dancing.
When: Saturday, January 25, 8 p.m.
Where: The Regency Ballroom, 1300 Van Ness Ave.
Price: $85 – $250
Australia Day Party
The Golden Gate Australian Football League is also celebrating Australia Day with a raffle fundraiser for fire victims at Standard Deviant Brewing. Along with plenty of craft beer, attendees can enjoy Australian treats and games, with the Triple J Hottest 100 on the speakers. Raffle tickets will be sold from 1-4 p.m., with winners chosen at 4:30.
When: Sunday, January 26, 1 – 7 p.m.
Where: Standard Deviant Brewing, 280 14th St.
Price: Free
Lunar New Year at Westfield San Francisco Centre
Families looking for a way to celebrate the Lunar New Year should head to the fourth floor of the Westfield San Francisco Centre mall this Sunday. Bring the whole family for bites, crafting, performances and more.
When: Sunday, January 26, 2 – 4 p.m.
Where: Westfield San Francisco Centre, 865 Market St.
Price: Free