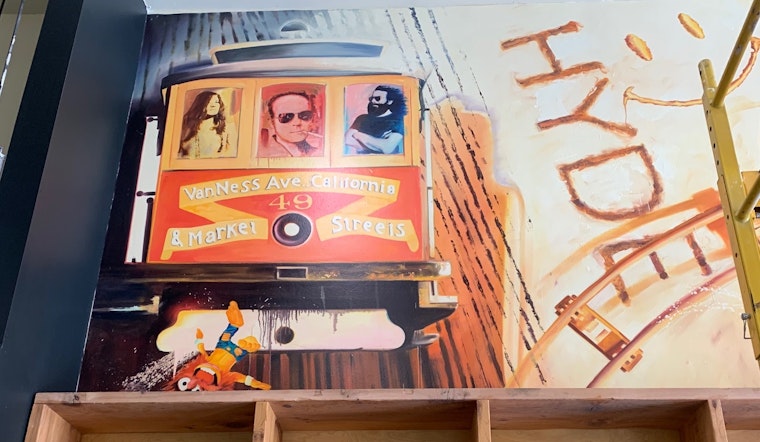 Published on January 16, 2020
The owners of Tonic Nightlife Group opened a new dispensary today in Lower Nob Hill. 
California Street Cannabis Company, at the corner of California and Hyde streets, is the first dispensary opened by the group. They also operate Tonic just down Hyde Street (895 Post St.) in Lower Nob Hill, Soda Popinski's just up California Street (1548 California St.), as well as Teeth in the Mission (2323 Mission St.).
The new dispensary is under the management of Tonic Nightlife Group owner Duncan Ley and executive manager Ben Bleiman, along with their equity partner Drakari Donaldson. Also listed as a co-owner of the new dispensary in SF Planning documents is Joe Carouba, owner of BSC Management, which operates 10 exotic dance venues in San Francisco. 
The shift from bar ownership to opening a dispensary seemed natural, because service is key in both businesses, Ley told us.
"You can't own or work at a bar without loving people, and loving being around people," he said.
A priority in this case is providing local jobs and catering the dispensary's offerings to the neighborhood and clientele, he said. They are currently hiring experienced bud tenders trained to help educate customers, Ley added. The intent is to offer products from Northern California farmers and other distributors of unique cannabis products. 
The location at 1398 California St. was last occupied by a dry cleaner, which shut down in 2017 in part because the building underwent seismic retrofits. 
The new dispensary is on the ground floor, next to Nob Hill Florist and The Wreck Room. 
Donaldson, who has worked at the group's bars for many years, is the team's equity partner and has been actively involved in getting the project off the ground, according to Ley. Bleiman was Donaldson's "Big Brother" and has known him since he was 12, Ley said. 
Having owned bars across multiple neighborhoods at various times, the group is quite experienced in navigating the city's permitting and planning processes. But the dispensary was by far the hardest to get fully approved, because everyone involved is still learning, and Ley said it seemed like each approval was accompanied by a new fee or an extra step.
The new dispensary was welcomed by the neighborhood, according to letters of support provided to the city prior to its permit approval last July. The nearest spot to buy cannabis is about a third of a mile away, at Grass Roots (1077 Post St.), well down the hill from the California Street Cannabis location.
While the space has been approved for on-site consumption, it does not currently have a lounge, and at only 950 square feet, the site may be size-prohibitive.
Ley said the team is currently considering options for how to offer customers opportunities for classes and interactive community events, and potentially in the future, some space for on-site consumption.
The California Street Cannabis Company is open 10 a.m. - 10 p.m., seven days a week, and it soft-opened to the public today.