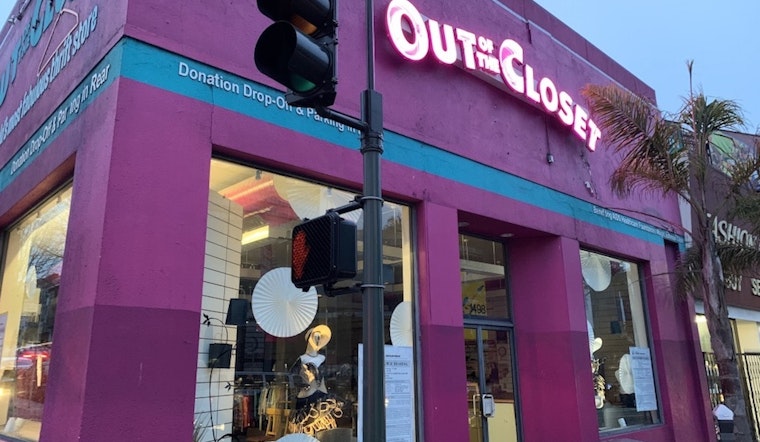 Published on February 19, 2020
Last week, the Planning Commission approved plans to construct a seven-story building at the corner of Polk and California streets — the current site of thrift store Out of the Closet.
The site, at 1567 California St., was approved for a smaller-scale development back in 2016. But developer and designer David Baker Architects now plans to utilize the state's Density Bonus Law to exceed the site's height limit and add more units.
The original building plan called for 63 units of housing over 8,000 square feet of ground-floor retail space. That's been upped to 100 units over about 10,000 square feet of retail, by allowing the building to exceed the site's 80-foot height limit by an extra seven feet. 
More than half of those units will be either two or three bedrooms. And unlike the original proposal, the new building will have no on-site parking.
The density bonus calls for 19% of the project to be affordable housing, and the developer will split the difference between on-site affordable units and cash for the city's affordable housing fund.
Nine on-site units (two studios, three one-bedrooms, three two-bedrooms, and one three-bedroom) will be offered below market rates, while a fee of $3.2 million to the city's affordable housing fund will cover the rest.
The original proposal called for the building to be wedged directly up against neighboring 1424 Polk St. But neighbors were concerned about losing their light shaft, so the building will now be broken up into four "masses" that allow extra light in.
39 of the units will have private balconies, and a central courtyard will provide another 3,799 square feet of common open space. Every unit will get bicycle parking, with additional class-2 bike spaces on the sidewalk. 
Several community members voiced concern about the project's lack of parking and its size, which will require the combination of three neighboring properties at the corner of California and Polk. 
But the Planning Commission asserted that the site has high access to public transit, with several nearby bus lines, a cable car line and a bike lane on Polk. It's also within walking distance of many neighborhood retailers, with both Trader Joe's and Whole Foods Market just two blocks away.
The new building has room for up to seven retail storefronts on the ground floor, which will be designed to be flexible, allowing tenants to combine smaller spaces as needed.
With the go-ahead from Planning, the new project will now seek building permits — though if construction doesn't begin within three years of last week's authorization, it will have to seek approval over again. 
We'll keep you posted on the fate of Out of the Closet and other neighboring businesses on the site, including when they plan to close and whether any will return in the new building.