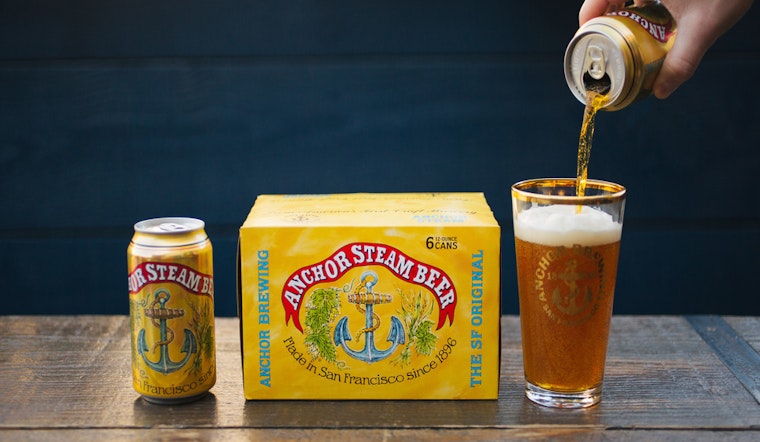 Published on February 26, 2020
Here's the latest in SF food and libation news. In this edition, a wine bar will soon open on Polk Street, a Chinese noodle and dumpling eatery has debuted in the Westfield Mall, and San Francisco's most famous beer takes on a new frontier: cans.
Openings
Polk Gulch
Ora Wine Bar (1519 Polk St.)
A new wine bar is moving in on Polk Street. Ora Wine Bar will be taking over SF's original See's Candies location at 1519 Polk St., right next door to Swan Oyster Depot.
The bar is owned by Patrick and Sabrina Thillard, who said the space was "a dump" when they first found it in 2018.
Since then, it's been a "long and draining" process of renovating the space and obtaining permits, but they're almost ready to go — if all goes as planned, they should debut in about six weeks.
We'll have more info on the menu, hours and other key details as the bar gets closer to opening.
Union Square
NooBowl (Westfield San Francisco Centre)
Tipster Jerold C. alerted us via Twitter that the Westfield Mall's food court has a new Chinese eatery: NooBowl. It's located on the lower level, next door to Koja Kitchen.
NooBowl is a fledgling chain that got its start in another Westfield mall: the Oakridge, in San Jose. Its menu includes dan dan noodles, biang biang noodles, Sichuan spicy dumplings and spicy fried calamari. Bowl prices range from $9.95 to $10.95.
The Westfield Mall's food court has been seeing a lot of change lately, with the recent closure of Walgreens and the debut of Amazon Go. Later this year, Shake Shack will be moving in, creating a second San Francisco location for the popular burger chain.
NooBowl is now open daily until 8 p.m.
Updates
Potrero Hill
Anchor Brewing Company (1705 Mariposa St.)
Since its revival in the '60s, Anchor Brewing Company has never offered its flagship Anchor Steam Beer in 12-ounce cans — even as it canned other brews like its popular California Lager.
But since it was acquired by Sapporo in 2017, things have changed at Anchor, and it's now breaking a long-held tradition by selling Steam in standard 12-ounce cans. (A larger 19.2-ounce can has been available since 2018.) 
In a statement, Anchor's brewmaster, Scott Ungermann, said the effort is designed to make the company's signature brew more accessible. 
"Now, Anchor fans have more reasons to take Anchor Steam with them to the parks, on camping trips, backyard BBQ gatherings and everywhere in between," he said.
The cans are now being sold across the U.S., and Anchor has also launched a can variety pack, which pairs Anchor Steam with its Fog Breaker IPA, California Lager and Baykeeper IPA. 
---
Thanks to tipster Jerold C. If you've seen something new (or closing) in the neighborhood, text your tips and photos to (415) 200-3233, or email [email protected]. If we use your info in a story, we'll give you credit.