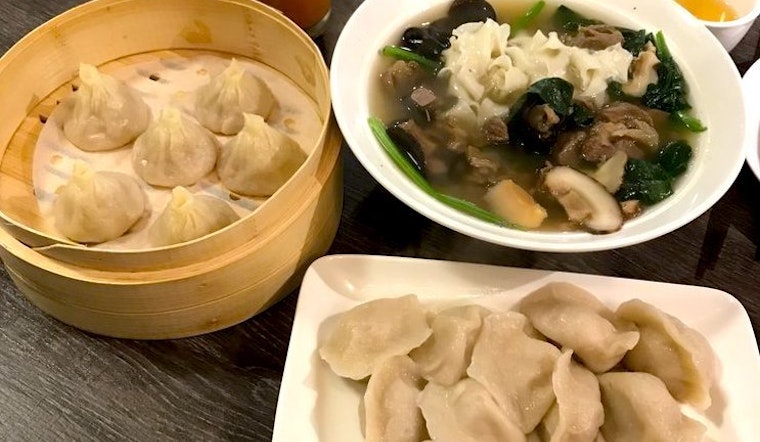 Published on February 11, 2020
Here's the latest in SF food news. In this edition, a Ferry Building grocer gets a new owner, a dumpling spot debuts in the Inner Sunset and an izakaya plans to open in SoMa.
Openings
Embarcadero
The Epicurean Trader (1 Ferry Building)
On March 1, the Ferry Building's in-house grocer, Farm Fresh to You, will turn over the keys to a new tenant. The store, which sold fresh fruits and vegetables and specialty food products, for 17 years, is planning to refocus on its core business — home deliveries of organic produce.
But the space won't be vacant for long: specialty grocer The Epicurean Trader, which also has outposts in Bernal Heights, Hayes Valley and Cow Hollow, will move in this summer.
The new location will be Epicurean Trader's largest yet, featuring artisan products and organic produce, prepared foods, sustainable wines, craft spirits, charcuterie, farmstead cheeses, speciality pantry items and more.
Though 2020 is less than two months in, it's already brought an extensive level of turnover at the Ferry Building, where counter-service eateries Brown Sugar Kitchen and Mijita have shuttered and Dogpatch bagel spot Daily Driver recently launched a pop-up.
We'll continue to keep you posted on changes there — and if you see one, send us a tip. 
Inner Sunset
Dumpling Park (1309 9th Ave.)
Dumpling Park is now open for business in the Inner Sunset. It debuted over the weekend in the former Howard's Cafe space.
On the menu, you'll find a huge selection of dumplings, including the coveted xiao long bao (Shanghai-style soup dumplings) and sheng jian bao (pan-fried soup dumplings). A giant selection of boiled dumplings ranges from pork with chives to lamb with zucchini, and there are numerous vegetarian dumplings, too.
Not feeling dumplings? The menu also offers a standard array of Chinese favorites, from fried rice to General Tso's chicken. Noodle enthusiasts should note that they're hand-cut, with a variety of soup bases in which to enjoy them.
Reached via phone, an employee said Dumpling Park is aiming to be open seven days a week, but that hours may vary as they get going. Call them at (415) 702-6108 before heading over.
SoMa
Izakaya Hon (917 Folsom St.)
Last October, we broke the news about the closure of Giants-themed bar Pine Tar Grill. Now, tipster Simon informs us that a new tenant will be moving in at Fifth and Folsom streets: Izakaya Hon, specializing in classic Japanese entrees and bar bites.
Izakaya Hon is the latest eatery from the increasingly prolific Mins Group, which opened two restaurants in 2019 alone: the Mission's Sushi Shio and SoMa's Sushi Ondo.
The group also owns another Mission sushi spot, Sushi Hon; Cow Hollow's Tamashisoul Sushi Bar; and Barnzu, a Korean small-plates eatery in the Tenderloin. This will be its biggest restaurant yet, with over 200 seats.
James Liao, the group's director of marketing, says he can't comment on specific menu items for Izakaya Hon, since chef Jason Shimizu (formerly of Sushi Hon) is still working on the menu. But he did say that the restaurant will offer a full dinner service until 9 p.m., before shifting to smaller Japanese bar bites like pork belly and chicken skewers.
The izakaya has also picked up Pine Tar's full liquor license, allowing it to serve whiskey cocktails (like highballs) in addition to Japanese beer, sake and wine. Seating will be spread across booths, high-top communal tables and a bar.
The restaurant expects to softly launch on March 1, with an official grand opening around April 1.
---
Thanks to tipster Simon. If you've seen something new (or closing) in the neighborhood, text your tips and photos to (415) 200-3233, or email [email protected]. If we use your info in a story, we'll give you credit.