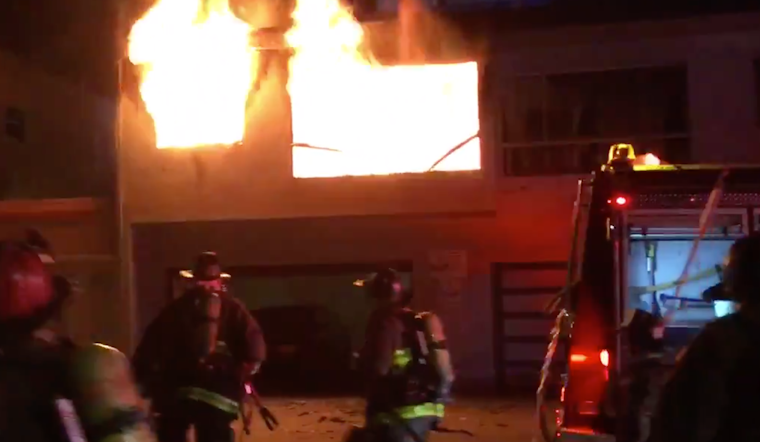 Published on February 03, 2020
Two people were hospitalized in serious condition after a fire on Saturday night in Visitacion Valley. 
The one-alarm blaze broke out on February 1 at 11:23 p.m., in a residential building at 3326 San Bruno Avenue (at Ordway). It was contained just shy of an hour later, at 12:15 a.m.
The victims, both adults, were rescued from inside the home. They were taken to the hospital by ambulance in serious condition.
SFFD spokesperson Lt. Jonathan Baxter told Hoodline on Sunday that four adults residing in the building were displaced by the blaze. Its cause remains under investigation.
On Twitter, officials noted that the home was located just two blocks from SFFD's Station 44, at 1298 Girard St. Firefighters undertook an "aggressive interior attack" to rescue the injured residents. 
Last night #YOURSFFD responded to a 1ST ALARM FIRE AT 3326 SAN BRUNO AV #1, SF, AT 23:23 HRS. THE FIRE WAS CONTAINED AT 0015 Hrs. During the video shown, 2 adults were being rescued inside this home. They both have been taken to a local hospital in serious condition. pic.twitter.com/HgeAivYn3T

— SAN FRANCISCO FIRE DEPARTMENT MEDIA (@SFFDPIO) February 2, 2020
Video from passerby of tonight's working fire in San Bruno Avenue the Portola District. 2 people rescued and transported by ambulance. @shamannwalton @LondonBreed @kron4news @HeatherKTVU @Ahsha_Safai @KTVU pic.twitter.com/SoOS7vVSEF

— San Francisco Firefighters 798 (@SFFFLocal798) February 2, 2020