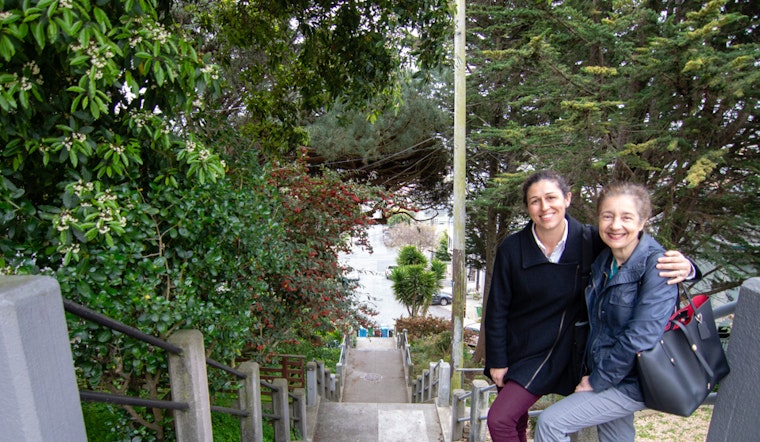 Published on March 11, 2020
Since December 2018, a group of Sunnyside residents have been hard at work paving the way for San Francisco's next decorated stairway, with the help of local neighbors and students.
Dubbed the Detroit Steps Project, the long-term effort takes inspiration from similar projects like Golden Gate Heights' 16th Avenue Steps and Excelsior's Athens Avalon Greenspace.
"We want this to be a community project, a neighborhood project," said long-time Sunnyside resident and Project Lead Rosaura Valle. "To us, the process is even more important than the outcome."
With support from the Sunnyside Neighborhood Association (SNA), the group is focused on cleaning, lighting, and beautifying the two sets of steps connecting Detroit Street between Hearst and Joost Avenues, extending from either side of Monterey Boulevard. The project spans their entire length — 182 steps, to be exact — and when completed, will be San Francisco's longest decorative stairway.
Valle has been involved with the project from the beginning, when she and fellow neighbors first started brainstorming ideas for District 7's 2019 participatory budgeting process.
This process, supported by District 7 Supervisor Norman Yee, sets aside a fixed amount of public funds for local improvements, which are proposed and voted on by neighbors. For Valle, choosing to focus on the Detroit Steps was a no brainer.
"Unfortunately, this space is a major site of illegal dumping," she told Hoodline, pointing out an area along the upper steps where piles of trash had accumulated among overgrown bushes for years. "We hope that the overall beautification will disincentivize this kind of behavior."
Suna Mullins, who grew up in the neighborhood, agrees that the steps are long overdue for improvement. Because they're unlit at night, she says, they are both a safety hazard and an attraction for unwanted loitering. "Now that I have kids of my own," she explained, "it's been a big motivation" for her involvement in the project.
The residents' proposal for landscaping and art along the Detroit Steps was one of District 7's winning submissions for participatory budgeting in 2019, receiving $25,000 in funding.
Over the past year, Valle and Mullins have worked with a core team of 12 members who meet monthly to discuss and plan the project.
To pave the way for future landscaping and artwork, the team organized three community cleanups along the steps in 2019, in collaboration with the Department of Public Works' Clean Team. A first annual "Rise and Run" Step-a-Thon fundraiser was held in November, raising $678 for future landscaping. 
"Since the beginning, a big focus for the group has been inclusion," Mullins said, highlighting the various ways the residents of Sunnyside have already contributed to the project, from the Step-a-Thon poster, designed by the Graphic Design Club at Archbishop Riordan High School, to the three cleanups, which have featured the talents of a neighborhood photographer and cellist.
"These are the people that will be using the steps most often," Mullins said, "so it makes sense" for them to be informed and involved in the process.
While the lower steps are surrounded by neighbors' well-tended gardens, the narrower upper steps were notoriously overgrown prior to December 2018. An area on the east side of the upper steps was cleared out last year and deemed the perfect site for the project's proposed landscaping improvements.
To help with this effort, the Detroit Steps Project steering committee turned to a group of students at City College of San Francisco, which lies within the neighborhood's boundaries.
With the help of a connected neighbor, the team invited CCSF's Fall Environmental Horticulture Design class to the site in October 2019. Led by Professor Thomas Wang, students had an opportunity to learn more about the project and its requirements before submitting 16 proposed landscape drawings for consideration by the community. 
After narrowing down the submissions to 5 semifinalists, the team held a meeting with the Sunnyside Neighborhood Association, where students presented their work to a panel of community members. The winning design, by CCSF student Josie Li, was announced in February 2020. 
"It was fun for [the students] to have a real-life, out-of-class experience," said Mullins, "and it was great for us to receive such high-quality drawings." 
The involvement of CCSF's Fall 2019 Environmental Horticulture Design class will be commemorated with a plaque near the steps.
Lighting for the steps and terracing for Li's landscape design will be part of a grant submitted to the Community Challenge Grant Program in October of this year. 
In the meantime, the Detroit Steps Project will put its Participatory Budget funds to use by installing a water meter in preparation for the landscaping, and replacing a chain link fence near the first flight of steps with a new wrought iron fence. The water meter and fencing projects are projected to be completed this summer.
Decorating the steps themselves will come later, after they've been repaired by the Department of Public Works. The committee is still in the early stages of researching artwork options. According to Mullins, the team has considered reaching out to local artists who have worked on similar projects, as well as incorporating another community-based competition among local students.
"It's not going to happen overnight," Mullins said, acknowledging that working with city programs, local schools, and community members requires coordination and patience. "We're taking our time and doing our due diligence each step of the way, incorporating neighbors, local resources, and whoever we can."
Valle has been staying true to these efforts by reaching out to neighbors about the project and looking for opportunities to involve local groups or students.
"If we don't have the most beautifully designed tiles, it doesn't matter," said Valle, "but if we have involved every school in the neighborhood, that's what's more important."