On Monday, the San Francisco Municipal Transportation Agency (SFMTA) will suspend all of its light rail routes indefinitely — including the J-Church, K-Ingleside/T-Third, L- Taraval, M-Ocean View and N-Judah lines.
But riders who work at essential businesses or rely on those lines to get to the grocery store shouldn't panic. The SFMTA said in a blog post that it will be offering bus substitutions, which will stop at the same bus stops as the lines' early-morning Metro bus services. 
Weekday intervals will be 10 minutes for the N, SF's busiest light-rail route, and 12 minutes for the other lines. On weekends, all lines will arrive every 15 minutes.
Based on ridership data and observations, Muni said the decreased service shouldn't impact the ability of drivers and riders to maintain a six-foot social distance. The agency is already letting drivers skip stops if a bus gets too full for passengers to keep their distance. 
Public transit ridership in the Bay Area has cratered since the shelter-in-place order went into effect last week, with BART reporting an 85% ridership plunge. Santa Clara County's VTA has already suspended light rail trains after a driver trainee tested positive for COVID-19.
While Muni hasn't disclosed estimates for a ridership decrease, it says it's losing about $1 million per week during the shutdown. 
The federal stimulus bill, which is likely to pass in the next few days, should infuse Bay Area transit agencies with $1.3 billion, according to a story in the Chronicle today. It's unclear how much Muni will receive from that pie.
In the meantime, the agency said, it's refocusing on non-downtown lines, as commuters largely shelter in place. The closure will also decrease possible infection risks for station agents and allow SFMTA to redirect some custodians to other jobs, like sanitizing buses. 
The SFMTA plans to use the closure for maintenance work on both rail infrastructure and the vehicles themselves. The agency had previously utilized early subway closures to do such work.
For BART riders who use joint Muni stations (Embarcadero, Montgomery, Powell and Civic Center), those stations will remain open during BART's reduced hours: 5 a.m. to 9 p.m. on weekdays and 8 a.m. to 9 p.m. on weekends.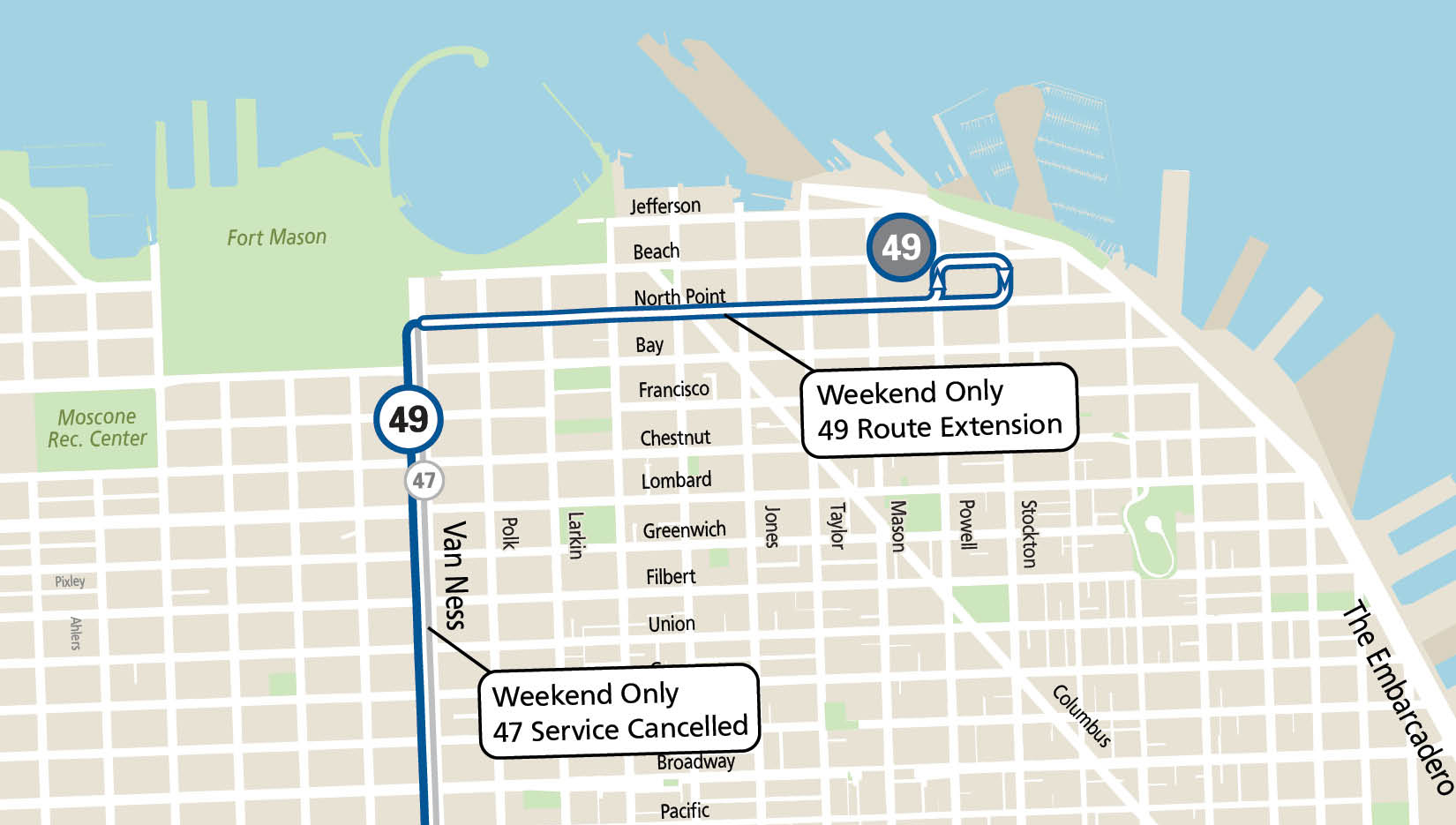 The SFMTA is shaking up some bus lines, too.
Muni Rapid routes (the 5R-Fulton Rapid, 9R-San Bruno Rapid, 28R-19th Avenue Rapid and 38R-Geary Rapid) will be temporarily discontinued, with the exception of the 14R-Mission Rapid. To make up for the loss of the Rapid lines, the 5-Fulton and 9-San Bruno will begin running longer buses.
Beginning April 4, the 47-Van Ness bus will also be temporarily discontinued on weekends. The northern part of the 49-Van Ness route will be extended between North Point and Fisherman's Wharf to cover the 47, but those traveling between Caltrain and Van Ness and Mission streets will have to find alternate transit.