Published on March 24, 2020
Launched late last year, the Tenderloin Merchants Association (TMA) is already facing a big hurdle: the COVID-19 crisis and resulting shelter-in-place orders. 
In addition to a huge drop in income for retailers and some restaurants, the shutdown has also led to decreased law enforcement in the Tenderloin. TMA members have been reporting a rise in vandalism, break-ins and open drug use in the neighborhood, as SFPD declines to respond to non-emergency calls.
With many of its members in need, the TMA has launched a GoFundMe page to help pay rent and finance marketing efforts for Tenderloin businesses that remain open during the shutdown.
Executive director Rene Colorado says the grant program will be open to all Tenderloin businesses, not just TMA members. 
"We want to help everyone," Colorado said, noting that 100% of contributions will go to the grant program, which will be administered by the organization's board of directors.
The program aims to supplement the small business grants already offered by the Mayor's Office of Economic and Workforce Development (OEWD), which run up to $10,000.
Many business owners in the Tenderloin are immigrants with little if any access to the internet, making navigating government websites a challenge, Colorado said. TMA has been reaching out directly to business owners to help them apply for the city grants, and has added information on available resources to its website.
But Colorado says that even the city grants won't be enough for many local business owners and employees, who were living paycheck-to-paycheck before the shutdown. Some restaurants that could still offer delivery or takeout have decided to close, he said, because those orders aren't enough to keep their staff paid. 
Numerous businesses don't qualify for the current city program. Some have more than five employees, exceeding the city's limit, while others haven't even had the chance to open.
Construction has halted at Sweet Glory Cafe, which was anticipated to debut on the ground floor of the new condo building at 719 Larkin St. within the next two months. The not-yet-open cafe has been paying rent already for a number of months, and isn't likely to be able to survive any major delay in opening, Colorado said.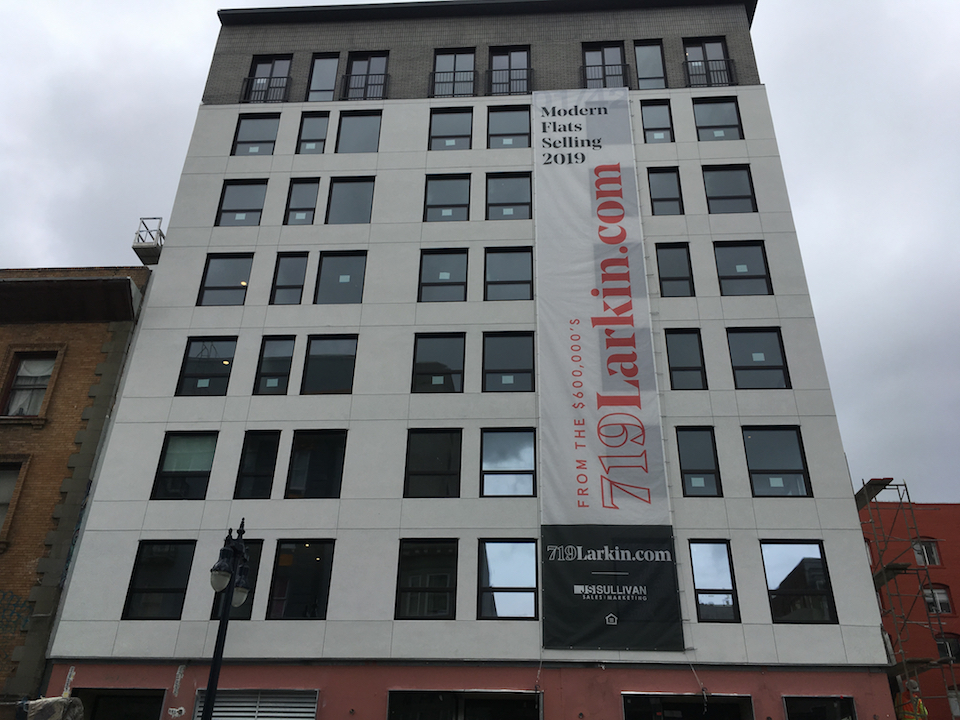 While the existing eviction protections are a good first step, many of the struggling businesses need rent abatement, not rent deferment, Colorado said.
In addition to lost income, the shutdown has led to unexpected costs: Rainbow Market, at Larkin and Ellis streets, had a window broken and merchandise stolen, and nearby Camera Heaven had its door shattered.
"People wouldn't normally risk it, but they are taking advantage of empty streets and stores," Colorado said. He advises closed businesses to fully shutter their windows and clear out inventory, to avoid tempting thieves.
While police won't respond to non-emergencies, business and property owners should still call 311 and document any break-ins or property damage, he added. 
Colorado, who heads the group that runs Larkin Street Thai restaurants Lers Ros and Esan Classic, has had to make his own hard decisions.
Owned by chef Tom Silargorn, the two restaurants remain open for take-out. But they've had to postpone their second annual Thai New Year Festival, which was set to bring hundreds of revelers to Larkin Street in mid-April.
"It's not an appropriate time to have a large event and gathering," Colorado said, adding that he hopes to still hold the event sometime later this year. 
---
To donate to the TMA's GoFundMe campaign for local merchants, go here.