Three homeless people, all residing at city shelters, have officially been diagnosed with COVID-19 — and it's very likely that there are more. 
But two weeks after a group of supervisors called on Mayor London Breed's office to shelter as many unhoused people in hotel rooms as possible, in order to promote proper social distancing and prevent spread, there's been little to no movement on the issue.
On Friday, District 6 Supervisor Matt Haney told Hoodline that 123 unhoused people had been quarantined in city-reserved hotel blocks as of Wednesday, April 1. All are diagnosed COVID-19 patients, showing symptoms suggestive of COVID-19, or are quarantining after exposure to a patient. 
"If those people are positives, a very high proportion of our cases are homeless," Haney said. On Wednesday, San Francisco had 434 diagnosed cases; that number is now at 583.
The unhoused people who've been put up in hotels represent just 1.5% of San Francisco's estimated 8,011 homeless residents. According to city data, 10% of SF's overall homeless population is comprised of people over 60, and close to a third have chronic health issues. 
Asked how many unhoused San Franciscans without symptoms have been offered individual shelter in the city's reserved hotel blocks, Haney said, "as of [Wednesday], zero."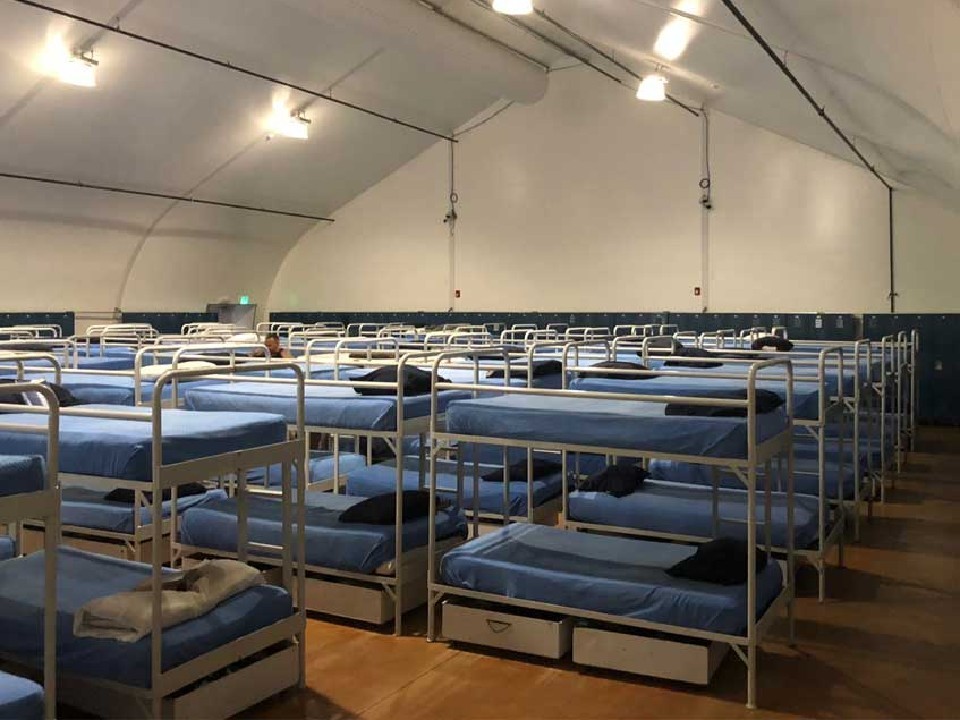 The announcement of the three positive tests — one last week at the Division Circle Navigation Center (South Van Ness Ave. and Division St.) and two today at SoMa's MSC South shelter (Fifth and Bryant streets) — came a full two weeks after a group of five San Francisco Supervisors called for housing all of the city's homeless in the estimated 30,000 to 40,000 San Francisco hotel rooms that have lain empty in the wake of the coronavirus crisis. 
The Dept of Homelessness just shared that two guests of MSC South Shelter, which is in my district and the largest shelter in Northern CA, tested positive for COVID-19.

This is a disaster, and getting more dangerous by the hour. No more delay. Move people into hotel rooms, NOW.

— Matt Haney (@MattHaneySF) April 6, 2020
Those Supervisors — Haney, Hillary Ronen (District 9), Dean Preston (D5), Shamann Walton (D10), and Aaron Peskin (D3) — are now planning to introduce an emergency ordinance at tomorrow's Board of Supervisors meeting.
If passed, the ordinance would mandate filling 1,000 city hotel rooms with unhoused people staying in shelters, increasing that number to 14,000 by April 28.
But emergency ordinances require two weeks to enact, whereas the Mayor could make the change effective today, said Sup. Haney.
"We would greatly have preferred to just come to an agreement," he said.
So far, the Mayor's Office has only agreed to house homeless people who've already fallen ill, then been diagnosed with COVID-19, in hotel rooms. That group now includes the ailing Division Circle resident (whose age and gender were not shared with press), but not any of the other navigation center residents who were exposed to that person. 
And it is indeed likely that many were exposed. 
"Up until late last week, shelter operators were explicitly told not to take steps to create six feet of distance between shelter beds," according to an official report from the Supervisors.
"Operators did not receive thermometers, masks, or screening protocols for their clients until last week," the report continues. "One-night shelter beds were still being used, cycling vulnerable people on and off the street every day" — including at Division Circle. 
With the incubation period for the virus running up to 14 days, it's likely that other unhoused people may have the virus and not know it yet, and that some may have also carried it back with them to the streets. 
The crux of the delay, said Paul Monge, a legislative aide to Ronen, is a disagreement among city agencies about which populations should be served by individual sheltering.
"Until last week, we hadn't even gotten a commitment that unhoused people on the streets were a priority," Monge said.
Asked if the city was any closer to implementing preventative isolation for the unhoused, Randy Quezada, spokesperson for the mayor's emergency operations center, said in an email last week that the city was "securing hotel rooms for patients ... to quarantine or isolate," and that "rooms will be used as directed by medical professionals." 
"Ultimately, the responsibility is with the Mayor" for adopting the Board's recommendations, Haney said, and with the city's Human Services Agency for implementing improved protocols.