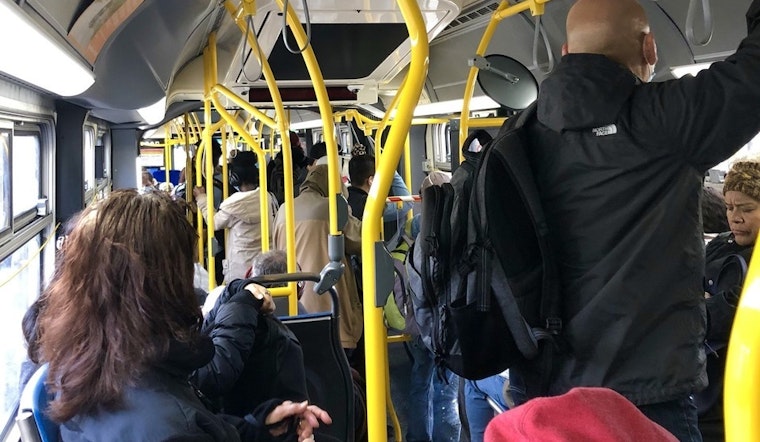 Published on April 01, 2020
On Monday, Muni took all of its light-rail trains out of service (J-Church, K-Ingleside/T-Third, L- Taraval, M-Ocean View and N-Judah), indefinitely substituting them with buses. It also discontinued many of its rapid bus lines, like the 38R-Geary.
These moves reflect plummeting ridership in the face of the city's shelter-in-place rules to prevent the spread of COVID-19. While Muni has not disclosed exact numbers on its ridership decrease, the agency has said that it's losing $1 million a week under the shelter-in-place. 
But riders — many of them essential workers who rely on Muni to travel to jobs at hospitals and grocery stores — say the changes have already resulted in overcrowding, making it impossible to maintain a six-foot social distance.
"Last week, there were maybe 3-5 people on my train to work," wrote Twitter user Max Faneuff. "Now the bus [Muni has] replaced it with has over a dozen people on it, making it impossible to stay 6 feet apart."
"I'm an essential employee who relies on public transit to get to work," Faneuff said. "Now all I'm gonna get is sick."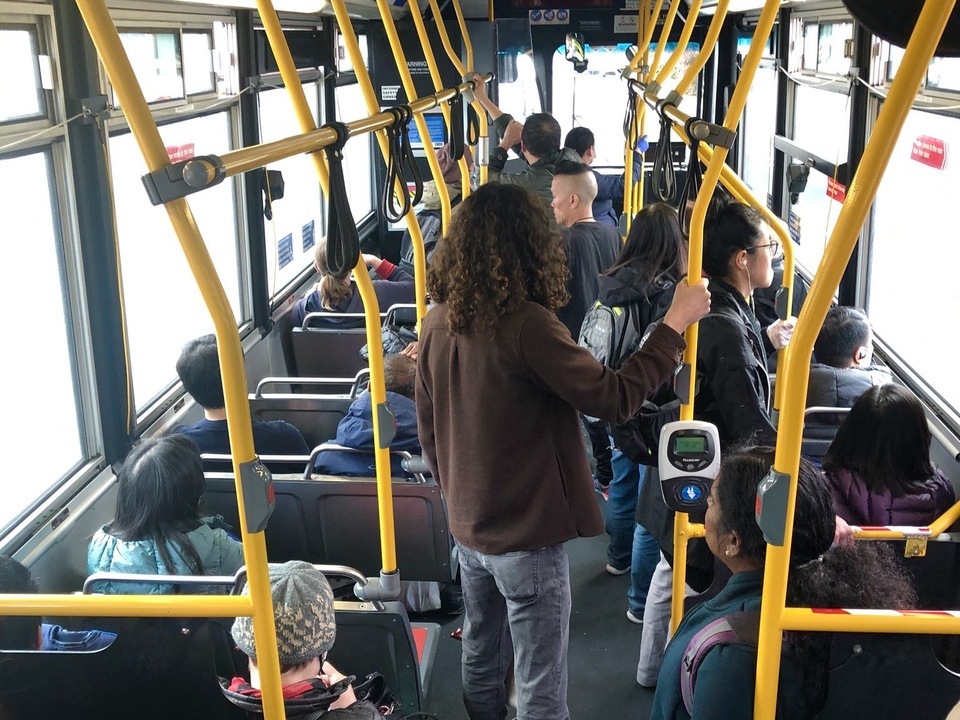 While Faneuff was using a bus substituting for a light-rail train, other Twitter users say crowding has been just as bad on bus-only lines, notably the 38-Geary.
In announcing this week's service changes, the SFMTA stated that they shouldn't affect drivers' and riders' ability to maintain the six-foot social-distance requirements. The agency announced on March 20 that buses simply wouldn't allow passengers onboard if they were too full. 
But the decision as to whether a bus is properly distanced is ultimately up to drivers — and the drivers themselves appear to have gone missing.
In response to many concerned passengers' tweets, the SFMTA noted that it has been experiencing a "system-wide operator shortfall." 
"Our intent isn't to blame anyone, only to let riders know why they may see service gaps on some routes," the agency wrote on Twitter. "Operator not-out numbers have more than doubled this week compared to the past two."
Muni has an existing driver shortage, but with service decreased, it's unclear why so many existing drivers have gone AWOL. Some may be ill — two operators have now tested positive for COVID-19 — while others may be self-quarantining after exposure to a sick colleague or family member.
It's also possible that healthy drivers may be staying home to protect themselves from exposure. Last week, Muni operators demanded that the SFMTA address their safety concerns and take necessary precautions.
Some of those demands have been implemented, like requiring riders to enter through the back door unless they are wheelchair users. New onboard announcements remind riders to socially distance.
But other requests are unlikely to be filled. Personal protective equipment (PPE) shortages have been affecting front-line workers at hospitals, meaning there's little chance of obtaining masks and gloves for drivers. Disinfectants and cleaning products that kill the virus are also in short supply. Improving the plastic barriers around drivers' seats to better protect them would be costly, especially given plummeting revenues. 
The SFMTA says it's trying its best to reduce crowding.
"We are being very nimble," said SFMTA spokesperson Erica Kato. As lines near grocery stores and hospitals see higher ridership, "[we're] using data and in-the-field observations to balance service and adapt to changing ridership patterns."
But it's unclear if those changes can be made quickly enough to keep all passengers safe — including front-line healthcare workers.