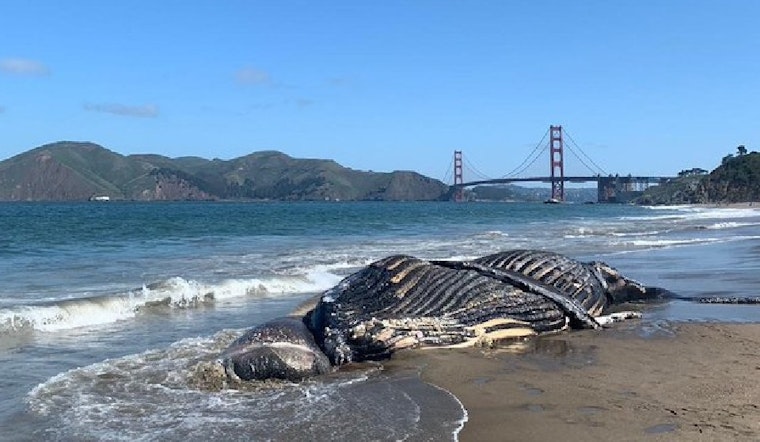 Published on April 22, 2020
San Franciscans taking social-distancing walks on Baker Beach yesterday were confronted with an unpleasant sight: a dead humpback whale that had washed ashore.
The Marine Mammal Center, a Sausalito-based ocean wildlife nonprofit, said the whale was first reported Tuesday morning, shortly after 9 a.m. 
The whale, a juvenile female, is 37 feet long and "severely decomposed," according to a statement from the center.
The center will be conducting a necropsy on the whale, with the help of members of the California Academy of Sciences. Spokesperson Giancarlo Rulli said they hoped the report would indicate more about the circumstances surrounding the whale's death.
"We are most interested in discovering whether the animal died from a ship strike or entanglement, both human-caused fatalities that our research can help us understand how to prevent," Rulli said via email. "We also have seen whales that died due to malnutrition or entanglement in fishing gear."
Though its parking lots are closed, Baker Beach remains open to pedestrians. The Marine Mammal Center advises anyone visiting the beach to stay away from the whale, which could take months to decompose.